Spend less for stretch run: MLB.TV is just $3.99
Get every minute of pennant races, Scully's final calls, Postseason and more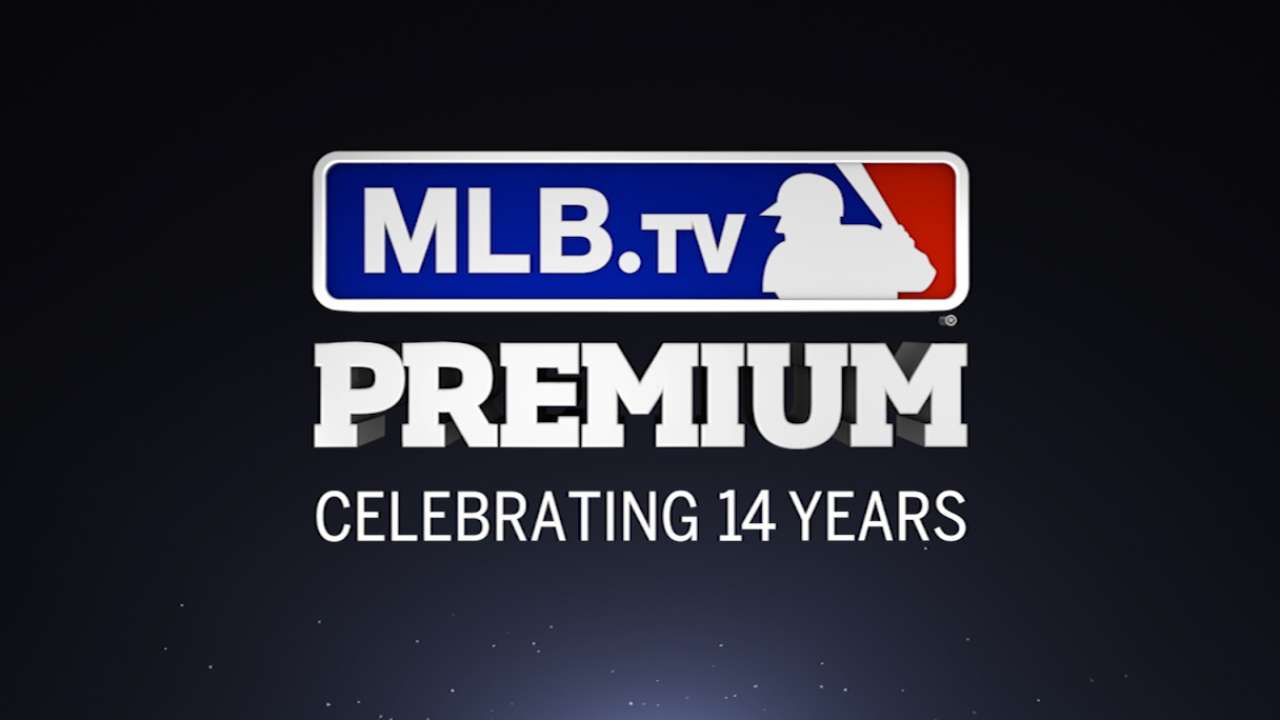 It's time for the final two weeks of the Major League Baseball regular season, and here are 20 reasons to watch the big finish on MLB.TV:
1. MLB Advanced Media on Monday announced a new price of just $3.99 for MLB.TV Premium yearly, and that includes any postseason streams. Seriously: $3.99.
2. Live out-of-market streams for 193 remaining regular-season games, which is still a lot of baseball.
3. Of those 193, the 15 that will be played at the same time on Oct. 2, the final Sunday.
4. "Airports, my hotel room, of course -- I use MLB.TV all the time," Hall of Famer and Orioles broadcaster Jim Palmer said. "That MLB.com At Bat app on my iPad and iPhone are irreplaceable. As a broadcaster, I think I do a pretty good job, but I couldn't do anywhere near as good a job if I didn't have MLB.TV."
5. After 67 years of broadcasting greatness, Vin Scully signs off with his historic farewell call of the Oct. 2 Dodgers-Giants game at AT&T Park. No matter what team you follow, you will want to watch that.
6. The Dodgers and Giants are playing six more times between now and that final Vin moment, and it could even be a playoff preview. The former still leads the NL West, and the latter is still in the picture there and is in NL Wild Card position.
7. A classic finish to these American League East and AL Wild Card races. Seattle was a sudden entry into the Wild Card race, and by the way, the Nationals and Mariners are the only two active clubs that have not appeared in the World Series. MLB.TV is What-If Central.
8. "Everybody uses MLB.TV right now," said Blue Jays reliever Joaquin Benoit, the last remaining active Major Leaguer who was in uniform for the landmark first MLB live stream between the Rangers and Yankees on Aug. 26, 2002. "It's the thing to do right now."
9. All those clinchers as a postseason field of 10 is set.
10. You might see something no one has seen since 1908. The Cubs have dominated the Majors in 2016, and everyone is curious what will happen if they win it all.
11. "MLB.TV is worth every penny of the investment for the devoted fans," said Cubs fan Erick Schlosser, a chef in Portland, Ore., who has subscribed for the last eight years. "Whether listening to radio broadcasts or live streaming of any game, plus all the highlights, historical games, and other features provided by the Premium subscription, I'll never miss a moment."
12. MLB.TV Premium has the best value and provides access to more than 400 devices and a free subscription to the MLB.com At Bat Premium app (a $19.99 value). It offers the best picture quality ever -- a new 60 frames per second -- for supported devices.
13. Authenticated subscribers can stream the FOX telecast of the 112th World Series.
14. It is all about scoreboard-watching for millions of fans right now, and MLB.TV Premium subscribers get the Mosaic View -- split screen or quad, available on PC or Mac only. MLB.TV Premium and MLB.TV Single Team subscribers both enjoy HD and both get real-time highlights and player stats automatically loaded moments after they occur (only for the game you are watching with MLB.TV Single Team, and for all games with MLB.TV Premium).
15. "It's redefined the way to follow a game," said Hall of Famer John Smoltz, analyst for MLB Network and FOX Sports. "I couldn't do this at all if I wasn't able to watch video. I watch the [MLB.com At Bat] app to get ready for my games just because it's the only way I can catch up."
16. Gary Sanchez. Seeing is believing.
17. David Ortiz's last game, sometime this fall. "I know I will watch Big Papi's last game . . . and MLB.TV is perfect for this for anyone, including outside North America," said Red Sox fan Zoran Radisavljevic of Slovenia. "It is really a great option for live MLB action, and you can switch from game to game as you please, which is awesome."
18. NL batting title. Daniel Murphy of the Nationals has been the leader most of the season, but he's in a dogfight with Rockies second baseman DJ LeMahieu for the prize. See how it winds up, as well as all of the MLB individual stat races.
19. "Major League Baseball is the gold standard" for sports technology, said Jackie Bregman, mother of injured Astros rookie Alex Bregman. "It's an obsession for the whole family. It's not just us, it's his aunts, uncles, and we even got his 86-year-old grandfather [Joe DeOliveira] an iPad so he could watch the games on the At Bat app. We couldn't live without it, because it is so important to us."
20. It is everything you expect from the No. 1 sports streaming service.
Mark Newman is enterprise editor of MLB.com. Read and join other baseball fans on his MLB.com community blog. This story was not subject to the approval of Major League Baseball or its clubs.