Sure Betts: Mookie makes 2 crucial catches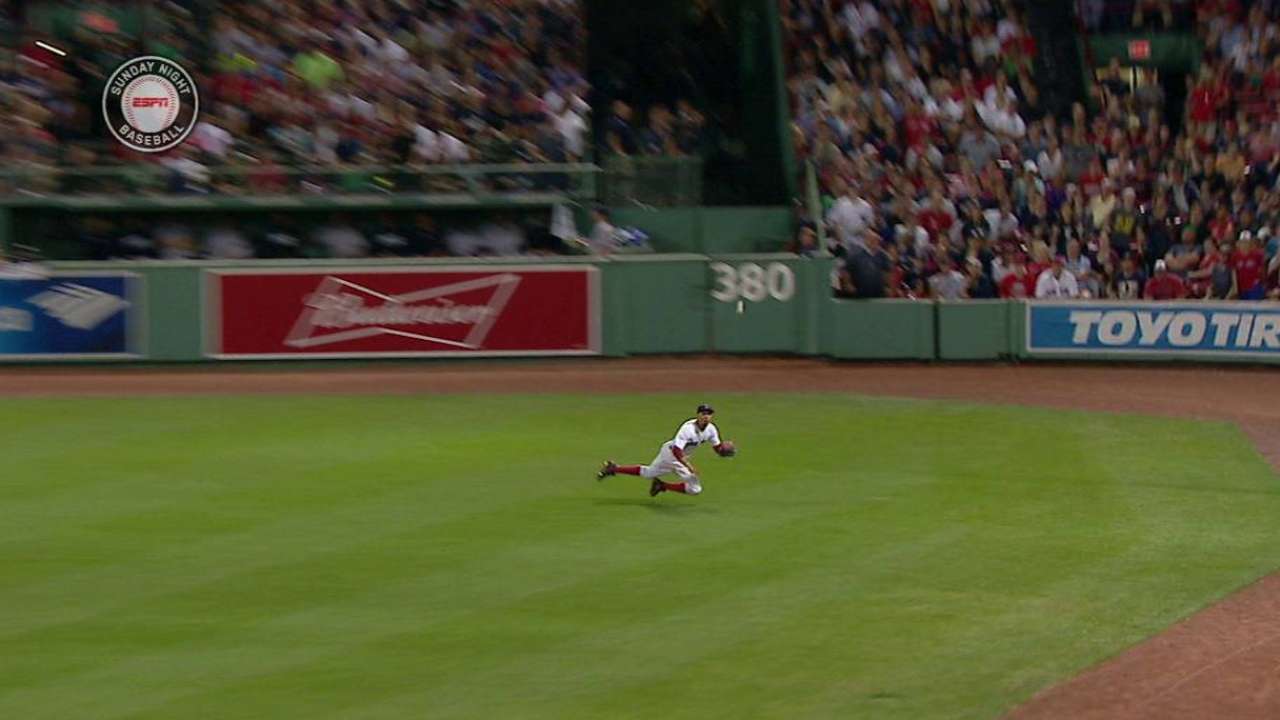 BOSTON -- No one saw him coming.
With Brad Ziegler on the hill, Mark Teixeira laced a line drive to right field, only to watch Mookie Betts single-handedly erase the possibility of a go-ahead run touching home plate. The big play helped secure the Red Sox's 5-4 win over the rival Yankees on Sunday at Fenway Park.
Taking 0.2 seconds to react, Betts charged toward the ball, reaching 19 mph while covering 52.2 feet, according to Statcast™.
An incredible sliding dive later, the ball stayed in his glove for just a moment before Betts fired to first, almost doubling up Gary Sanchez.
"I didn't even see Mookie," Teixeira said. "In my mind, I was thinking, at the very least, that ball is in the corner and we have second and third, and then he comes out of nowhere. He is a Gold Glove right fielder. He is that good."
The expected batting average on Teixeira's liner was .659, per Statcast™. That means 65.9% of balls previously hit with similar characteristics (including the exit velocity of 102 mph and launch angle of 21 degrees) landed as hits this season.
Betts said if he misses that catch, he sees the ball trickling into the right-field corner.
"I think some bad things happen," said Betts. "Definitely [Sanchez] scores, and maybe an inside-the-park. I don't know. But fortunately, it went in the glove."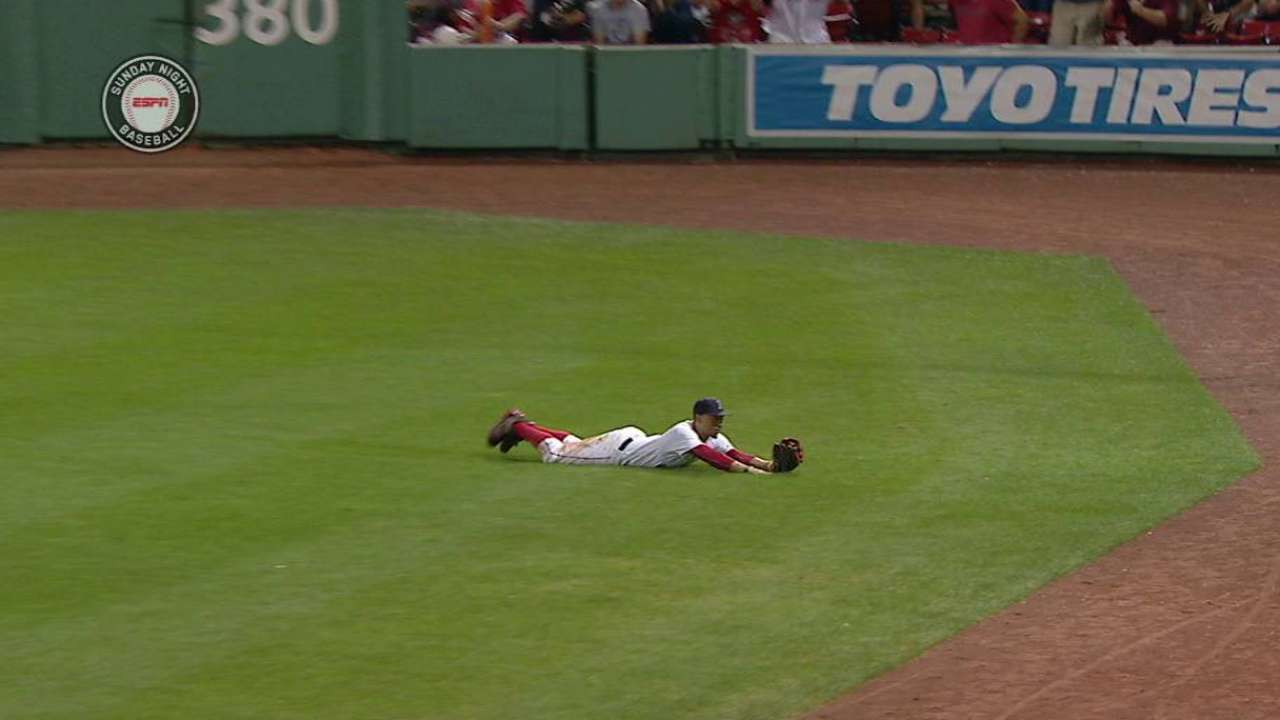 But the jaw dropping didn't end there. Two innings later, with Brett Gardner batting, Betts performed a replica of the play. This time he covered 64.15 feet.
Neither catch went unnoticed, a sold-out crowd of more than 37,000 chanting "MVP", moments after his outstanding defensive performance.
"Which one?" Jackie Bradley Jr. said when asked about Betts' catch. "They were great. Big-time plays when we needed them, especially Teixeira's ball, that was big with a runner on first base. We're always taught not to dive towards the line unless you absolutely know you have it. That was one of those plays where he needed to do that and his instincts kicked in and he was able to make a big-time play."
Ziegler pointed to Betts from the mound after his first catch of the pair, a simple gesture of gratitude for his right fielder.
"It was a great catch, in a big spot," Ziegler said. "If it falls in, the game changes completely. That's been the thing that has impressed me the most since I got here, is how well he's made that adjustment to the outfield. I know that he came up as an infielder and for him to be playing so well. It's just fun to have guys like that where it allows me to be aggressive on the mound, knowing that our defense is so good behind me."
Deesha Thosar is a reporter for MLB.com based in Boston. This story was not subject to the approval of Major League Baseball or its clubs.