Despite loss, Suarez solid in Giants' rotation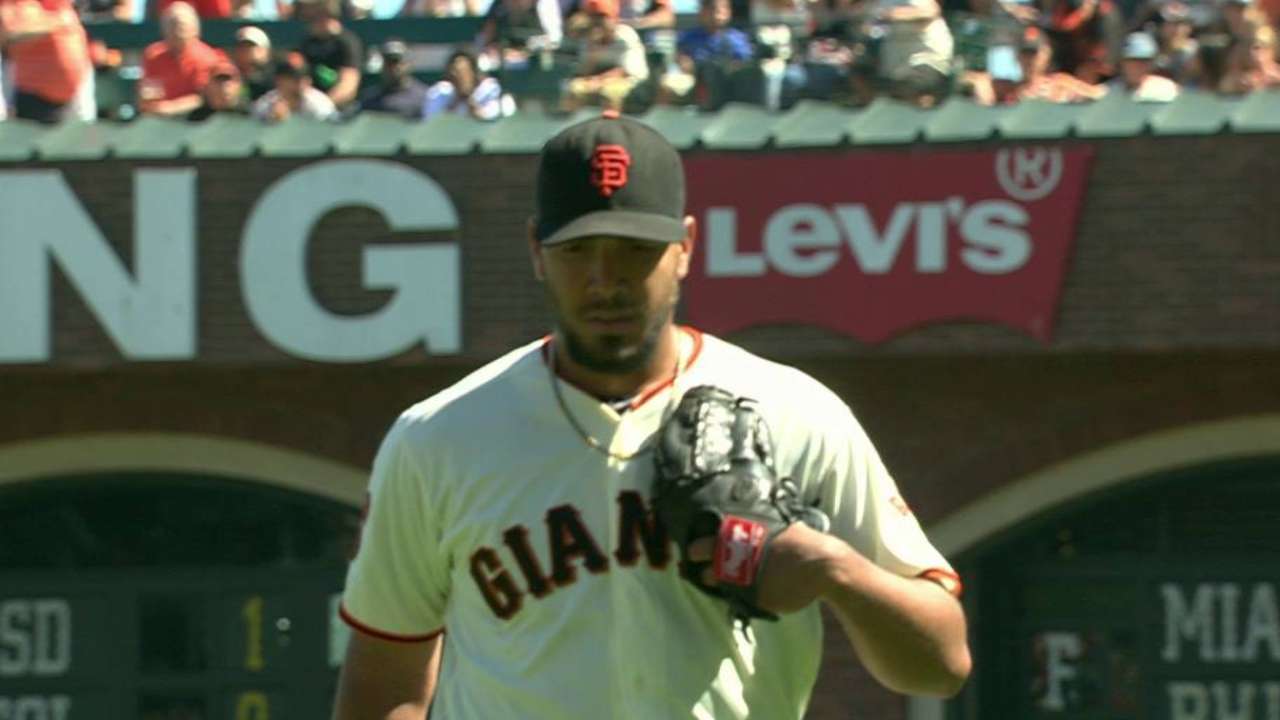 SAN FRANCISCO -- Giants manager Bruce Bochy was searching for stability at the back end of his starting rotation in August. He's clearly found it with Albert Suarez.
After returning from Triple-A Sacramento on Aug. 27, the 26-year-old rookie has settled into the role as the team's fifth starter, providing the Giants with another solid outing Sunday in the club's 3-0 loss to the Cardinals.
Just one pitch got away from him.
As he's learning, Major League batters typically send hanging breaking balls over the fence. This time, Cardinals shortstop Aledmys Diaz smashed a first-pitch slider over the middle of the plate into the left-field bleachers for a two-run homer in the third inning.
"I feel like every time I miss a pitch, it's a home run," said Suarez. "I'm like, wow, it should be a double, but it's the big leagues."
Suarez rarely missed, though, which is becoming the norm every time he starts for San Francisco. He allowed two runs in five effective innings, making it 11 consecutive starts in which he has allowed three runs or fewer. He became the first Giant to accomplish that feat to start a career since Ryan Jensen in 2001.
Suarez proved to be at his best while pitching out of the stretch Sunday. The Cardinals put runners on base in the first five innings. But outside of Diaz's two-run homer, Suarez got out of every jam unscathed. He also induced six groundouts, including an inning-ending double play in the fourth.
"If I threw the pitch down [to Diaz], maybe I'd be out there for the sixth," said Suarez.
While he hasn't lasted past the fifth inning since returning to the club, he's suitably fulfilling his role.
"Another good outing -- he's been pretty consistent," said Bochy. "He keeps us in the game; he gives us a chance. We just couldn't give him any runs."
A lack of run support is why Suarez hasn't recorded a win since returning from the Minors. But, as he displayed Sunday, the right-hander is capable of shouldering the load every fifth day for the Giants. And with just two weeks remaining in the regular season, that could be vital to San Francisco's postseason chances.
Justin Wise is a reporter for MLB.com based in the Bay Area. This story was not subject to the approval of Major League Baseball or its clubs.