Ottavino out to solve struggles vs. lefty hitters
Rockies closer throws a scoreless ninth to notch fifth save on Sunday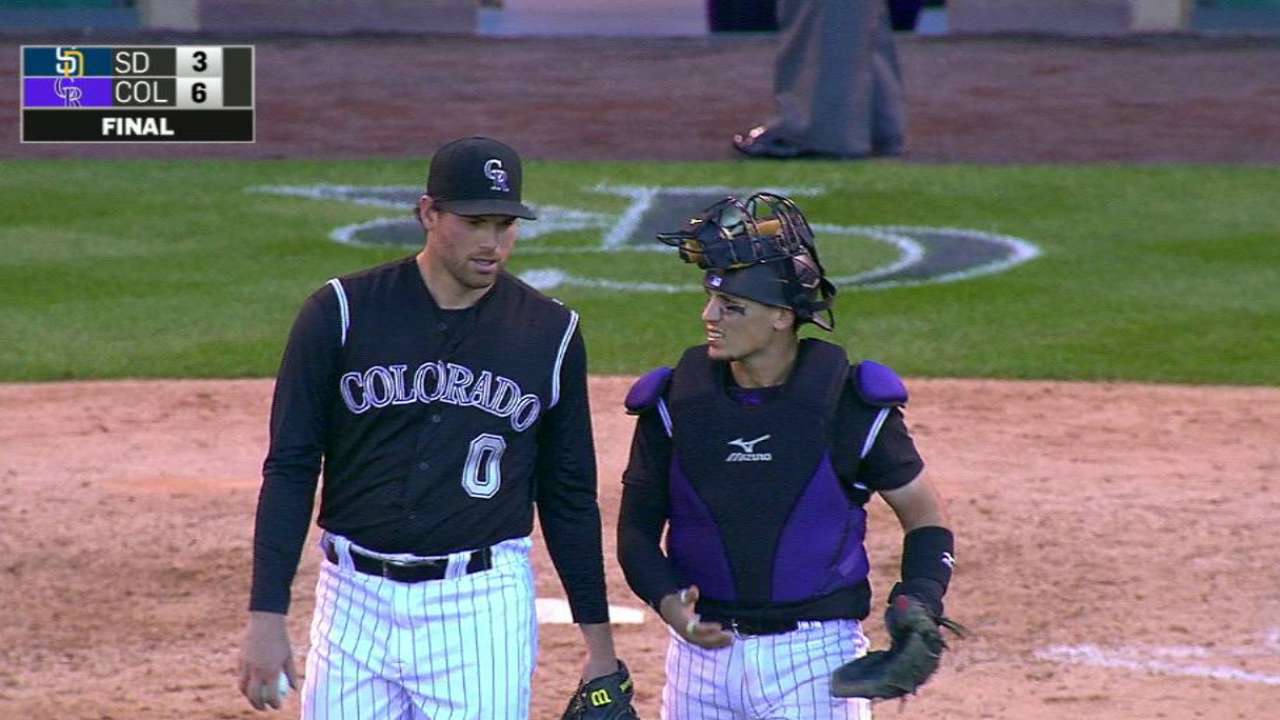 DENVER -- Sunday afternoon, like most games this time of year against teams with expanded rosters, was another chance for Rockies closer Adam Ottavino to address his greatest weakness.
The right-handed Ottavino faced four Padres batters in the bottom of the ninth inning. What's instructive is he defeated the three left-handed hitters he faced -- two on strikeouts -- to earn his fifth save of the season in the Rockies' 6-3 victory at Coors Field.
Ottavino extracted a groundout from leadoff man Oswaldo Arcia, struck out Hector Sanchez and, after the right-handed Adam Rosales singled, fanned Luis Sardinas with the count full. Before setting down Arcia, Sanchez and Sardinas, lefties were batting .281 and had a .410 on-base percentage against him in 39 plate appearances.
To be an effective closer, Ottavino will have to improve those numbers. But the 30-year-old doesn't care what inning he pitches -- after all, the three-year, $10.4 million contract he signed last winter does not include any incentives for saves. Still, he knows he needs to perform better against lefties.
"Yes," Ottavino answered in the middle of a question about how beating lefties would make him a more viable closer. "... Regardless of when they use me, I'll be a lot more useful to the team, whether that be closing or whatever.
"If I'm only effective versus righties, I'm very limited in how the team can use me."
This time against a trio of Padres left-handed hitters, Ottavino -- whose wipeout slider helps him hold righties to .118 with a .151 OBP -- found a workable combination of fastballs, sliders and cutters against the lefties.
"It's just command," Ottavino said. "I've had trouble throwing certain pitches to lefties. I think it's because of the visual. So I tried to switch some things up today, throw some different options I've been working on that allowed me to stay in the zone better and get in good counts. When I go ball one, ball two to a lefty, that's when I get in trouble."
Ottavino's work completed a day in which he and lefties Chris Rusin and Logan combined for seven strikeouts in 3 2/3 scoreless innings to hold starter Chad Bettis' lead.
Ottavino had seemingly put the right-on-left issue to bed last season before suffering a season-ending elbow injury in late April. In 10 appearances, which included three saves, he held lefties to a .133 average and .188 on base in 16 plate appearances, which wasn't much off from his numbers against righties, .059 and .158 in 19 plate appearances.
In 2014, lefties hit .347 against him.
"It's been a mission of mine for years and years and years," Ottavino said. "I was close [last year]. I didn't try anything new today that I didn't do last year. It was just my rusty tendencies came up against lefties this year after surgery. My righty stuff came back pretty quick.
"I'm trying to pick up where I left off last year with those strategies and execution. I'm finally getting there now."
Thomas Harding has covered the Rockies since 2000, and for MLB.com since 2002. Follow him on Twitter @harding_at_mlb, listen to podcasts and like his Facebook page. This story was not subject to the approval of Major League Baseball or its clubs.