Stroman stays sharp but again support lags
Blue Jays starter delivers 4th straight outing of 3 ER or less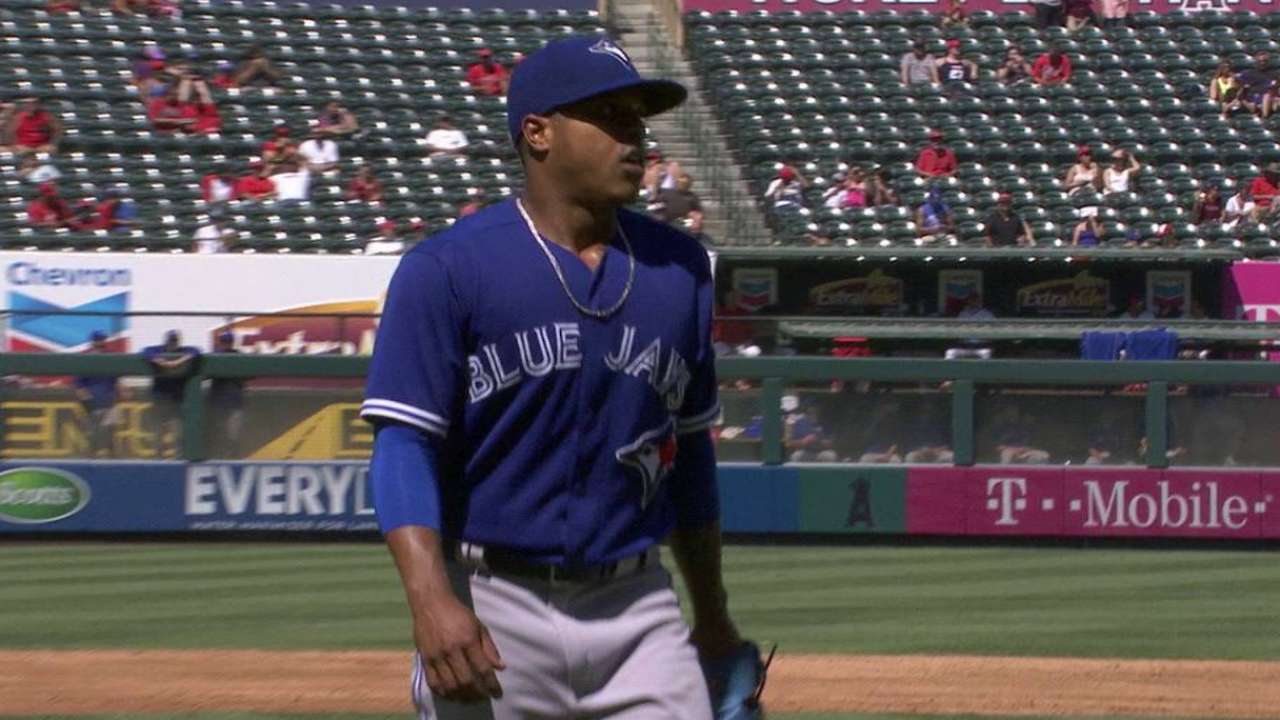 ANAHEIM -- Marcus Stroman has yet to win a game during the Blue Jays' most crucial month of the season, but he can hardly be blamed for the club's recent woes. The harsh reality is the rest of his teammates aren't doing enough to pick him up.
Stroman was the victim of no run support yet again on Sunday afternoon as Toronto fell, 4-0, to the Angels. The 25-year-old is 0-4 this month but he's allowed three earned runs or less during each of those four outings. The problem is that the Blue Jays have scored a total of five runs over that same span.
The lack of offense reared its ugly head yet again in the series finale vs. Los Angeles. Stroman did his part by allowing two runs over six strong frames but his teammates managed a total of four hits and put just three runners in scoring position. Toronto now finds itself with an AL-worst 52 runs during September.
"That's our goal is to keep our team in the game," Stroman said of the starting staff. "I feel like, collectively, we've done a pretty good job at that all year and we have to continue to be better. We realize the potent offense that we have and that if we keep our team in the game as long as we can, our bats will come around at some point.
"Did they come around today? No. But that doesn't mean they're not going to come around tomorrow. It's an extremely lethal offense that we have and the feeling we have is that things are going to turn around here pretty soon."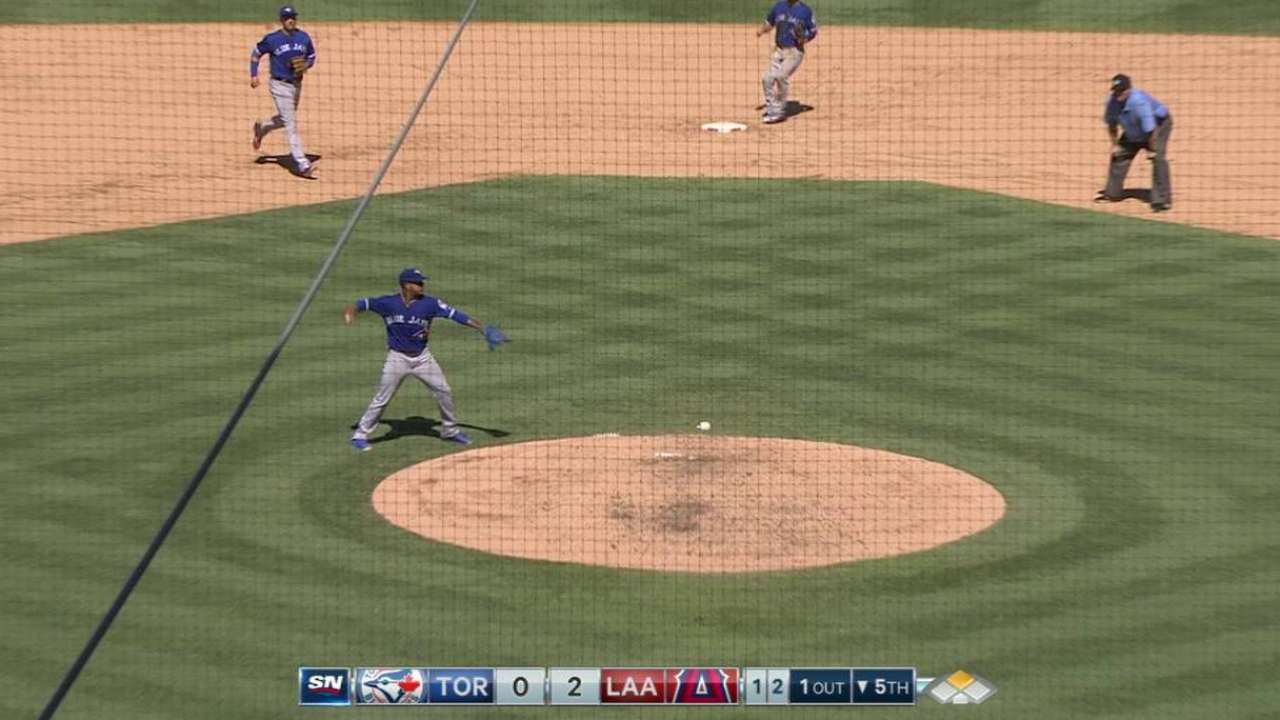 The level of frustration is clearly visible on the field and in the clubhouse. It's most evident at the plate but the lack of positive results has also carried over to the field where Toronto has committed 14 errors in 16 games, which is especially concerning because strong glovework is supposed to be a staple of this team.
The Blue Jays are 5-11 in September and they have yet to win a series over that span. Toronto opened the month with a two-game lead in the division but is now four back of the Red Sox, after Boston's win vs. the Yankees on Sunday night.
All of a sudden, the upcoming three-game series in Seattle looms large. Toronto is two games up on the Mariners and Tigers for the second AL Wild Card spot and the club will need to turn things around quickly before the AL East becomes a total afterthought and a spot in the postseason is put in jeopardy.
"It's been a rough go, I'm still trying to hold out hope that this is going to be that point where we really have to dig down deep, stick together as a team and that's going to help us come playoff time," shortstop Troy Tulowitzki said.
In the clubhouse, everybody is saying all of the right things. They're not panicking, they still have a Wild Card spot, they believe things are going to turn around. The look on their faces, though, shows a deeper level of frustration and understandably so.
"They're all aware of where we're at," manager John Gibbons said. "Nobody likes what is happening right now. Nobody feels good about that. We're due for some wins and we'll see if we get them. Reality is, in the end, if we're good enough we'll be there. If we're not, then we won't. Nobody lucks into anything at this level."
Gregor Chisholm has covered the Blue Jays for MLB.com since 2011. Follow him on Twitter @gregorMLB and Facebook, and listen to his podcast. This story was not subject to the approval of Major League Baseball or its clubs.