Red Sox hand out Minor League awards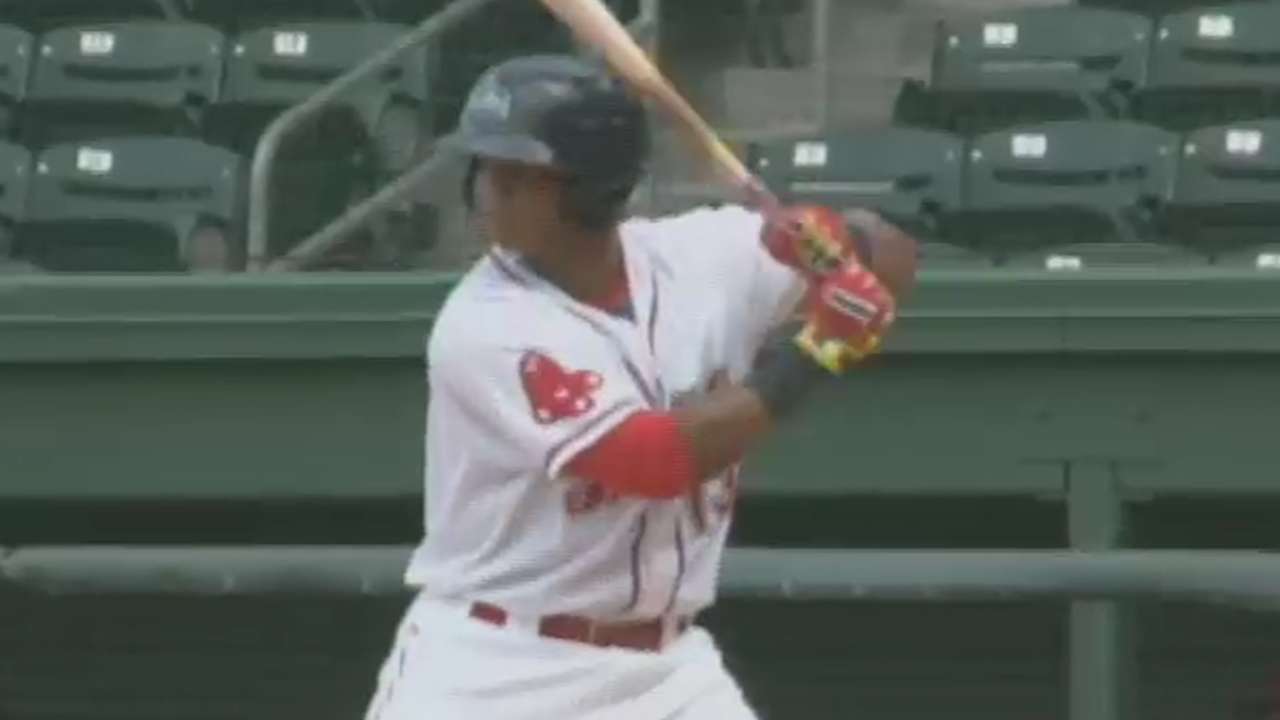 BOSTON -- With the Minor League season officially adjourned, seven Red Sox Minor Leaguers received honors on Sunday at Fenway Park for their year-long effort in 2016.
Rafael Devers, ranked by MLBPipeline.com as the Red Sox's No. 3 prospect and the 17th best prospect overall, was named the organization's Minor League defensive player of the year for his impressive numbers at third base for Class A Advanced Salem.
The 19-year-old committed only 15 errors over 117 games for the Salem Red Sox, leading Carolina Leaguers in fielding percentage (.960), putouts (104) and assists (258).
From the Dominican Republic, Devers signed as an international free agent for the Red Sox in 2013 and has played third base ever since. He grew up playing both shortstop and third base, so the defensive transition to the Minor Leagues was easy for Devers.
"First thing I want to do is thank God for giving me the chance to be here and get this award," Devers said through a translator. "I'm just happy to be here, proud of myself. It's truly a dream come true."
The third baseman improved his fielding percentage each season, from .905 (2014) to .949 (2015) and finally, .960 (2016). The left-handed hitter was named a postseason All-Star in the Carolina League, hitting .282 in 128 games with 32 doubles, eight triples, 11 home runs, 71 RBIs and 18 stolen bases.
However, he began the year in a bit of a slump -- batting just .192 in 46 games between April and May. Devers worked with his hitting coach, Nelson Paulino, to work out the kinks and finish the year the way he hoped.
"I'm very happy about the season I had," Devers said. "I started out slow, but then I worked some things out and the season rounded out the way I expected it to."
Infielder Yoan Moncada won Minor League offensive player of the year, and right-hander Roniel Raudes won Minor League pitcher of the year. Shortstop Mauricio Dubon earned baserunner of the year honors while the Latin program player and pitcher of the year honors were awarded to infielder/outfielder Pedro Castellanos and right-handed pitcher Ritzi Mendoza, respectively.
Left-hander Robby Scott was recognized as the 2016 recipient of the Lou Gorman Award, which was created in 2011 and given annually to the Red Sox Minor League player who's demonstrated dedication and perseverance in overcoming obstacles, while working his way to the Major League team.
Deesha Thosar is a reporter for MLB.com based in Boston. This story was not subject to the approval of Major League Baseball or its clubs.