Wright heading to Florida to rehab shoulder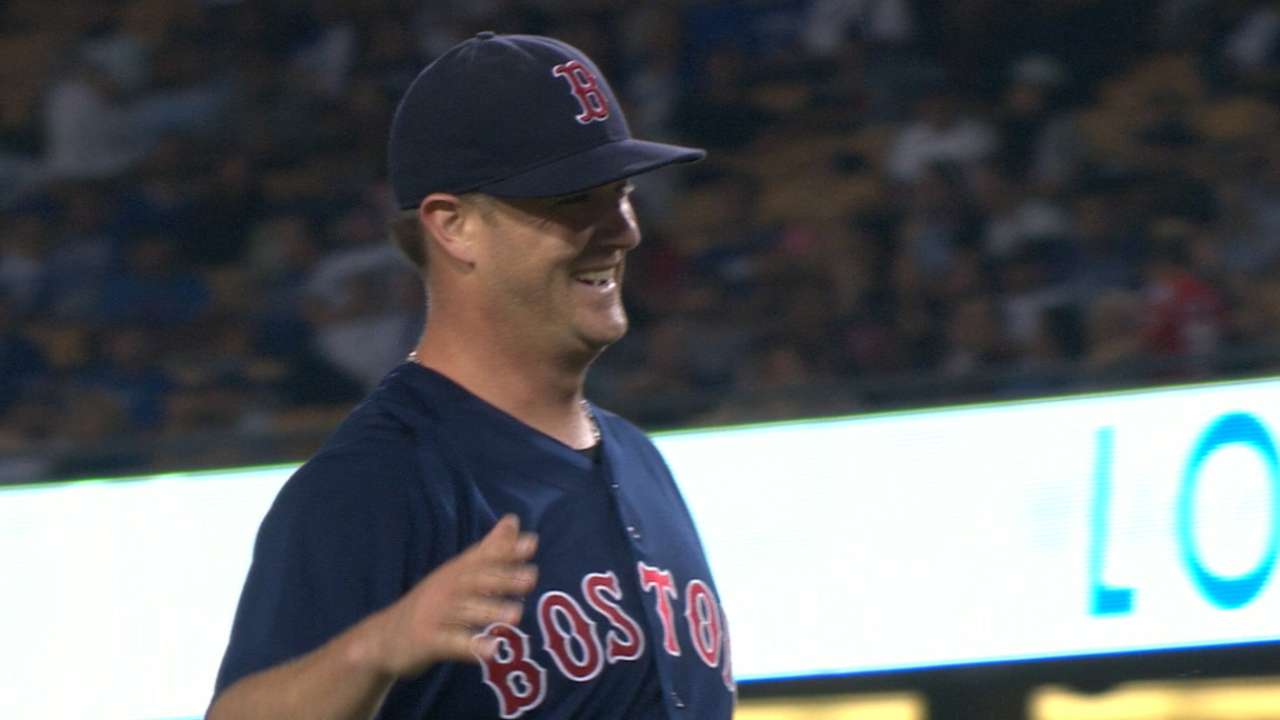 BOSTON -- While the Red Sox will board a plane to Baltimore after Sunday night's series finale against the Yankees, that won't be the case for knuckleballer Steven Wright.
Instead, he'll fly to Fort Myers, Fla., on Monday morning to receive treatment from trainers and hopefully begin a throwing program as he continues to deal with a right shoulder strain.
"Right now, I have a one-way ticket," Wright said. "It all depends on how I progress.
"I'm sure it will be weird to be away from the team. I feel like it is better for me to go down there because I will get more one-on-one attention. I only have so much I can do up here. It is definitely going to suck to be away from the team, but in the big picture it is better for me."
Before the injury, Wright was a steady presence in the Red Sox's rotation. Arguably the ace of the staff the first few months of the season, Wright was named to his first All-Star team by going 10-5 with a 2.68 ERA during the first half.
"Early on and leading into the break, he really stabilized our rotation," Red Sox pitching coach Carl Willis said. "He was so consistent as our other pitchers tried to get things together. Others have stepped up in his absence now, but his contribution early on was greatly important."
It was after Wright pitched the best game of his career, a three-hit shutout against the Dodgers on Aug. 5, that he injured his shoulder.
Pinch-running for David Ortiz in an eventual 8-5 loss to the Dodgers on Aug. 7, reliever Joe Blanton bluffed a throw to second base in the sixth inning and Wright slid late into the bag.
"I've had a lot of time to think about it. It sucks because [baserunning] is something I haven't done since 2003. I haven't been on the bases and practiced since then," Wright said. "It is still a freak accident, whether people think I should or shouldn't have been out there. I just landed on it wrong. I didn't have a big lead, I just panicked. I wasn't expecting that."
He tried to work through the pain after a stint on the disabled list, making two starts at the end of August, but struggled in both. Wright combined to allowing nine runs on seven hits in 10 innings.
"The last time I threw, I had so much pain in my shoulder it was affecting my release point," Wright said. "It is all about feel, so when you lose that, it is just weird."
The biggest question is whether Wright will be able to pitch before the end of the regular season or during a potential postseason run, as the Red Sox entered Sunday's finale vs. the Yankees with a 2 1/2-game lead in the American League East.
"I think I am running out of days for the regular season. I just want to put myself in a position where I can come back," Wright said. "At the same time, if it is more beneficial to hold off a little bit longer because of the playoffs, I'll let them make that decision."
Quinn Roberts is a reporter for MLB.com based in Boston. Follow her on Twitter at @qlr5001. This story was not subject to the approval of Major League Baseball or its clubs.