Rough series backs Yanks into a corner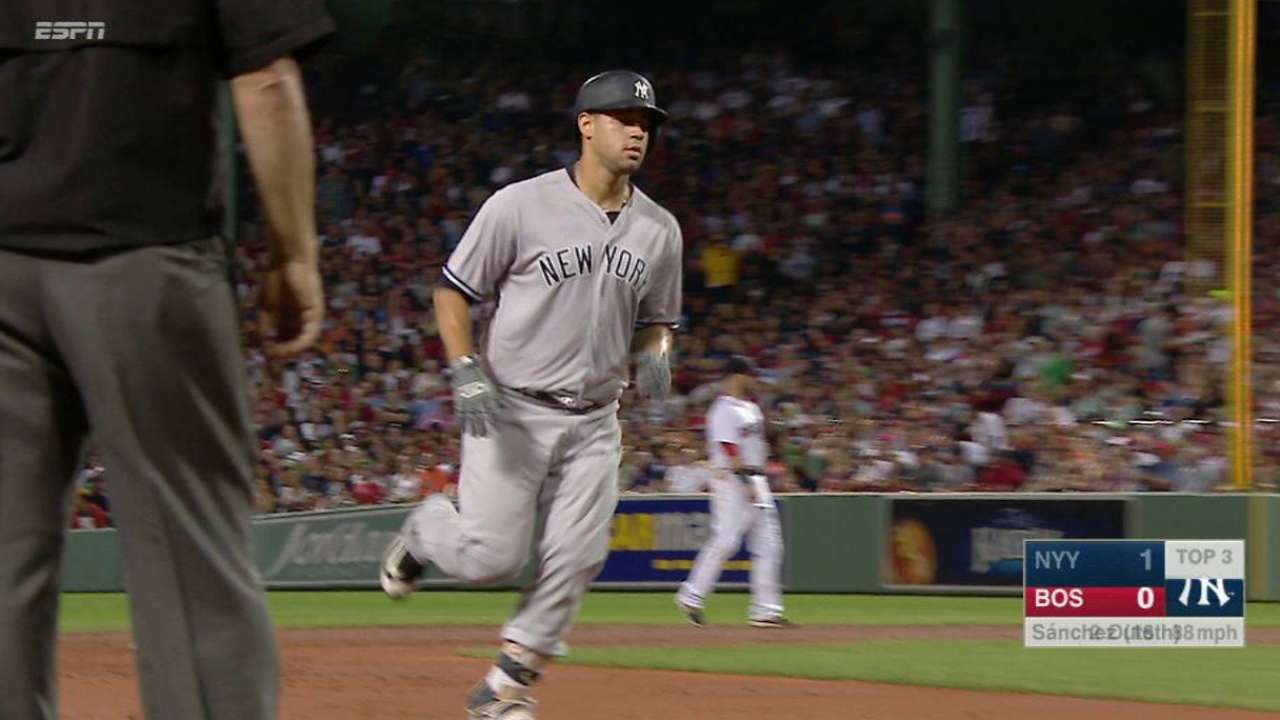 BOSTON -- Calculators are no longer welcome in the Yankees' clubhouse, nor are they necessary. There are 13 games remaining, and after a brutal visit to Fenway Park, Joe Girardi's team needs to win almost every night to avoid having their season end on Oct. 2.
The Yankees found ways to drop a quartet of contests to the Red Sox, flushing leads in three of the games, including Sunday night's 5-4 loss. This time, after another Gary Sanchez homer helped New York build a 4-0 lead, the recipe was the combination of Hanley Ramirez's red-hot bat and a key CC Sabathia throwing error.
"It was tough," Sabathia said. "Obviously we had some games that -- probably all of them -- we could've won. So it's up to us to be ready on Tuesday and try to win a baseball game."
New York has lost five straight and seven of their last eight, unraveling all of the good done by a recent seven-game winning streak. Ramirez single-handedly ruined their weekend, going 9-for-16 (.562) with four homers off Yankees pitching -- including two on Sunday.
Ramirez's game-winning homer in Thursday's series opener completed Boston's unlikely comeback from a 5-1 deficit, and had the Yankees won that game, they would have sat just three games behind in the American League East.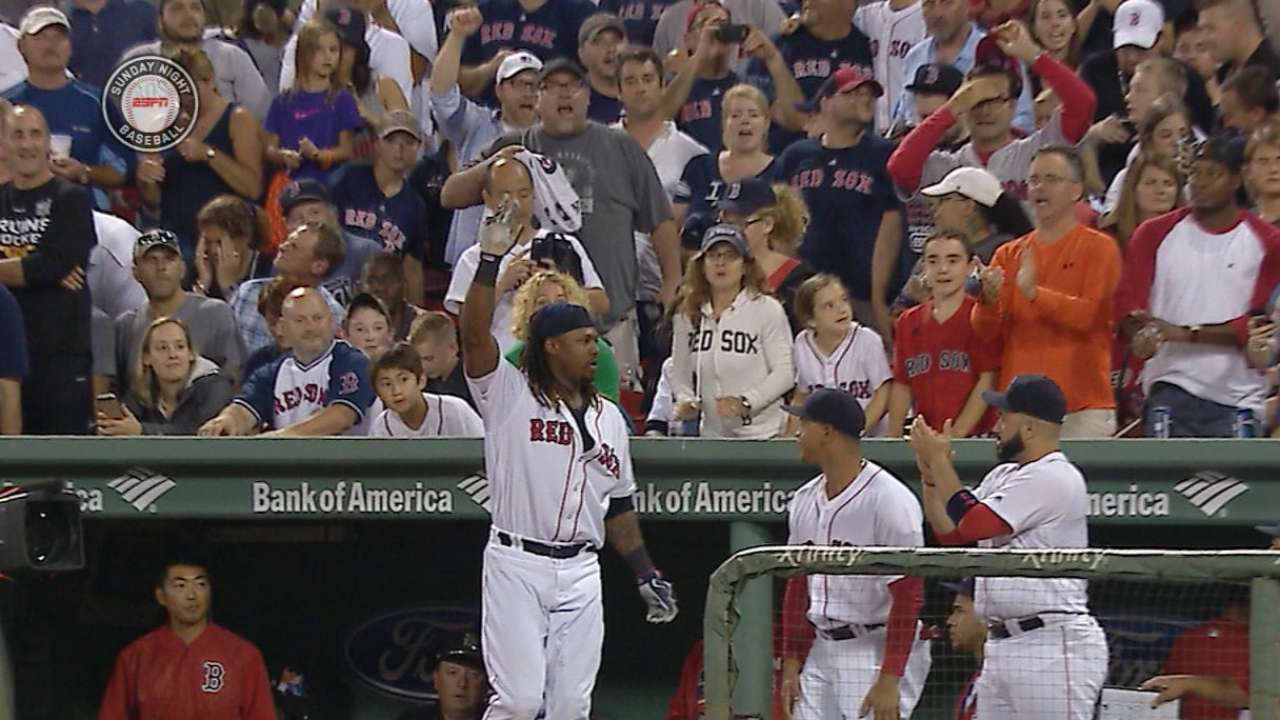 Instead, they departed Fenway with their division hopes all but dashed, now eight back of the Sox. They sit four games back of the Blue Jays for the second AL Wild Card spot, needing also to jump the Tigers, Astros and Mariners to extend their season.
"When we got here, we were finding ways to lose," Mark Teixeira said, "and when you do that three out of four games … the one game, maybe we didn't give it away, but three out of these four we just found a way to lose, and that's tough to take."
Sabathia protected a 4-0 lead into the fifth inning, but an awkward toss and a questionable move by Girardi put Boston back in the game.
With one out and runners at first and second bases, Mookie Betts smashed a liner back to Sabathia, leaving Xander Bogaerts hung out to dry off first base. Sabathia attempted a touch throw that sailed wildly past first baseman Billy Butler, rattling off the tarp.
"Just a tough play," Sabathia said. "I was trying to hit him on the move, ended up short-arming it, and it kind of sailed on me."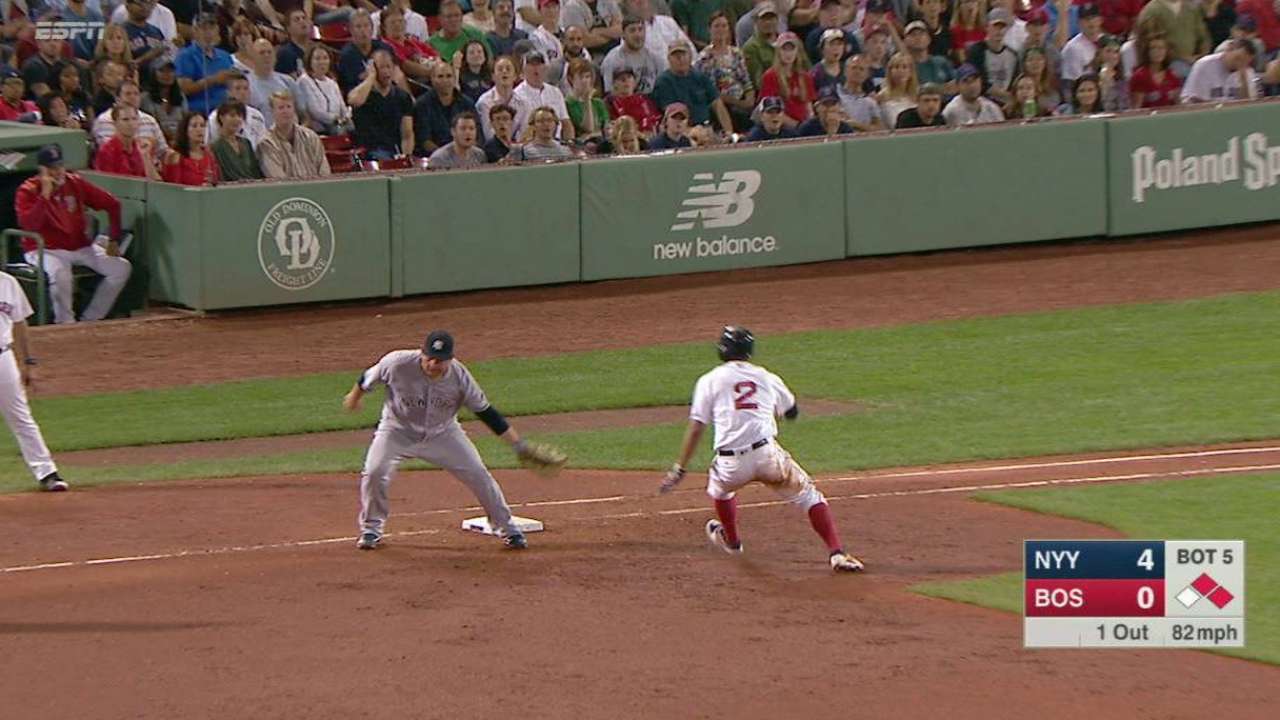 That brought up Ramirez, and Girardi elected to have Sabathia pitch to the slugger with first base open. The crowd of 37,306 jeered Sabathia, then exulted as Ramirez hit a three-run rocket over the Green Monster.
"It was a pitch off the plate. He went out and got it," Sabathia said. "It was one of those things. I wasn't trying to give in to him, you know, throw him something that he could do that with. He ended up doing it anyway."
Girardi said that he did not want to pitch around Ramirez because it would have brought up Chris Young as the potential tying run.
"I know [Ramirez] is hot. What if [Young] hits a home run?" Girardi said. "I'm putting the tying run at the plate? I trust CC. He'd pitched well. [Ramirez] had one hit. He'd gotten him out as well. It's too early in the game to do that, and anyway, I'm not going to put the tying run to the plate if I don't have to."
With both Luis Severino and Adam Warren unavailable in relief, Girardi pushed Sabathia into the sixth inning, where his 112th and final pitch was lined into right field by Jackie Bradley Jr. to drive home Travis Shaw as the tying run.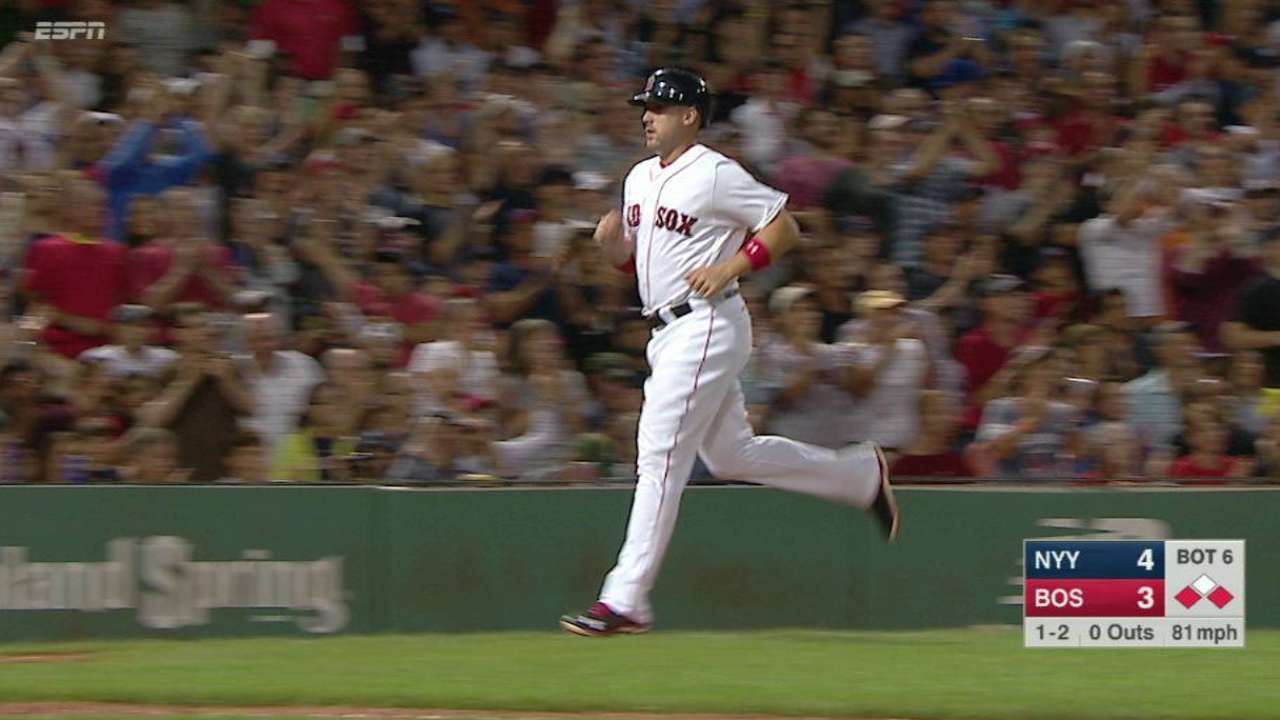 Blake Parker did a nice job to escape the sixth, including strikeouts of David Ortiz and Bogaerts, but Ramirez again unleashed thunder in the seventh with a go-ahead homer off Tyler Clippard.
"We've just got to start winning," Clippard said. "We've got to start rattling off a lot of wins. We're going to take it one game at a time, obviously."
Girardi said that he thought Monday's off-day, the Yanks' last of the season, was coming at a good time for his club. After this week's series against the Rays, they play only teams ahead of them, seeing the Blue Jays, Red Sox and Orioles the rest of the way.
"You can just do the math, and I think we're all aware that we're going to have to win a lot more games than we lose," Girardi said. "If you go .500, you pretty much know that's not going to be enough."
Bryan Hoch has covered the Yankees for MLB.com since 2007. Follow him on Twitter @bryanhoch, on Facebook and read his MLBlog, Bombers Beat. This story was not subject to the approval of Major League Baseball or its clubs.