A's quash Rangers with pair of nifty catches
Eibner robs Beltre with diving catch; Smolinski steals hit from Andrus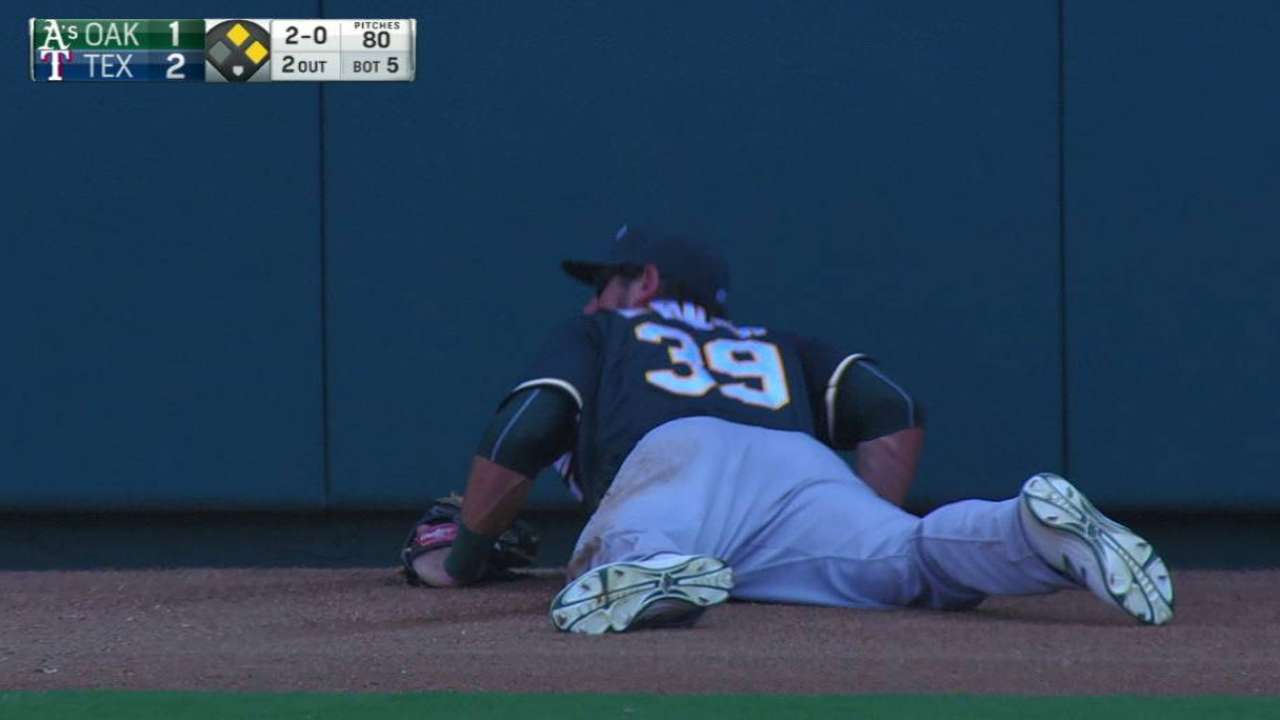 ARLINGTON -- Two tremendous plays by A's outfielders robbed the Rangers of extra bases, and a chance at a victory, as Oakland went on to win the finale of the three-game series, 5-2, Sunday afternoon at Globe Life Park.
A's center fielder Brett Eibner was responsible for the first catch, which came in the fifth inning, and was a pivotal factor in the direction of the game.
"I thought the ball was going to go over his head," Rangers third baseman Adrian Beltre said.
To Beltre's surprise, Eibner snagged his liner with a headfirst dive and his back facing the infield to end the inning and keep two runs off the board.
"I just got a good jump on it," Eibner said. "Once I saw that angle I tried to run to the spot where I thought it was going to be and put my glove up there. I didn't have too much time to really think about it."
A's manager Bob Melvin agreed that it would be hard to count out Eibner's catch as the play of the game.
"If that gets by, now we're in a completely different game," Melvin said. "We're behind, I don't have my bullpen guys that I'm probably wanting to use at that point. The whole game changes on that catch. When the ball was hit, I didn't think he had a chance at it."
The A's would go on to take the lead in the sixth and wouldn't look back. Maybe the biggest benefactor of Eibner's fine play was A's starter Ross Detwiler, who picked up his first win since his first start with the A's on Aug. 10, due in large part to the run-saving grab.
"I kind of put my head down and ran to back up a base, then I looked up and he was diving for it," Detwiler said. "That really kept the momentum on our side."
The Rangers' next best chance at regaining the momentum came with one out in the seventh and Elvis Andrus at the plate, trailing by three. Andrus sent a line drive that looked like it was on its way over left fielder Jake Smolinski's head.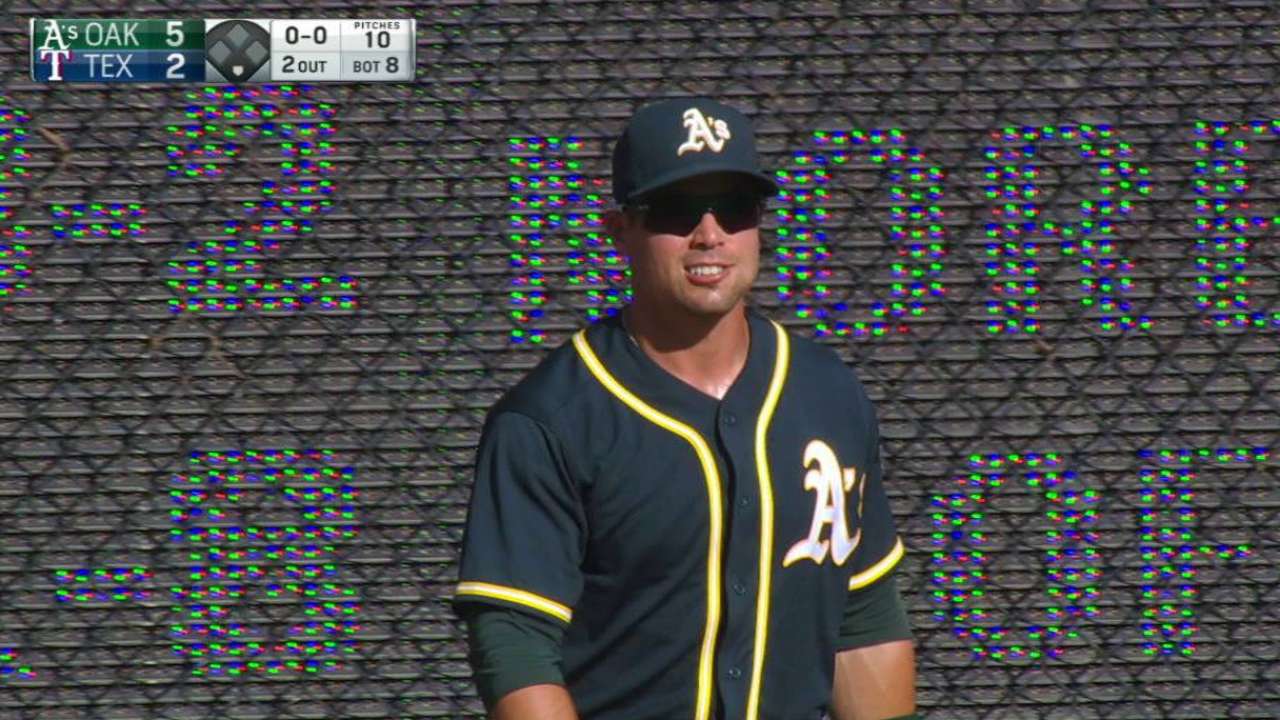 But Smolinski brought in Andrus' liner with a last-second leap to squash the hopes of another Rangers comeback. Andrus' line drive left his bat at 103.7 mph, with a 17-degree launch angle, and traveled a projected 343 feet, per Statcast™. Similar batted balls this season have been hits 70 percent of the time.
"The left fielder made a great catch and their center fielder made a tremendous catch," Rangers manager Jeff Banister said. "We barreled a number of balls hard. A tremendous catch by their center fielder. If he doesn't make that catch, it's a different ballgame."
Ryan Posner is a reporter for MLB.com based in Texas. This story was not subject to the approval of Major League Baseball or its clubs.