Reynolds out for season with broken left hand
Rockies slugger was hit by pitch in fifth inning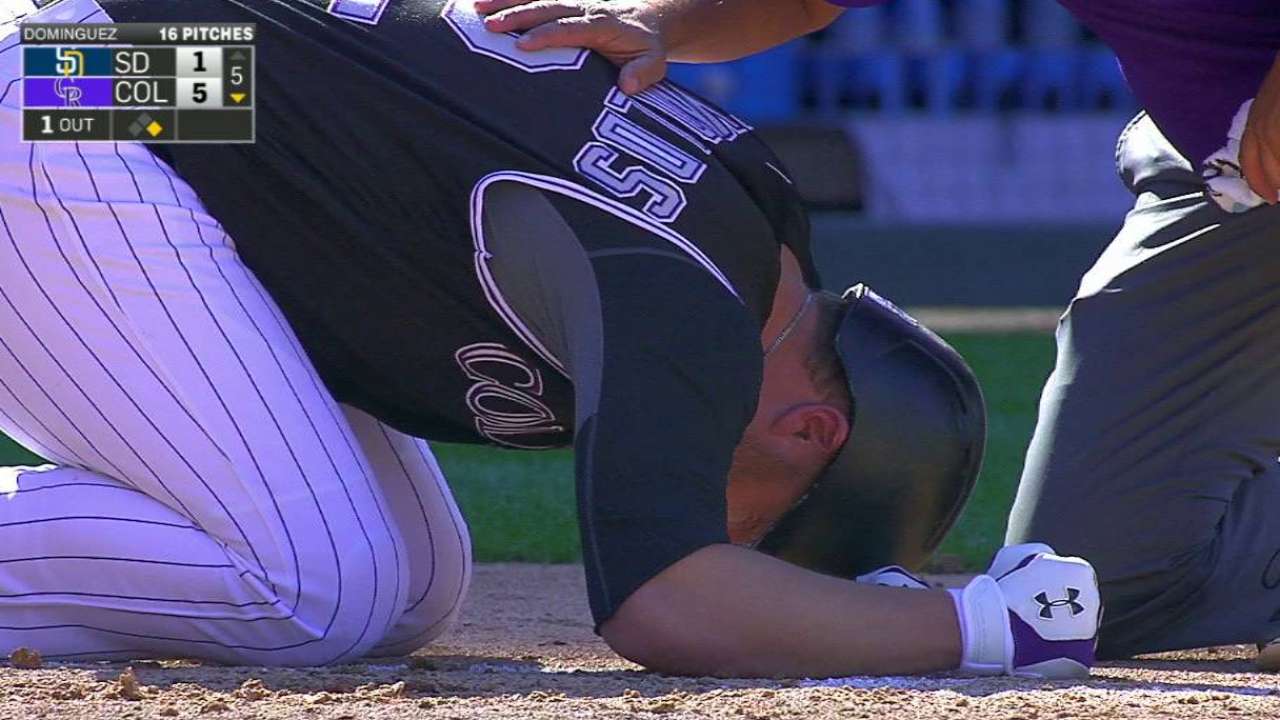 DENVER -- Rockies first baseman Mark Reynolds will miss the rest of the season with a fractured left hand after Padres reliever Jose Dominguez hit him in the fifth inning of Sunday's 6-3 win.
Reynolds had returned from the 15-day disabled list on Aug. 31 from a fractured hamate bone in the same hand that required surgery. The recovery was supposed to take six to eight weeks, but Reynolds returned in 20 days.
"It hurt," Reynolds said. "I have been hit in my hand a lot before, and I had never felt this kind of pain. Right when we went in for the X-rays -- I don't have a radiology degree by any means -- but I could see that it was broken."
Reynolds will be re-evaluated on Monday by Dr. Jennifer Kummer at Steadman Hawkins Clinic in Denver. He said that Kummer did not think the injury would require surgery, but that the recover is six weeks in a cast whether or not he goes under the knife.
Before the injury, Reynolds sparked a five-run fourth inning with a two-run homer to left field. He was replaced by pinch runner Gerardo Parra -- who came around to score that inning -- and remained at first base.
The Rockies signed Reynolds as a free agent last winter on a one-year, $2.6 million deal, and he quickly took over as the team's starting first baseman. He slashed .281/.354/.442 with 14 home runs -- one more than his career low in 10 Major League seasons.
Reynolds was 9-for-32 with two homers, a double, and four walks in 12 games since coming back from the injury, seven of which he started.
"He worked hard to get back from the hamate very quickly," Rockies manager Walt Weiss said. "It's unfortunate he's not going to be able to get to the finish line with us. He's done a really nice job."
Reynolds was in a good mood after the game despite the news.
"I had never broken a bone in my life, and I had two this year in the same hand," Reynolds said.
"It's going to hurt my golf game a little bit, but what are you going to do?"
Ben Weinrib is a reporter for MLB.com based in Denver. This story was not subject to the approval of Major League Baseball or its clubs.