Rosales honors Solarte, late wife on homer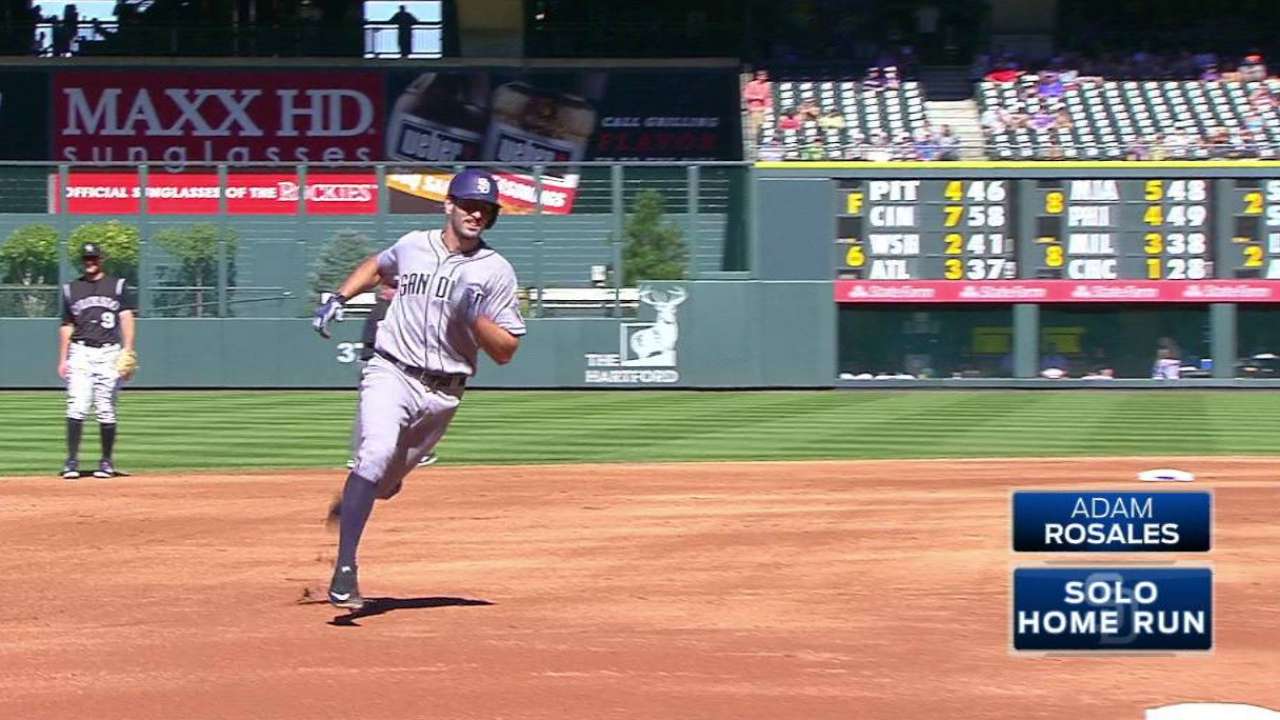 DENVER -- On every Adam Rosales home run this season, the Padres second baseman has sprinted around the bases and through home plate. But on an emotional Sunday afternoon at Coors Field, Rosales changed things up, as he honored teammate Yangervis Solarte, whose wife died on Saturday.
Rosales crushed a second-inning offering from Rockies starter Chad Bettis into the left-field seats. When he crossed the plate, he slowed down and executed a pronounced overhand clap with his right hand -- Solarte's trademarked celebration.
Solarte's wife, Yuliett, passed away after complications from her battle with cancer. She was 31.
"Right when I hit it, I knew it was gone," Rosales said. "I went around first base, I thought about Yuliett and [Yangervis] the whole time. It was just a tribute. I feel like it would mean a lot to Solarte to know how much he means to us, how much his family means to the San Diego Padres."
Rosales said a few of the Padres hitters had talked before the game about honoring Solarte with the gesture if they hit a home run.
"We miss Solarte right now, and our hearts definitely go out to him and his family," Rosales said. "… I don't hit too many home runs, but I was happy that I was able to do that and acknowledge the Solarte family."
Solarte left the team on Friday to fly back to his home in Florida to be with Yuliett and their three daughters. He has informed the Padres he'd like to return before the end of the season, but he'll undoubtedly be afforded as much time away as he needs.
"Everybody's heart breaks for him right now," Padres manager Andy Green said. "There's nothing that replaces a wife and a mother. All we can do is love him and support him."
The Rockies also honored Yuliett with a moment of silence before the game began.
AJ Cassavell covers the Padres for MLB.com. Follow him on Twitter @ajcassavell. This story was not subject to the approval of Major League Baseball or its clubs.