Murphy shows off power during big league stint
Rockies catcher hits two home runs and drives in five on Saturday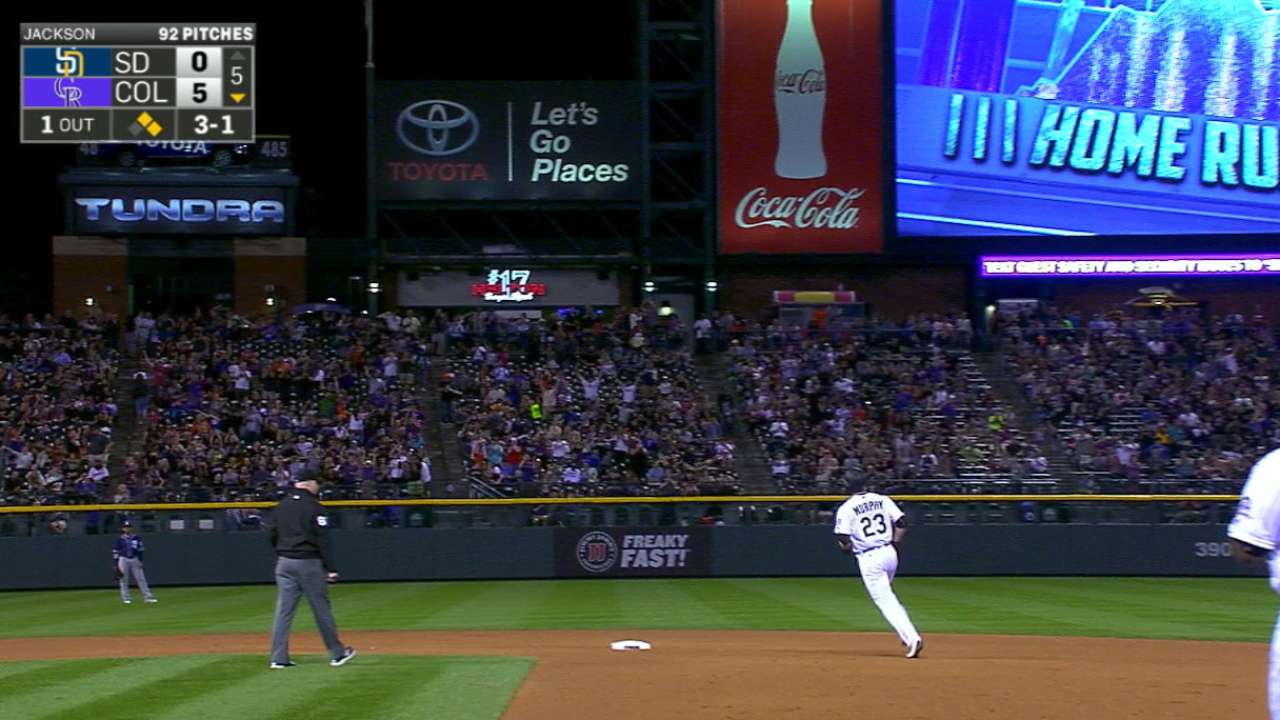 DENVER -- After early-season struggles, Rockies rookie catcher Tom Murphy has become a new hitter. With mechanical adjustments to his swing, Murphy has become a major threat at the plate and a potential long-term piece for the team.
Murphy showed off his powerful swing in Saturday's win over the Padres with his first multi-homer game and a career-high five RBIs.
The 25-year-old's 2016 season didn't start until May because of a left oblique strain, and through the first two months, he only hit .208 with four walks and 53 strikeouts for Triple-A Albuquerque. But after studying what made him a good hitter in the past, he made an adjustment and hit .442 with a .831 slugging percentage from July 1 on.
"I got more athletic in my lower half," Murphy said. "It added adjustability to pitches. I didn't have to sit on pitches necessarily. I could adjust my lower half. I cleaned up some bat path issues as well."
Murphy earned a promotion once rosters expanded in September and has hit .320/.370/.800 in 11 games, six of which have been starts. However, it has been difficult to earn consistent playing time with veteran Nick Hundley and fellow rookie Tony Wolters needing starts, as well.
Still, the offensive potential at the catcher position is tantalizing. Catcher is typically one of the worst-hitting positions, and the Rockies already have one of the best offensive shortstops -- often the weakest offensive position -- in Trevor Story.
"You certainly have the upper hand against the average club when you're getting production from those two spots, because it's not real common," Rockies manager Walt Weiss said. "We have the makings of a very good offensive team. We've had some very good offensive players in this team's history. That's been part of our identity, and I think that'll continue with these young players that are showing up."
Murphy still has work to do before he is ready to become an everyday catcher, but the team is clearly excited about his future. With time, he could establish himself as the team's catcher of the future.
"The demands of that position are tough, mentality and physically," Weiss said. "There's a pretty big learning curve there. You've got to learn how to handle a staff, call a game. You're right in the middle of the game plan, and putting together a plan to attack hitters, you're a big part of that. It's much more cerebral than a lot of the other spots on the field, and it's physically demanding. That's why it takes catchers a little while. He's a very physically gifted kid. Most of the growth is out in front of him is on the mental side."
Ben Weinrib is a reporter for MLB.com based in Denver. This story was not subject to the approval of Major League Baseball or its clubs.