5-run 4th leads Rockies to sweep of Padres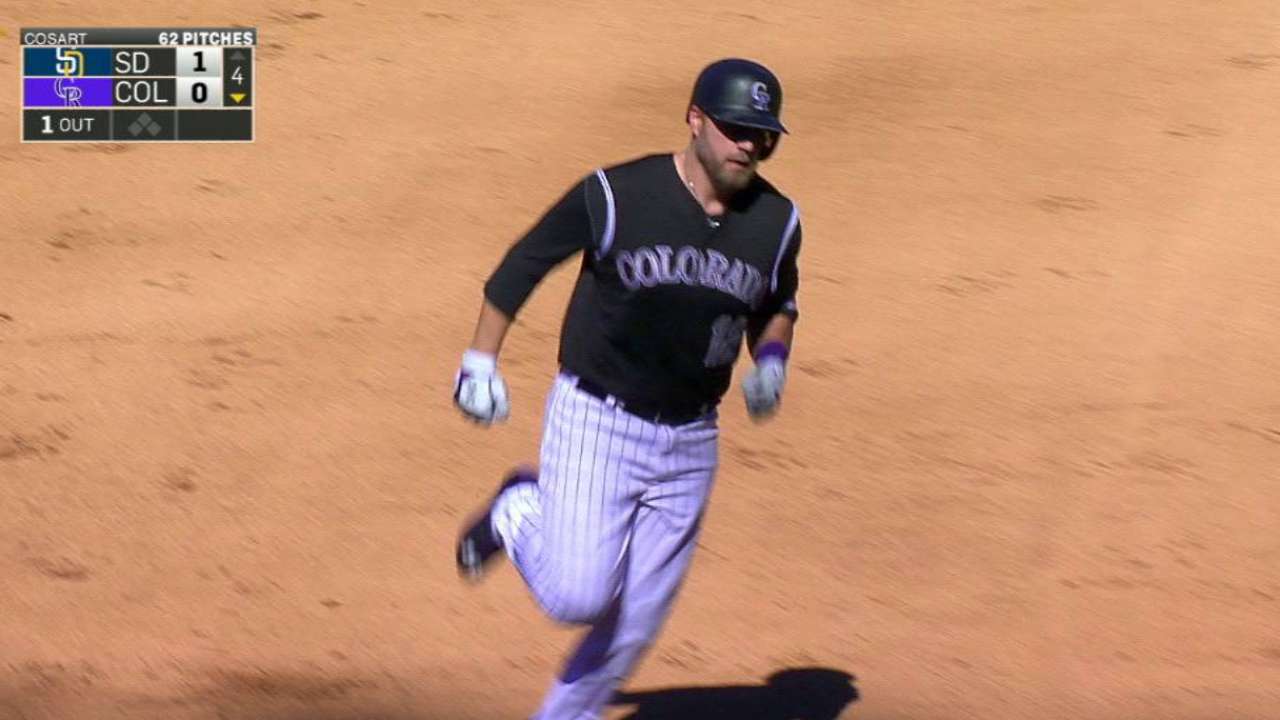 DENVER -- Mark Reynolds led the way for the Rockies' five-run, fourth-inning rally but saw his season come to an end the next inning when he was hit by a pitch in the Rockies 6-3 win over the Padres, at Coors Field on Sunday. The win secured the Rockies' first sweep of the Padres since Aug. 5-7, 2014, and gave them the season series 10-9.
The Rockies couldn't manage much off San Diego starter Jarred Cosart until the fourth, which ended his night when they hit around. Reynolds' 14th homer of the season knocked in David Dahl, who doubled to left center. After Tony Wolters singled to center, Cosart walked three batters, including DJ LeMahieu, who extended his career-best on-base streak to 34 games. Reliever Jose Dominguez couldn't stop the bleeding, giving up a single to Carlos Gonzalez, which knocked in two more runs.
"I thought we did a good job working some at-bats," Rockies manager Walt Weiss said. "We didn't expand for them and bail them out. Cosart, I felt like, was throwing the ball really well. He got himself into some trouble with some walks, but his stuff was good and crisp. I thought we did a good job offensively. We've done a nice job in that aspect of the game, grinding out at-bats and make pitchers earn everything they get."
Reynolds suffered a broken hand during a fifth-inning at-bat when he was struck by a Dominguez pitch. He had just returned on Aug. 31 from a broken hamate bone in the same hand that required surgery.
"It's tough," Reynolds said. "I had never broken a bone in my life, and I had two this year in the same hand. It's tough, but I'm going to get it better and get ready for next year."
Chad Bettis earned his team-leading 13th win of the season -- the Rockies have won 15 of his last 18 starts -- by holding the Padres to three runs on five hits over 5 1/3 innings. Adam Rosales homered in the second for San Diego, and Wil Myers drove in two more on a sixth-inning double. But the Padres managed just two baserunners against Chris Rusin, Boone Logan and Adam Ottavino, who earned his fifth save of the season.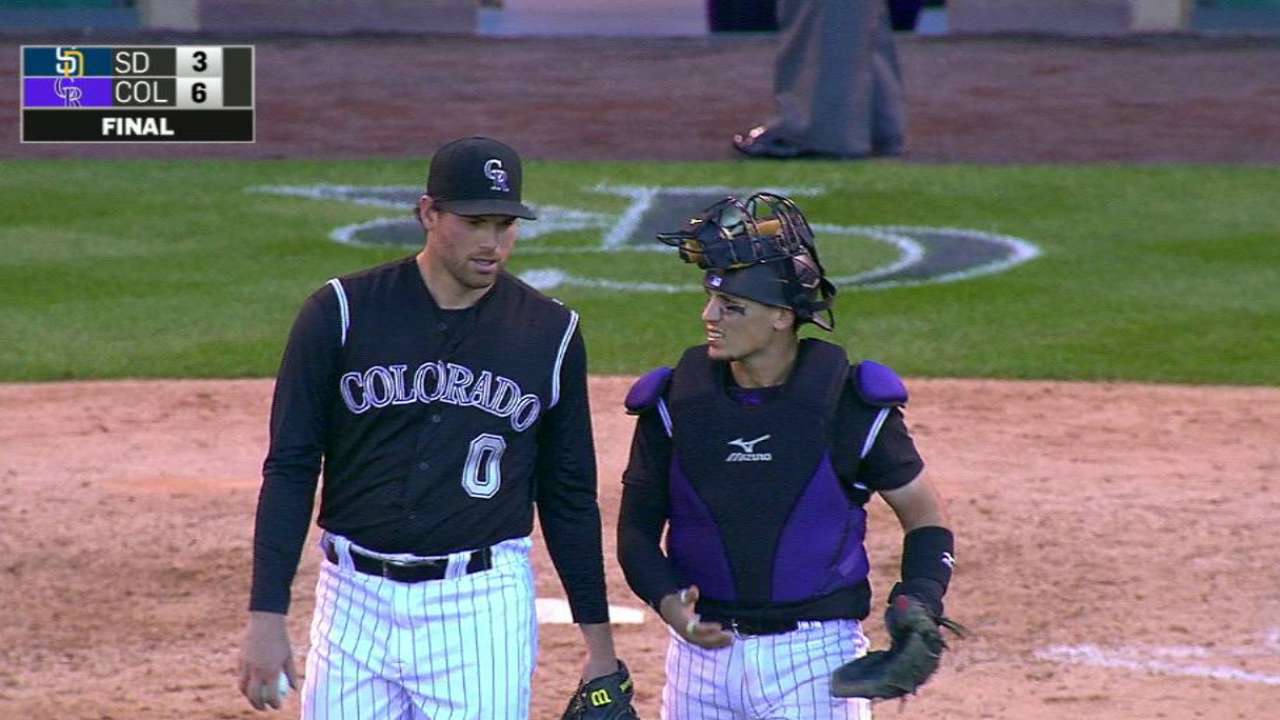 "I still feel like the majority of this series we just weren't on the fastball," Padres manager Andy Green said.
MOMENTS THAT MATTERED
Rockies turn to Rusin: Since being moved to the bullpen, Rusin has been mostly used in mopup situations when the starter left early. However, Weiss turned to the left-hander to protect a three-run lead with one out and runners on the corners in the sixth and left him in for another inning. Rusin has six straight scoreless outings.
"Rusin's been really good," Weiss said. "He's been a bit of a pleasant surprise here lately. He's coming in in a different role than we've used him in before that he's not necessarily accustomed to. He's been very effective. He's got a lot of big outs for us in the past few weeks."
Moving tribute: After his second-inning homer, Rosales honored teammate Yangervis Solarte, whose wife died Saturday after complications from her fight with cancer. Solarte -- who left the team Friday to be with his family -- does an overhand clap before skipping onto the plate after each home run. Rosales did just that after his shot on Sunday.
"Right when I hit it, I knew it was gone," Rosales said. "I went around first base, I thought about Yuliett and [Yangervis] the whole time. It was just a tribute. I feel like it would mean a lot to Solarte to know how much he means to us, how much his family means to the San Diego Padres." More >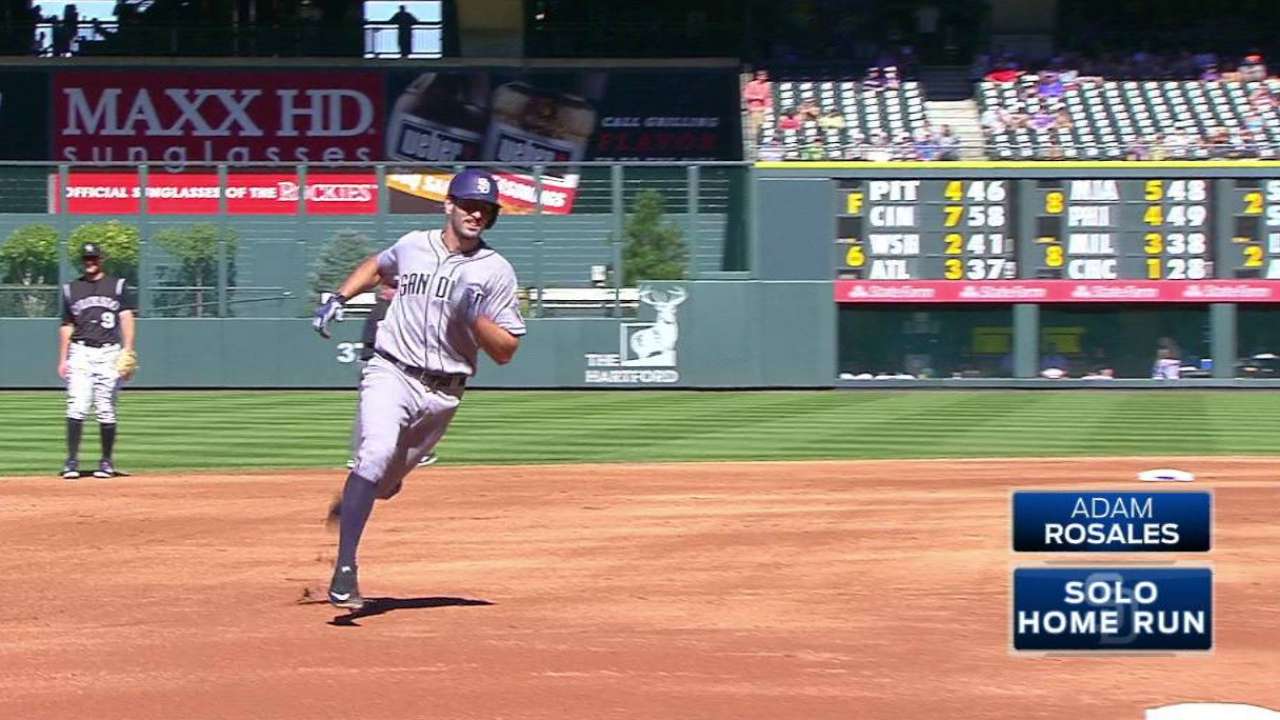 Ottavino overcomes lefties: Ottavino's save was routine with only one baserunner put aboard, but he did especially well, considering three of the four batters faced were left-handed. Coming into the game, lefties were hitting .281 against him with a .410 on-base percentage, while he limited right-handers to a .118 average.
"It's just command," Ottavino said. "I've had trouble throwing certain pitches to lefties. I think it's because of the visual. So I tried to switch some things up today, throw some different options I've been working on that allowed me to stay in the zone better and get in good counts. When I go ball one, ball two to a lefty, that's when I get in trouble." More >
Cosart comes undone: The Dahl double preceding Reynolds' homer was the turning point in Cosart's outing. The right-hander had thrown three scoreless frames to start his day, before giving up a blooper that dropped in front of left fielder Alex Dickerson. Things came unraveled from there.
"I've just got to find a way to minimize damage," Cosart said. "A lot of that is going to be slowing down the game. Hits like that are going to happen. I was pretty upset about it, it was probably visible. But you've got to block that stuff out."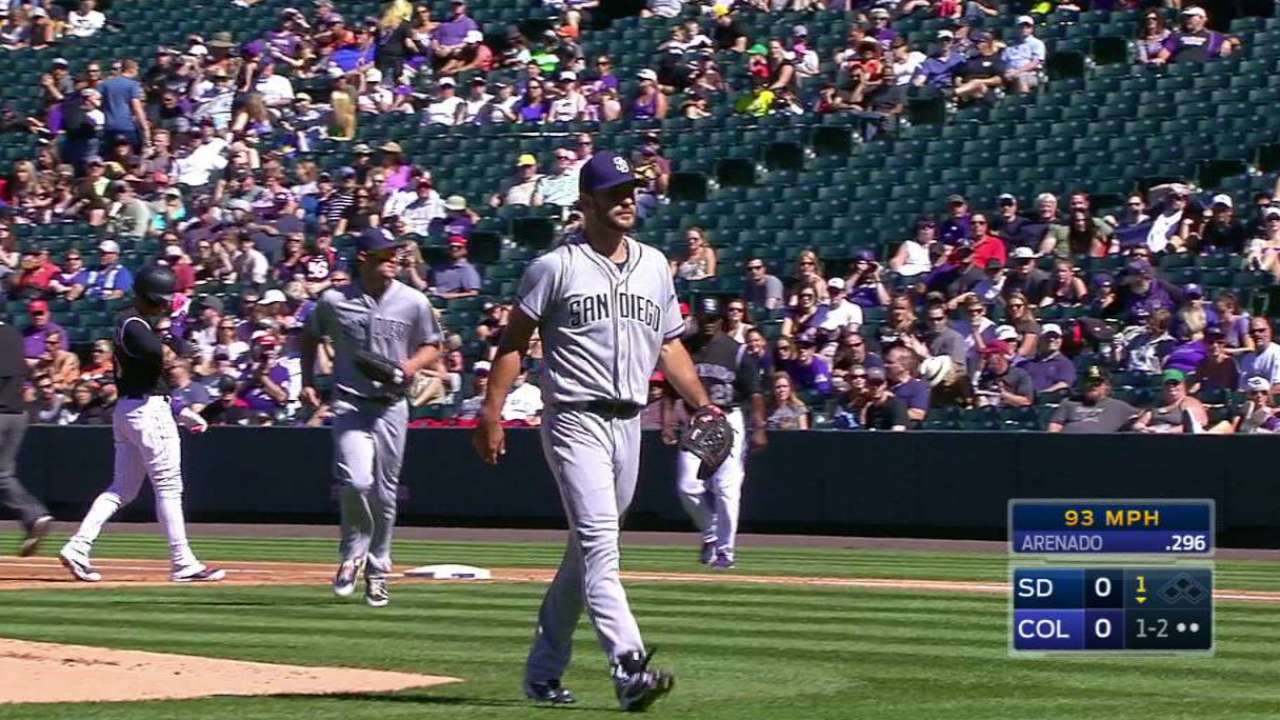 Wil power: Myers cut into the Rockies' lead with his two-run double in the sixth inning. Ryan Schimpf followed with a single, as the Padres brought the tying run to the plate. But Rusin whiffed Brett Wallace before getting catcher Hector Sanchez to bounce to short.
QUOTABLE
"I think the only person who had faced him before was Parra. You get one at-bat against him, and you kind of see how his pitches are moving and what he's trying to do, and I know my first at-bat, I just missed a curveball. It kind of gives you that reassurance in your mind that the pitch is going to do when he throws it. Right there, I was able to get out front of it." -- Reynolds, on his home run off Cosart
SOUND SMART WITH YOUR FRIENDS
Bettis drew walks during plate appearances in the fourth and fifth innings, which is the 12th time in franchise history that a pitcher has walked twice in a game. Juan Nicasio was the last pitcher to do so, drawing two walks against the Giants on April 9, 2013.
"Any time the pitcher is contributing offensively it means a lot," Weiss said. "A lot of times, that can be the difference in the game. You turn that lineup over and then all of a sudden, you have a big inning because a pitcher drew a walk or he got a single or just gave you a good, productive at-bat. We talk about that a lot, how important it is for the pitchers to be involved, and a couple walks by Chad today were big."
WHAT'S NEXT
Padres: The Friars open a three-game set against the D-backs Monday with Clayton Richard on the hill. First pitch is slated for 7:10 p.m. PT. In six starts since joining the Padres rotation, Richard has allowed only six earned runs, and he's been especially adept at keeping the ball on the ground, with an MLB-best 66 percent ground-ball rate over the last 30 days.
Rockies: Rookie left-hander Tyler Anderson will get the call as the Rockies open a three-game series against the Cardinals on Monday at 6:40 p.m. MT. Before giving up six runs over 4 1/3 innings in his last start, he limited opponents to four total runs over his previous three starts.
Watch every out-of-market regular-season game live on MLB.TV.
Ben Weinrib is a reporter for MLB.com based in Denver.

AJ Cassavell covers the Padres for MLB.com. Follow him on Twitter @ajcassavell.

This story was not subject to the approval of Major League Baseball or its clubs.