Shoemaker grateful for support after injury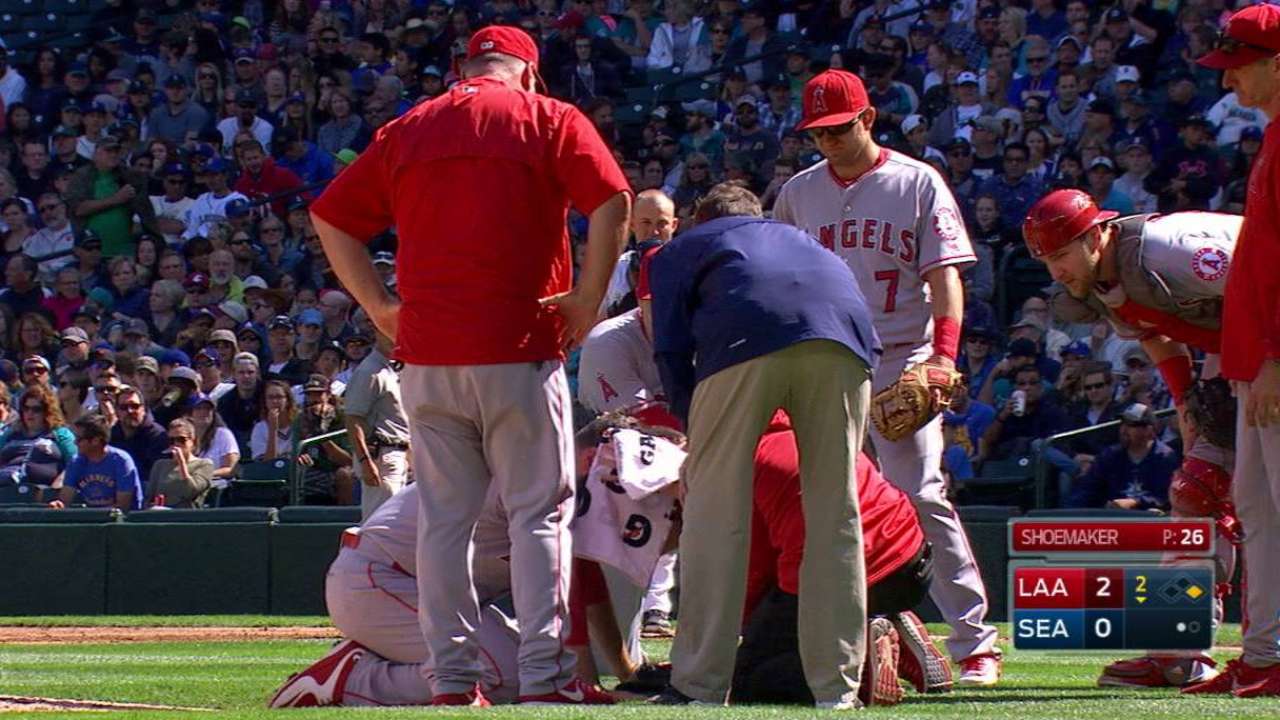 ANAHEIM -- Matt Shoemaker was back at Angel Stadium on Sunday and plans to stick around for the Angels' final homestand next week.
Shoemaker, with a visible scar on the side of his head, spoke with reporters for the first time since Sept. 4, when he was struck in the head by a line drive and underwent surgery to halt bleeding on his brain. It wasn't the right-hander's first day back at the stadium, but he still had teammates welcoming him back in person and get-well cards from fans waiting in his locker.
"The guys are great. It's just welcoming, happy to see me," Shoemaker said.
Since the surgery, Shoemaker has been heavily observed by the team's medical staff with MRIs and other tests. Outside of that, he's been laying low and watching his 1-year-old son Brady at home.
Shoemaker and his wife Danielle have also discovered a support network of past players and wives who have gone through the same terrifying ordeal.
"The awesome thing is that all their wives reached out to my wife, which was great," Shoemaker said. "You know the support staff has been awesome. Some guys that this has happened to, some of them got her number and reached out to her, talked to her. That's been awesome."
The support hasn't been limited to teammates and other pitchers. Shoemaker estimated that he has texted with Kyle Seager, who hit the line drive that struck him, every other day.
Shoemaker plans to be at Angel Stadium for every game of the final homestand against the Athletics and Astros, but he doesn't expect the team to let him watch from the dugout for precautionary reasons. He won't resume physical drills and throwing until the offseason, but manager Mike Scioscia sees a silver lining for 2017 due to the early shutdown forced by the comebacker.
"I think he has the ability to start things earlier than a normal offseason just because he was shut down a month before the regular season was over," Scioscia said. "I think he can move his timeline up a little bit, and what that will do is spread some things out and not have to go as hard when he will start working out. I think that's going to be a positive this offseason."
Another consequence of Shoemaker's injury has been a spurring of the discussion about protective headgear for pitchers. Understandably, the right-hander's experience has left him a proponent of wearing a special cap or helmet that could protect pitchers from a traumatic brain injury. However, he added the caveat that the headgear would have to be comfortable enough not to impede his pitching.
"If it's comfortable, I'd wear it," he said. "As a pitcher you want to go out there and perform and being comfortable is a big thing. It's been something that I've talked about, whether it's with my agent or other guys. If something can be constructed or produced that's a good fit, I could definitely see people wearing it."
Jack Baer is a reporter for MLB.com based in Los Angeles. He covered the Angels on Sunday. This story was not subject to the approval of Major League Baseball or its clubs.