Saladino hoping to lock in at one defensive spot
Infielder's versatility has allowed White Sox to start him at multiple positions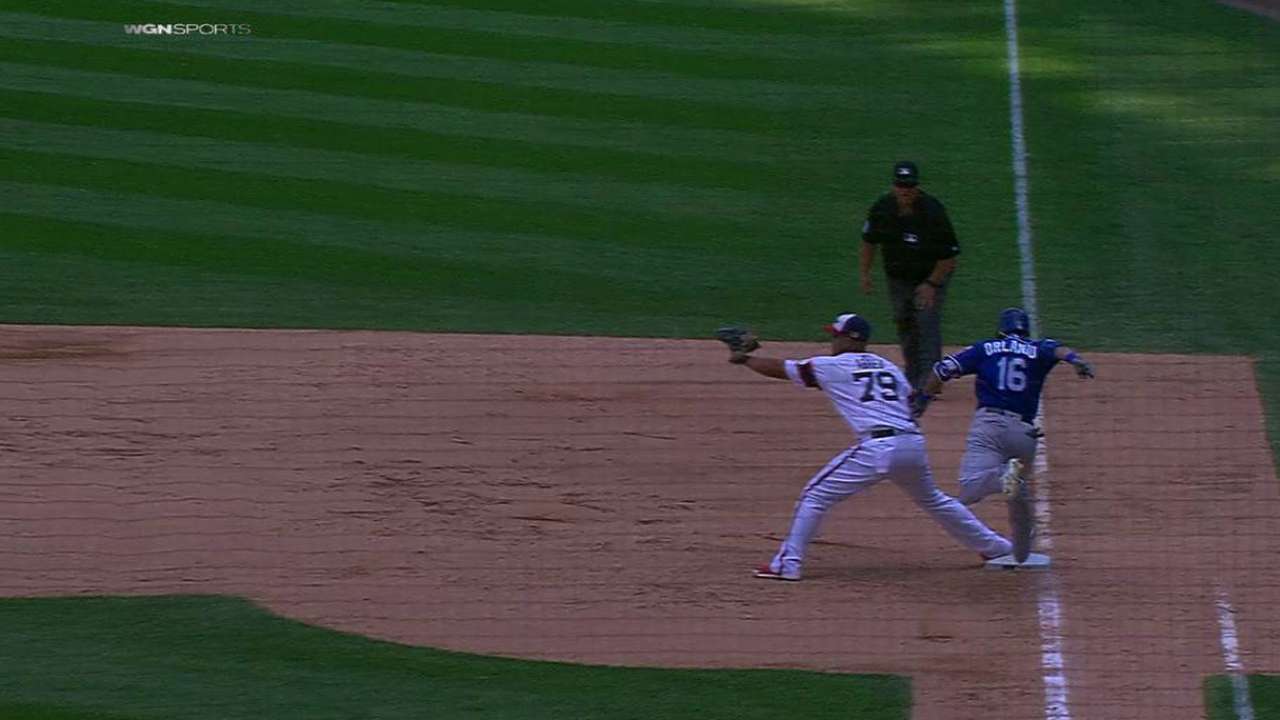 KANSAS CITY -- The goal for Tyler Saladino is to have one primary position as an everyday starter.
Since Brett Lawrie was sidelined by injury during a July 21 contest against the Tigers, Saladino has more than capably handled the second base responsibilities with a .302 average, three homers, seven stolen bases and 18 RBIs over 183 plate appearances. But Saladino's ability to play across the infield might make him too valuable to stick at one spot.
"I know guys think that way. Teams also think another way of having the versatility of being able to move him around," White Sox manager Robin Ventura said. "And moving him around gives him more value. A lot of guys don't always look at it that way.
"If there is an injury, even though he is a shortstop and can play third base, similar to this year with Brett going down, you can play him at second base and leave him there. That's how versatile he is. You don't really sit there and look at it like, 'We'll make do for a couple days.' You actually let him play it out."
Saladino missed a second straight game Sunday with a sore left calf, although he said the injury had greatly improved through treatment. He has started 37 games at second base, all since Lawrie was sidelined, plus 10 at third and 27 at shortstop, hitting .286 with eight homers and 38 RBIs overall.
"It's gone all right, through different positions and requirements that I've had this year with the team," Saladino said. "I've been able to take advantage of them a little bit. Just make the most of them."
"He's made his own adjustments," Ventura said. "When you look at him, he's just a baseball player. There are things he does that he proves over and again how valuable he is."
That value has come for two months as an everyday player -- one with primarily one defensive position to focus on.
"Yeah, it's easier to get into a routine if you are at one spot," Saladino said. "You don't have to stay on top of all the different positions, but I mean, yeah, it's ideal to have a spot. That's what you want. That's what we are going for, to solidify ourselves out here and have a spot out there we can call ours.
"Whatever it is, whatever I may be needed for, at whatever time, that's what I'll be doing. I'm trying to be out there every day. I want to be able to go out there and compete with the rest of the guys in the game and show that I can. But then at the end of the day, whatever opportunity is there, I'll take."
Scott Merkin has covered the White Sox for MLB.com since 2003. Read his blog, Merk's Works, follow him on Twitter @scottmerkin, on Facebook and listen to his podcast. This story was not subject to the approval of Major League Baseball or its clubs.