Royals rock White Sox behind Morales, Duffy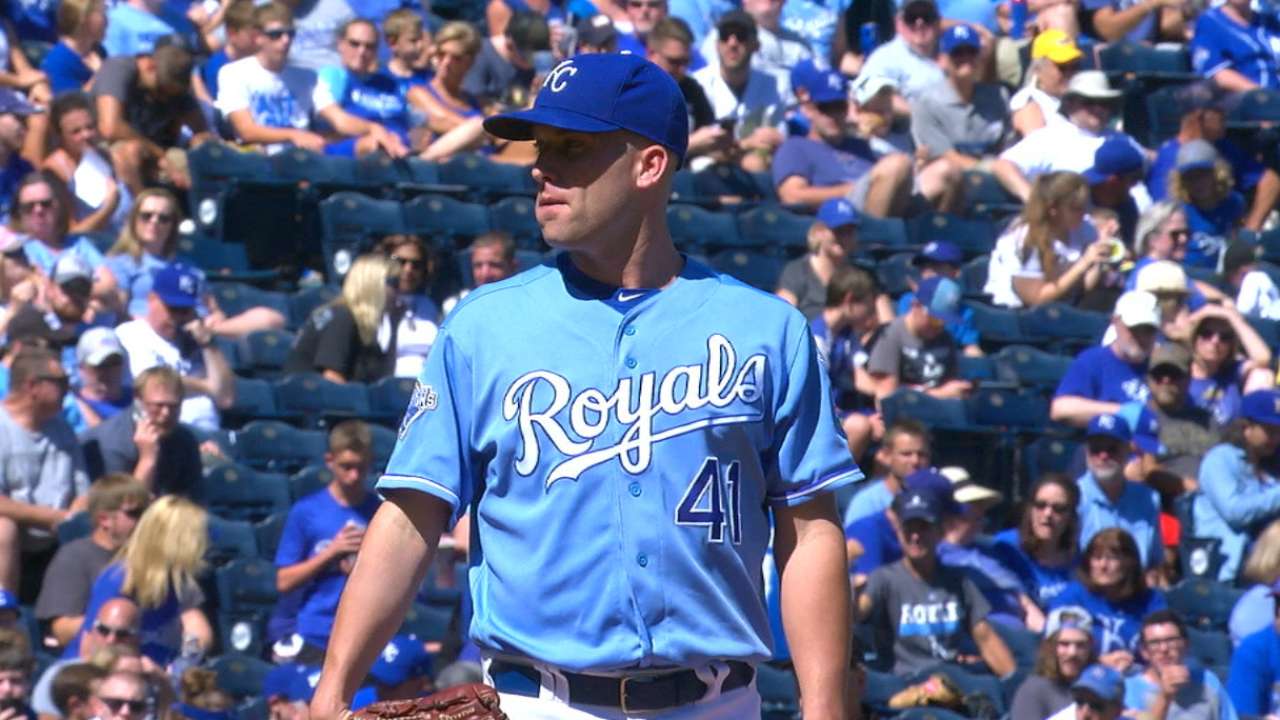 KANSAS CITY -- Danny Duffy has 12 victories during his breakout 2016 campaign as part of the Royals rotation. Exactly one quarter of them have come against the White Sox.
Duffy improved to 3-0 this season against the South Siders with a 10-3 Royals victory on Sunday. Duffy gave up three runs in seven-plus innings, striking out eight and walking two. In five starts against the White Sox, the southpaw has allowed nine runs over 31 2/3 innings to go with 32 strikeouts and five walks.
The White Sox shouldn't feel like Duffy is picking only on them. He's flourishing against the entire American League, especially at home. Duffy extended his club record for consecutive home starts without a loss to 14. He hasn't lost at home since Sept. 5, 2015 and is 7-0 at home this year. He's the only pitcher in the Majors with at least seven wins and no losses at home.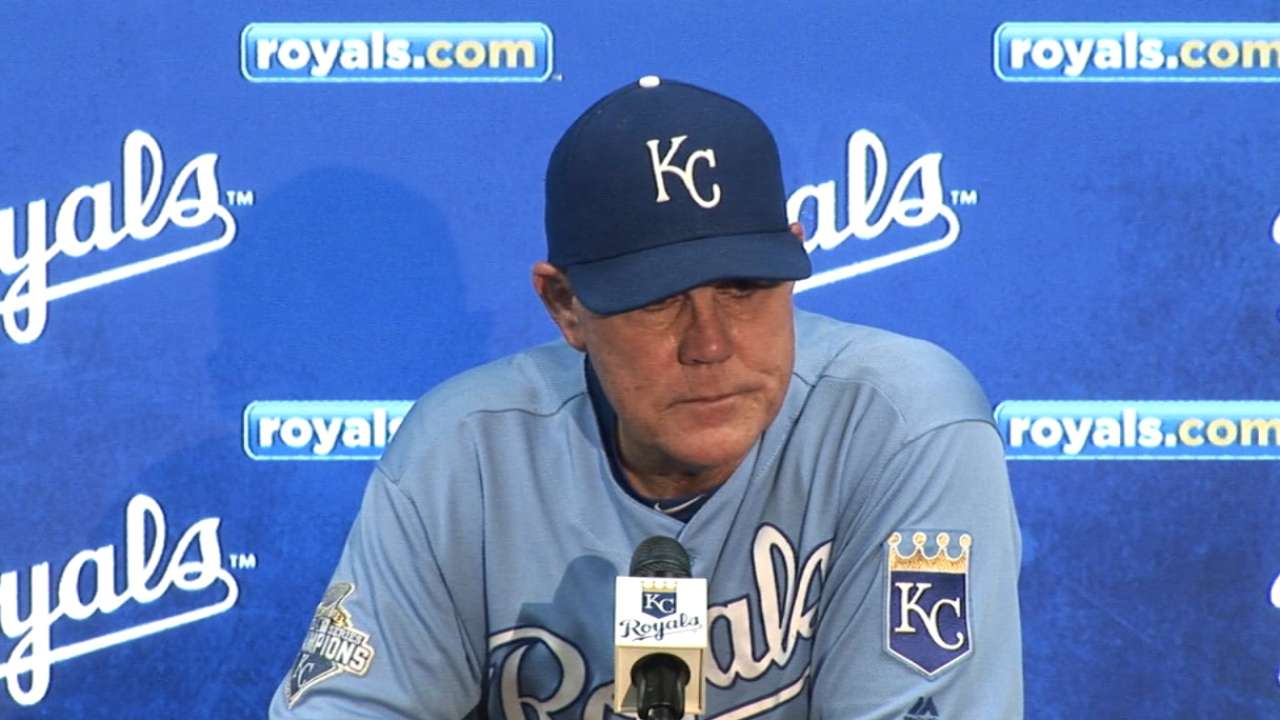 Royals manager Ned Yost continues to love what he's seeing from Duffy.
"Seven really strong innings," Yost said. "He did a great job of limiting mistakes. He had a really good breaking ball, really good changeup and spotted his fastball well."
The Royals stayed six games behind the Orioles in the American League Wild Card race, with co-leader Toronto playing in Anaheim. The White Sox officially were eliminated from AL Central title contention after leading the division by six games on May 9.
"I probably mixed it up a little more than I normally do," Duffy said. "But when I throw my fastball, I know it's good enough to get people out. It's a simple mindset. I trust my fastball, and everything else plays off of it."
Jose Quintana took the loss for Chicago, with the All-Star making his third non-quality start in his past four trips to the mound. Quintana's ERA jumped to 3.26 as he gave up six runs on 10 hits in four innings, marking his shortest outing since he gave up nine runs over four innings in Detroit on April 19, 2015. Kendrys Morales drove in four and finished a triple shy of the cycle, while Alex Gordon also went deep. Eric Hosmer plated three runs, Whit Merrifield knocked out three hits and Paulo Orlando scored three times.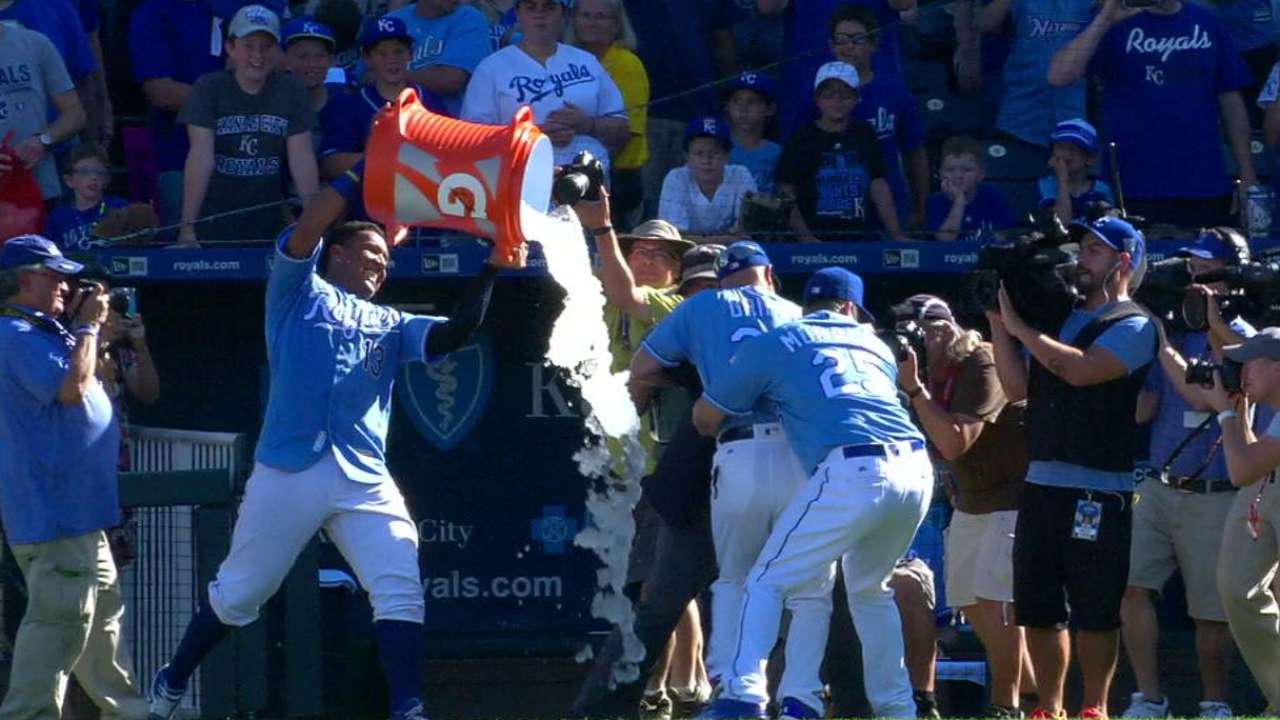 "It's cool to see some balls fall," Duffy said. "The whole offense and the whole defensive [side] did a great job today."
While Duffy was on his game, Quintana struggled to find his normal groove.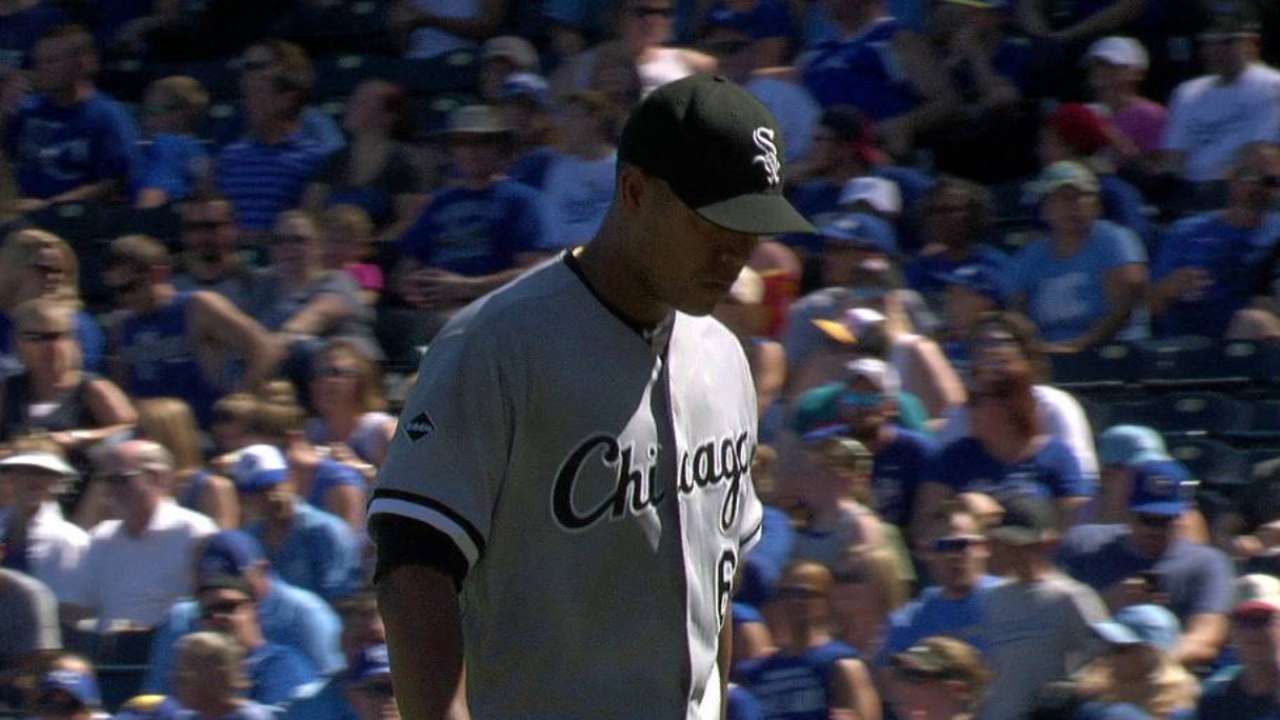 "He just wasn't his normal self, the stuff you would expect from him," said White Sox manager Robin Ventura. "They hit him pretty hard, too. You start looking at that, he had a couple of walks in there. He just wasn't locating the way he usually does. It was just an off day for him. We didn't do much offensively against Duffy. He was throwing it pretty good. But just a rare one for Q."
"It was a bad day for me," Quintana said. "I was fighting too much with my delivery, especially the first couple innings, and I was behind the counts. This happens sometimes. Tried to come back, but it was a little late. Ran too much to the middle, especially the fastball. A couple high counts. It was just a bad day."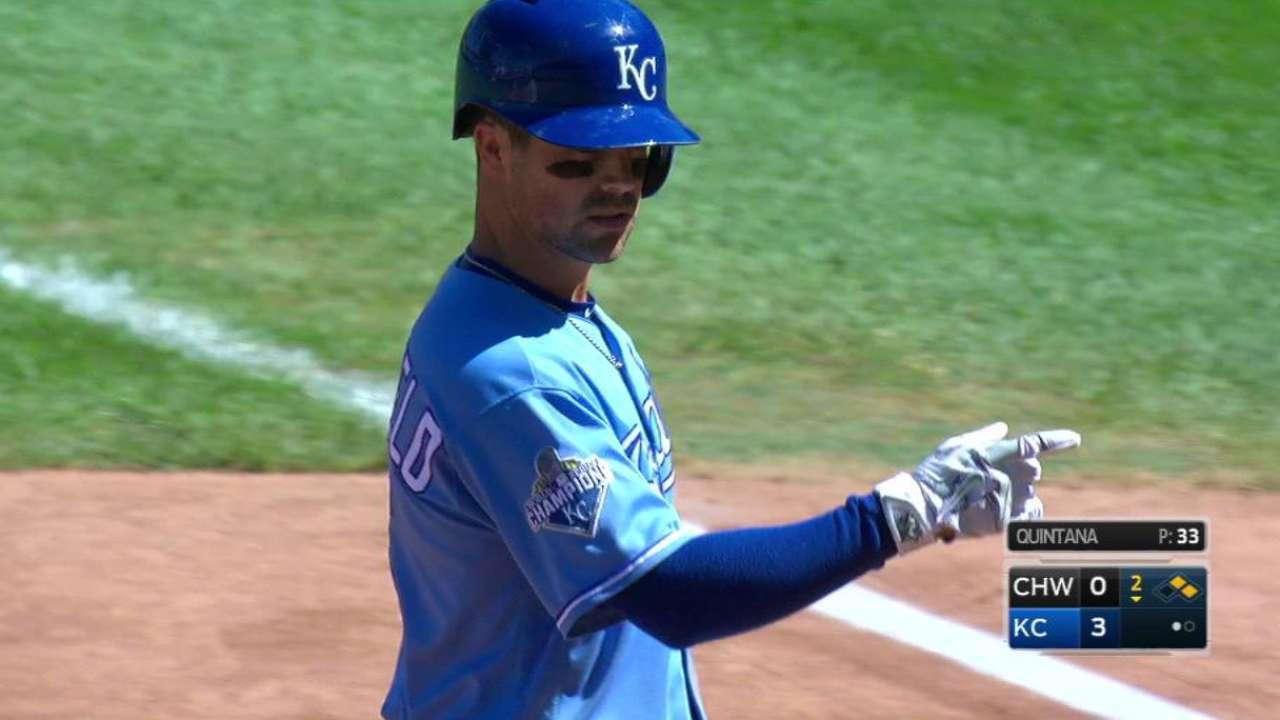 MOMENTS THAT MATTERED
Grand day: Morales certainly knows how to celebrate a milestone hit in style. With a majestic two-run homer in the sixth inning, Morales picked up his 1,000th career hit. Morales, who had a three-hit day, has 28 homers. That's six shy of his career-best homer mark, set in 2009. More >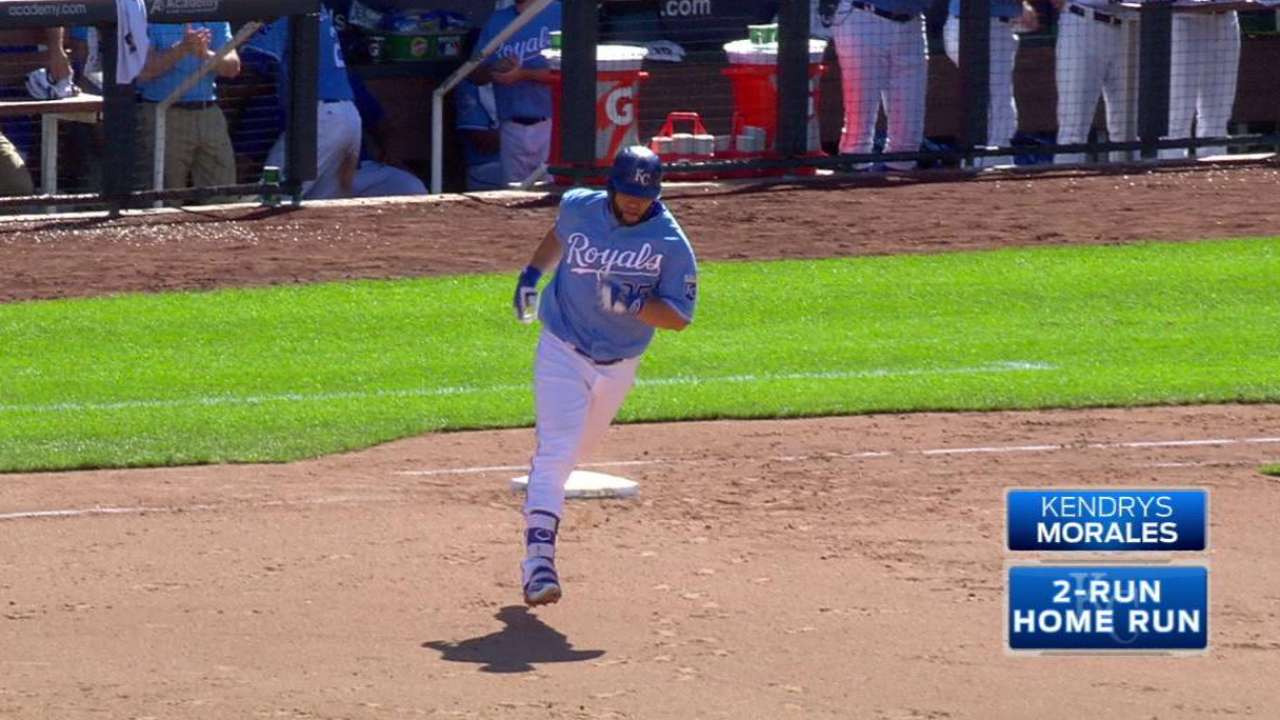 Defensive runs saved: Quintana did not have his usual sharpness, but the White Sox defense did what it could to help. Alex Avila threw out Merrifield stealing in the first, despite Merrifield getting a big jump. In the fourth, shortstop Tim Anderson made a diving play up the middle and perfect throw to nail Merrifield at first, and followed up that play by staying with a hard-hit Alcides Escobar grounder for the first out in the fifth.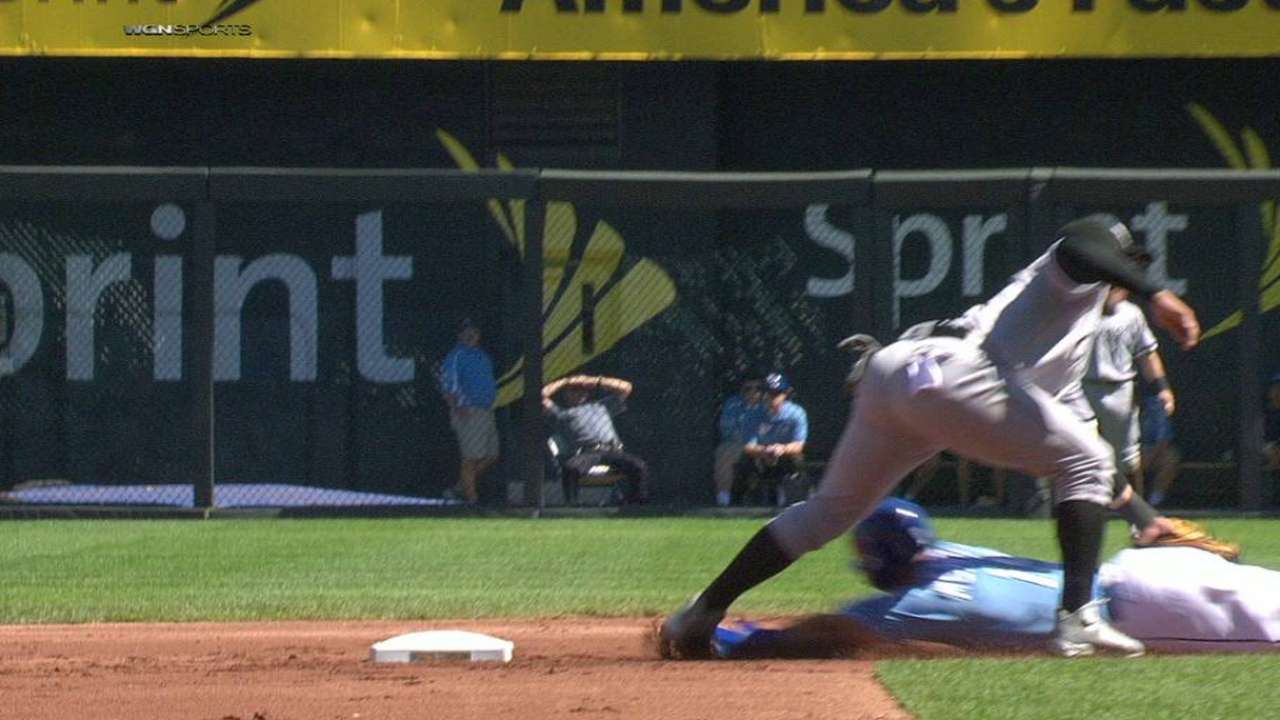 Personal best: With his run-scoring single that gave the Royals a 5-2 lead in the fourth, Hosmer recorded his career-best 94th RBI. Hosmer had 93 runs batted in last year while hitting .297 with 18 homers. Hosmer added another RBI in the eighth on a run-scoring groundout.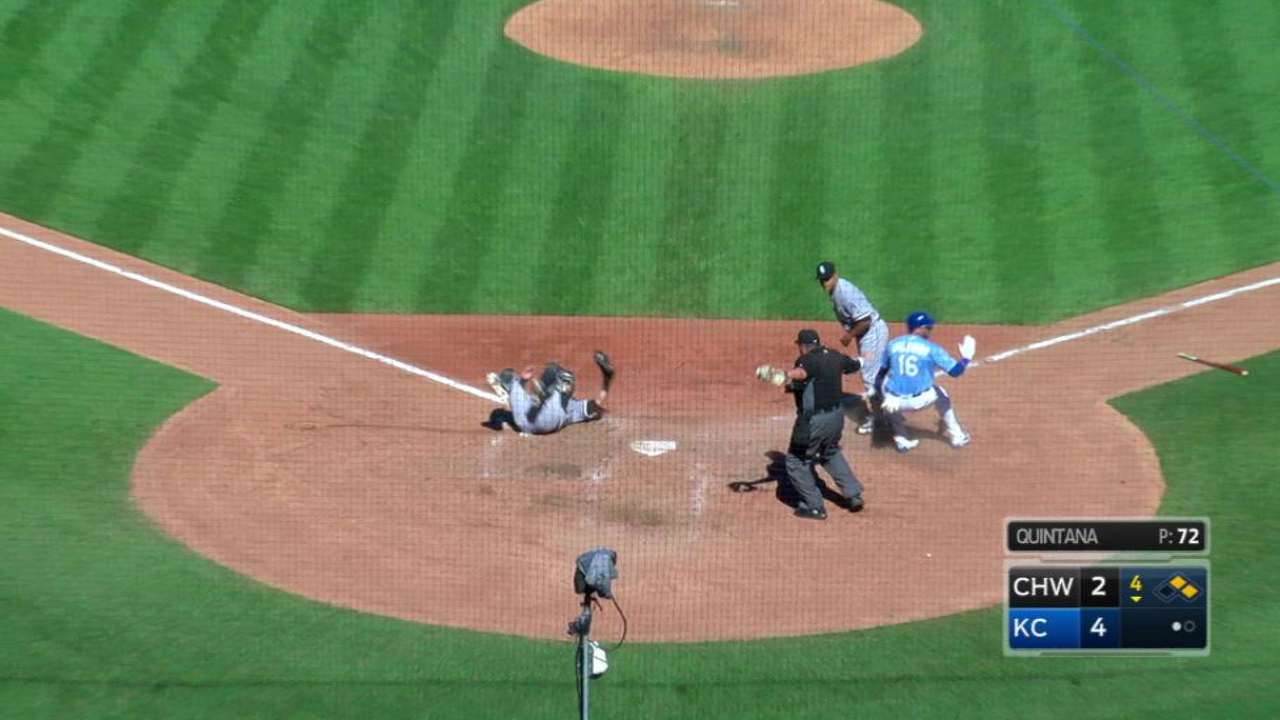 The Toddfather: Two of the three runs scored off of Duffy came courtesy of Todd Frazier's two-run blast in the fourth, with an exit velocity of 105 mph and a projected distance of 419 feet from home plate per Statcast™, giving him 37 home runs and 93 RBIs. Frazier also made a great stop of a Cheslor Cuthbert grounder, diving toward the line with two outs in the third, and he appeared to get him with a strong throw to first. But Cuthbert was ruled safe, and the White Sox had no remaining challenges. Frazier's three hits raised his average to .219 and brought him closer to a 40/100 season.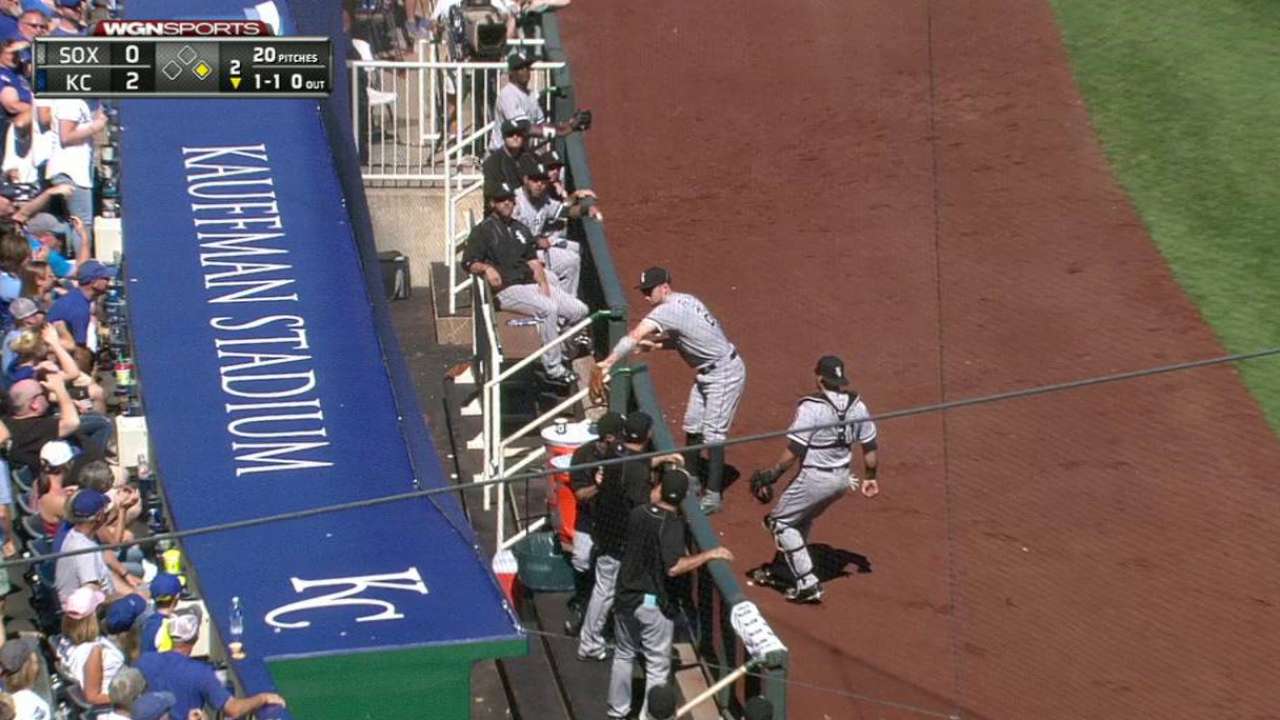 "It would be real nice. Always have to round those numbers up. We talk about that all the time," Frazier said. "Try to get a couple ... here and a couple ... there. There are a lot of opportunities. The more the guys get on base, the better opportunities for me. Of course, you want to win the game."
QUOTABLE
"Guys were just getting on the ball. That's, like, the first time I've ever seen him do that in a year, and that's unbelievable, to be honest with you. He pitched OK. It's a matter of these guys just squaring the ball up and finding some holes." -- Frazier on Quintana, who has failed to work six innings in only two starts since the beginning of July
SOUND SMART WITH YOUR FRIENDS
The solo home run hit by Gordon in the second inning that gave the Royals a 2-0 lead must have felt especially good to the Kansas City left fielder. That homer enabled Gordon to snap an 0-for-21 streak.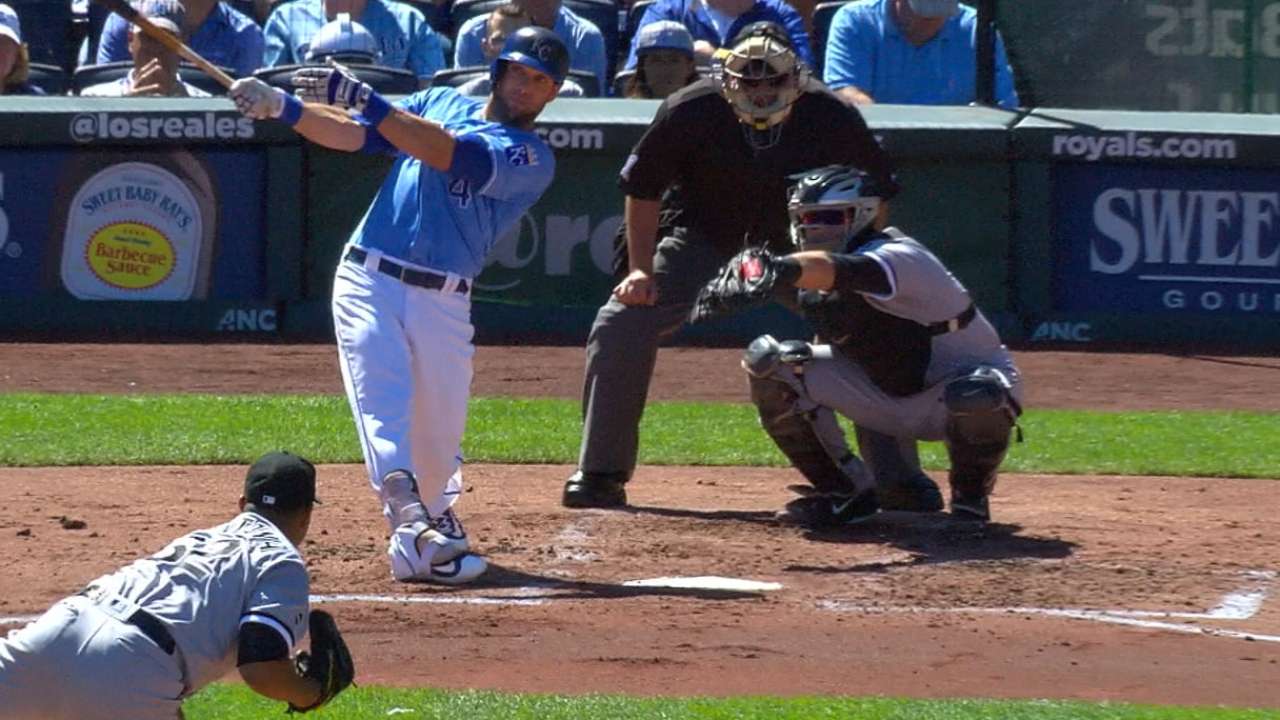 A CHANGE FOR THE WORSE
Since the White Sox stood at 23-10 on May 9 and had the second-best record in the Majors, they have a 49-67 mark.
DOUBLE CHALLENGE
On a forceout play at second in the second inning, both the Royals and White Sox issued a challenge. Orlando was initially called out as shortstop Tim Anderson accepted a throw, but the Royals challenged that Anderson was not on the base before he made a relay throw to first. The initial call was overturned. The White Sox challenged from a slide rule perspective, but it was determined there was no violation.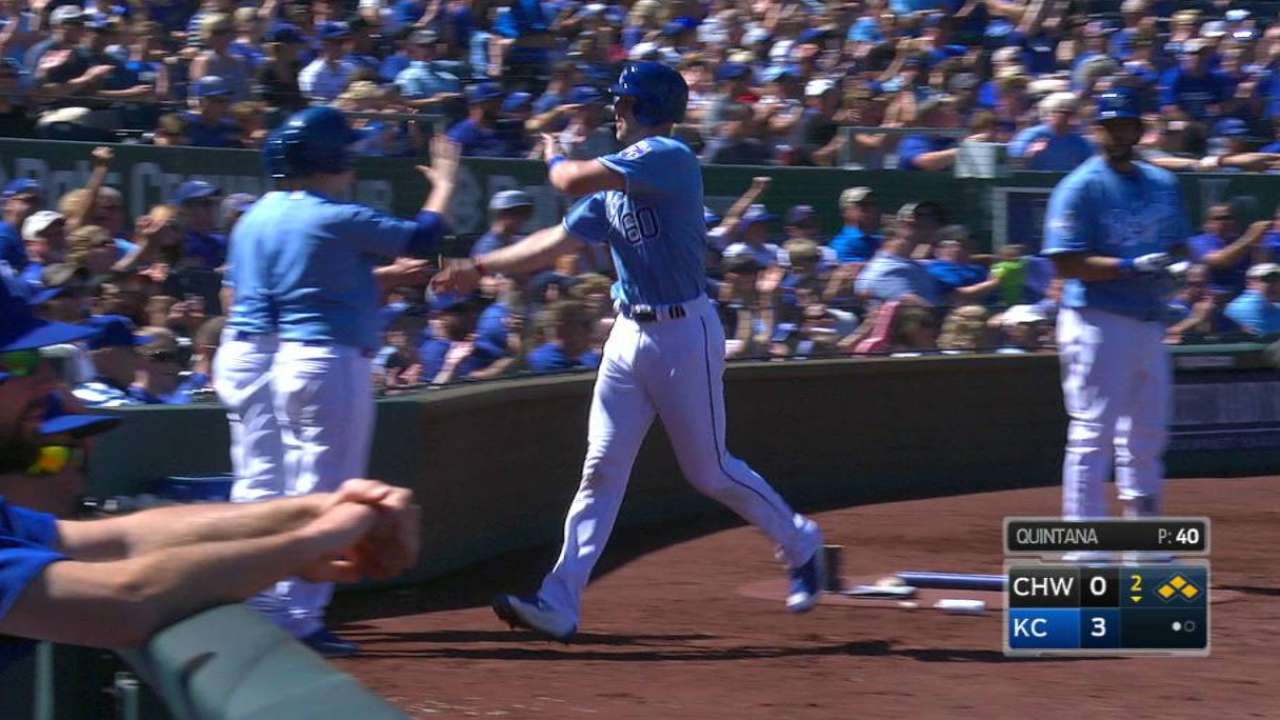 "I went over and told them I wanted to challenge the play at second," Yost said. "Then Robin called them over and said 'Look, if they challenge the play at second, I want to challenge the slide.'" More >
WHAT'S NEXT
White Sox: Carlos Rodon (7-9, 4.04 ERA) makes his 26th start of the season, 12th on the road and fifth against the Royals in this wraparound series finale with a first pitch at 1:15 p.m. CT at Kauffman Stadium. Rodon is 5-1 with a 2.77 ERA and 45 strikeouts over his last 48 2/3 innings, covering eight starts and seven quality starts.
Royals: Yordano Ventura (10-11, 4.42 ERA) looks to bounce back from a rocky outing against Oakland in his last start. He will be making his fifth start this year against the White Sox and has gone 1-2 with a 4.67 ERA in those games. He is 0-2 this September, but 8-5 overall in September during his career.
Watch every out-of-market regular-season game live on MLB.TV.
Scott Merkin has covered the White Sox for MLB.com since 2003. Read his blog, Merk's Works, follow him on Twitter @scottmerkin, on Facebook and listen to his podcast.

Robert Falkoff is a contributor to MLB.com based in Kansas City and covered the Royals on Sunday.

This story was not subject to the approval of Major League Baseball or its clubs.