Price hopes banged up Reds can return to field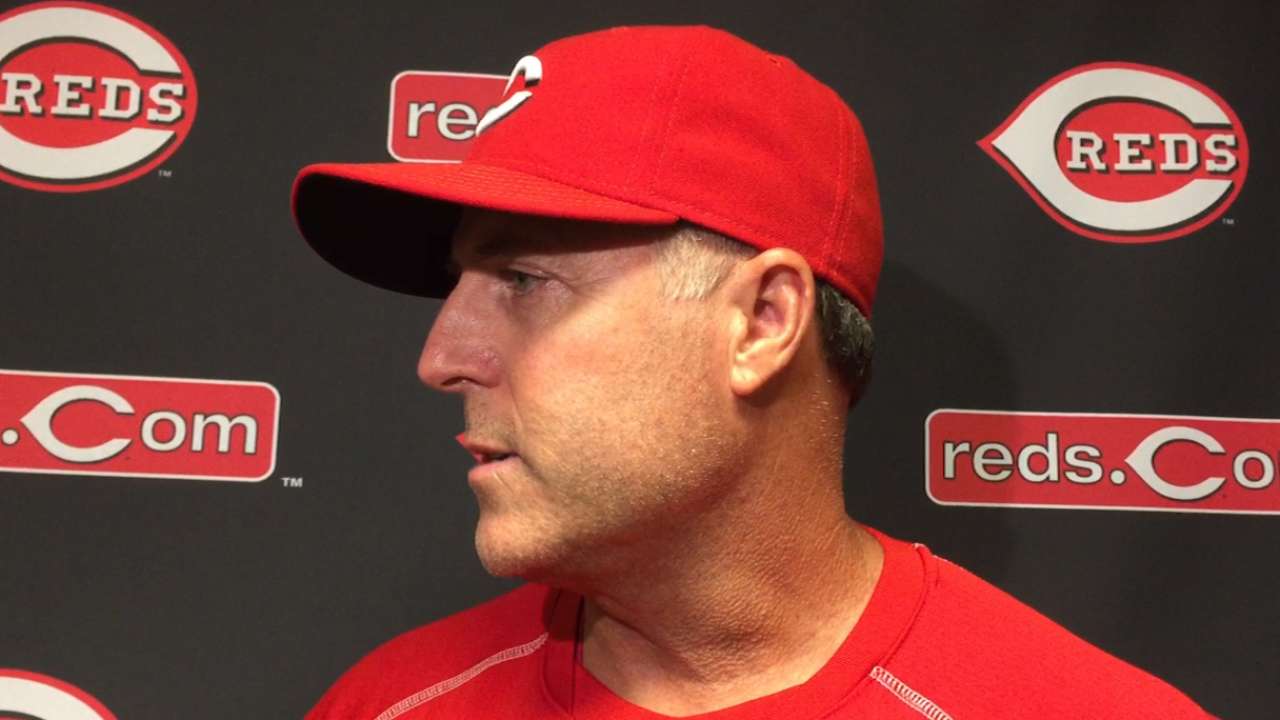 CINCINNATI -- For Reds manager Bryan Price, it would be easy to go ahead and shut down the likes of Billy Hamilton, Zack Cozart and Homer Bailey due to their lingering injuries. There's not much to gain.
Hamilton hasn't played since Sept. 4 with a strained oblique, an injury that often costs players a month or more; Cozart has been dealing with lingering knee problems and hasn't played since Sept. 10; and Bailey hasn't pitched since Aug. 28 as he's dealt with right bicep soreness after just six starts in his return from Tommy John surgery.
"That's the easiest thing in the world is to shut everyone down," Price said. "However, that's not a culture that we really want to build here. … We want guys to fight to get back on the field. That's what we have to have here. And unless these guys are deemed incapable of playing, they should be working hard to get back on the field, and I think they are."
Price acknowledged that there is a lot more to lose than there is to gain from bringing the players back this close to the end of the season. And while the team won't rush any of them back, he feels it's important for the players to at least try to get back on the field.
"You only open yourself up for criticism if you insert one of your players back in and they exacerbate a pre-existing injury or injure something else," Price said. "Putting players in a bubble and saying, 'Hey listen, don't take any chances at all,' … We should be striving to get to 100 percent or at least good enough to where you can go out there and play without a concern of injury. I think that's a reasonable thing to ask, for all of us, that we play a full season."
Of the three, Bailey may actually be the closest to return, but also the closest to a shutdown. After his last bullpen session on Wednesday, Bailey experienced additional aches, and Price said Saturday that he just wasn't feeling well. However, he was set to throw a bullpen session Sunday to try to work through the injury. That could ultimately decide his fate.
"He's not dealing with an issue stemming from his surgical stuff, it looks like it's all muscular," Price said. "If it's a tendon issue, if it's a ligament issue [you don't push it], but if it's stiffness and body aches and muscle aches, you've got to forge ahead. We will continue to do so and if the bullpen doesn't go well today then we may have an easier decision to make."
Cozart and Hamilton, on the other hand, are bigger question marks. Hamilton "has shown improvement" but still isn't ready for baseball activity and Price said it'd probably be "several more days" before baseball activity would be a possibility.
For Cozart, there's a little more risk in dealing with a knee that was surgically repaired last season. Price said he won't put him out there this season unless the knee is feeling "really good."
"His knee hasn't been responding to treatment as we'd hoped as it would, as it has typically," Price said. "I can tell you right now that we're not making enough progress right now to anticipate him playing in the next day or two."
Cody Pace is a reporter for MLB.com based in Cincinnati. This story was not subject to the approval of Major League Baseball or its clubs.