Freeman reflects on excitement of son's birth
Braves first baseman, wife become first-time parents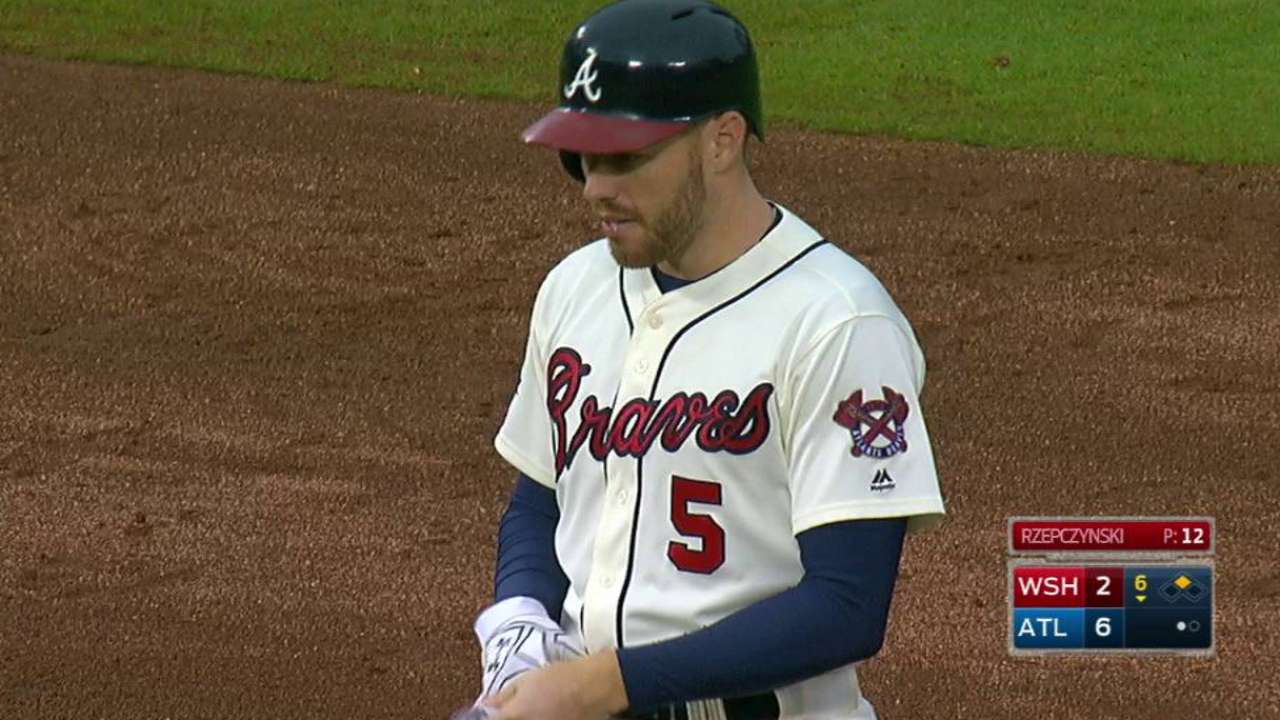 ATLANTA -- Since he first learned his wife, Chelsea, was pregnant, Freddie Freeman had dealt with the emotions of becoming a father.
But during Wednesday night's 7-5 loss to the Marlins, the Braves first baseman's level of excitement reached another level when he found out Chelsea was going into labor.
"Early on in the pregnancy, I got excited, then I got nervous and then I got excited again," said Freeman, who sprinted out of the home dugout at Turner Field in the bottom of the seventh inning. "But once I got that call, a lot of emotions kind of came in.
"Obviously, I got out of here as quick as I could and we got to the hospital that night. It's just a pretty surreal moment."
The couple welcomed their first child, Frederick Charles Freeman II, on Thursday night, more than 24 hours after Chelsea went into labor. Chelsea posted a photo of the smiling parents and their newest addition on Instagram and Twitter.
Wrapped around momma's finger...Welcome to the world Frederick Charles Freeman II... "Charlie" pic.twitter.com/kXjGk0fusV

— Chelsea Freeman (@chelseafree5) September 16, 2016
This wasn't the first time the couple used social media as a window into Chelsea's pregnancy. In March, they tweeted out a video of Freddie hitting a powder-filled ball, which would reveal the gender of the baby. A blue cloud appeared when Freddie made contact.
Freeman had told Braves manager Brian Snitker earlier in the week that he planned on playing the day after Chelsea gave birth, but the skipper texted his first baseman Friday morning and told him to stay with his wife and child.
The 27-year-old returned to the lineup in Saturday's 7-3 win over the Nationals, in which he extended his hitting streak to a career-high 21 games.
"I don't know if I was really back out here [Saturday]," said Freeman, who finished 1-for-4 with three strikeouts. "I could hardly keep my eyes open, but it was nice to put a uniform on. I watched the game Friday night in the hospital room, and it's always tough watching the game on TV.
"But it was nice to get out here [Saturday] and get moving around. My body hurt a little bit, but nothing compared to what my wife went through."
Pat James is a reporter for MLB.com based in Atlanta. This story was not subject to the approval of Major League Baseball or its clubs.