Kluber: No reason Tribe rotation can't thrive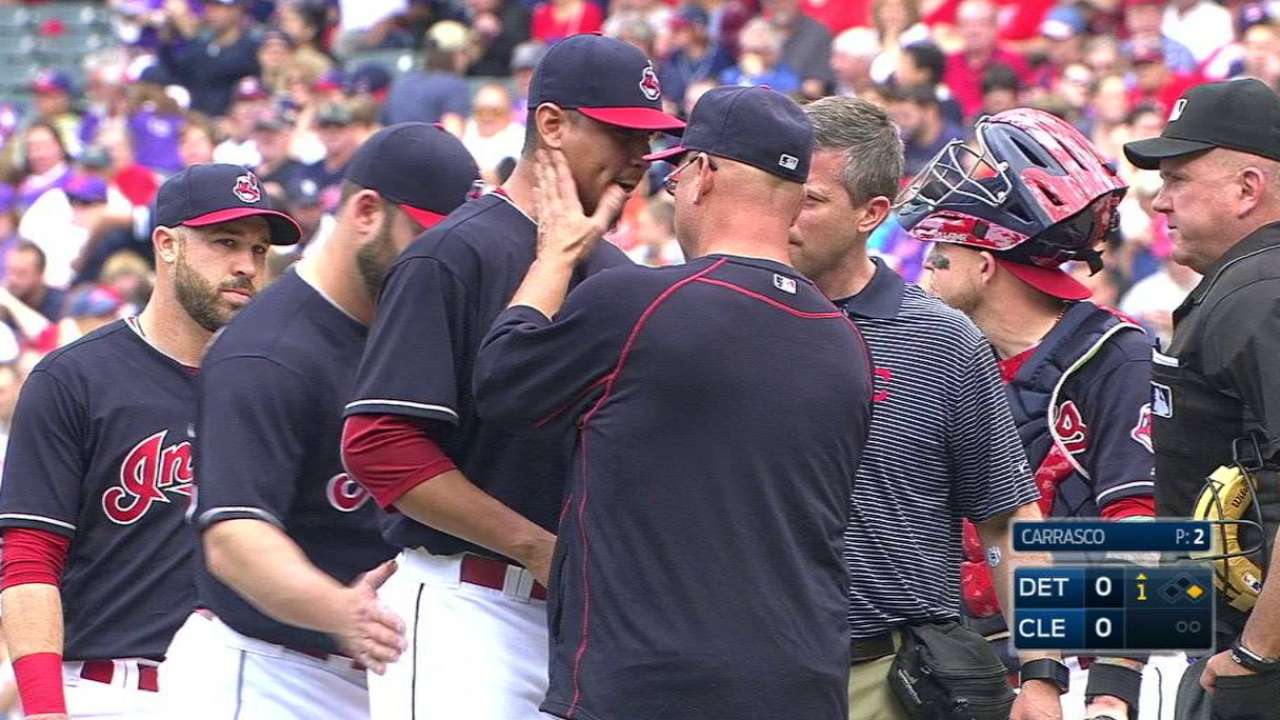 CLEVELAND -- The Indians did not fold after Carlos Carrasco's injury on Saturday night, and the club does not plan on packing it in now with a more daunting road ahead. Inside Cleveland's clubhouse on Sunday morning, players pointed to the many obstacles they have already overcome this year.
Moving forward without Carrasco and Danny Salazar will make things exponentially more difficult for the Indians, especially on the October stage, but what is done is done. Carrasco is out at least six weeks with a non-displaced fracture in his right hand, and Salazar is sidelined for three to four weeks with a right forearm injury.
The Tribe's postseason hopes now hinge on a rotation consisting of Corey Kluber, Trevor Bauer, Josh Tomlin and Mike Clevinger.
"We lost a really good pitcher yesterday, probably one of the better pitchers in the league," Kluber said prior to Sunday's game against Detroit. "But, I don't think anybody's in here feeling sorry for ourselves because of it. I don't think there's a gloomy outlook or anything. Other guys have pitched well up to this point to get us where we are now, so I don't think there's any reason why we can't continue to going forward."
Carrasco exited Saturday's 1-0, 10-inning win after two pitches in the first inning, when he was struck on the right hand by a line drive off the bat of Ian Kinsler. X-rays showed a fracture of the fifth metacarpal (a bone in the hand beneath the pinky finger), and the Indians are still gathering more information to gain more clarity on the pitcher's potential timetable for return.
After Bauer's start on Sunday, the Indians have an off-day on Monday before hosting the Royals for three games. Indians manager Terry Francona confirmed that the probable pitchers for that series would be Tomlin (Tuesday), Kluber (Wednesday) and Clevinger (Thursday). Bauer's next scheduled turn would then fall on Friday against the White Sox.
For the fifth spot, Cleveland will take the bullpen-day approach. For Saturday's game against the White Sox, right-hander Cody Anderson will get the start, but he will not pitch deep into the game. The next time the Indians will require a fifth starter will be on Sept. 29 against the Tigers.
"We don't need to get too far ahead," Francona said. "I think the pitchers need to know to prepare for their turn coming through, but other than that, we'll just kind of go and see where we're at."
Kluber is currently in contention for his second American League Cy Young Award, while Bauer has consistently logged quality innings, climbing out of the Opening Day bullpen and up to the No. 2 spot over the past five months. The higher level of uncertainty exists between Tomlin and Clevinger.
Tomlin, who is the longest-tenured player in the Cleveland organization, began the season 9-1 with a 3.21 ERA in 15 starts, but then endured some persistent second-half woes. At the outset of September, the righty was removed from the rotation, but has since returned in light of the injuries. On Wednesday, Tomlin logged five solid innings against the White Sox in his comeback start.
"To lose a guy like that, it hurts," Tomlin said of Carrasco. "He's an unbelievable pitcher. For us, we've just got to step up and try to keep winning games and see what happens."
Clevinger, 25, has 14 Major League games under his belt, but has shown steady improvement as the season has worn on. Over his last two outings, in which Cleveland has built his pitch count back up after a stint in the bullpen, the rookie righty has allowed two runs over eight innings with eight strikeouts. Clevinger has a 2.90 ERA and .210 opponents' average in his last 31 innings, dating back to the start of July.
"Obviously, we know it's going to be a little bit more of a challenge here," Clevinger said, "more pressure, more is put on your plate. But, I think everyone here is ready to go at any time."
Jordan Bastian has covered the Indians for MLB.com since 2011, and previously covered the Blue Jays from 2006-10. Read his blog, Major League Bastian, follow him on Twitter @MLBastian and listen to his podcast. This story was not subject to the approval of Major League Baseball or its clubs.