Casilla's 'bad luck' continues in loss to Cardinals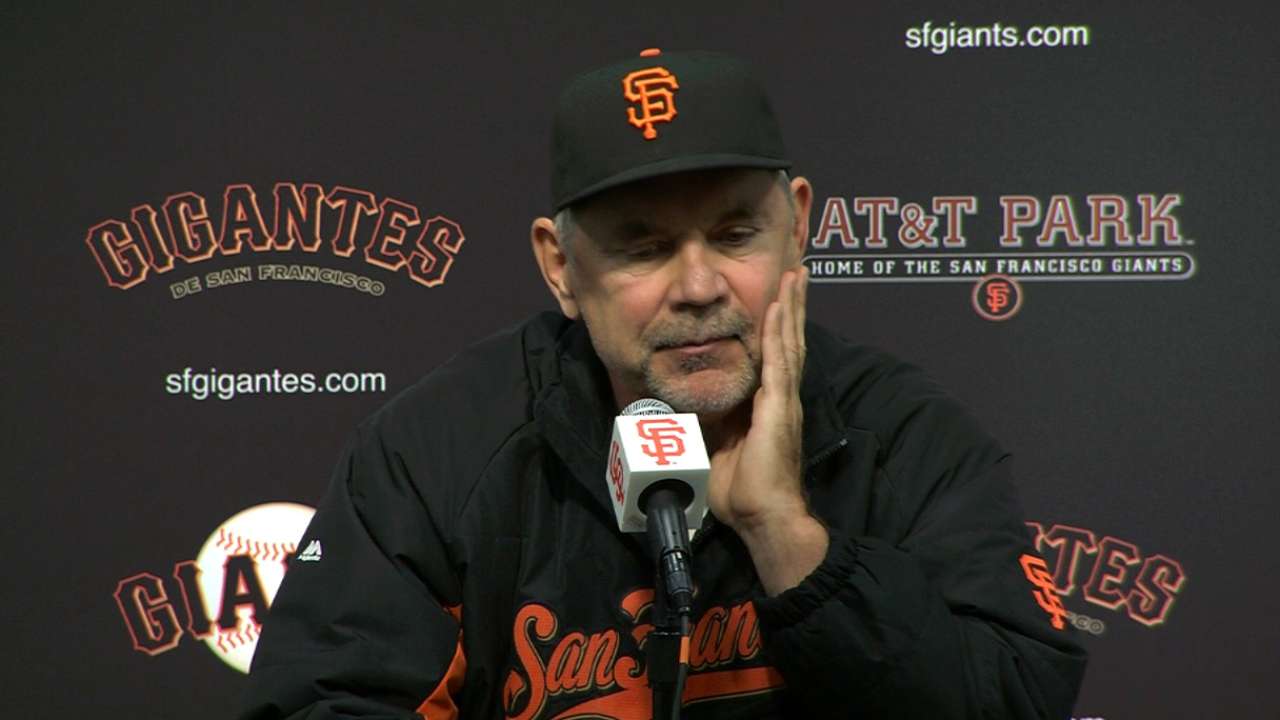 SAN FRANCISCO -- Santiago Casilla appeared in a game for the first time in a week Friday, pitching an effective eighth inning. With a comfortable six-run lead, it was a perfect situation for Giants manager Bruce Bochy to see where Casilla was at after blowing his eighth save of the season at Arizona on Sept. 9.
A night later, Bochy then called Casilla's number without the benefit of a big cushion. The seventh-year Giant entered in the ninth inning with a runner on first and a one-run lead. And Casilla's nightmarish year continued along the same path, as he blew another save while the Cardinals rallied to outlast the Giants, 3-2, at AT&T Park on Saturday night.
Casilla faced two batters, surrendering a walk to Yadier Molina, before Randal Grichuk slipped an RBI single past the reach of Brandon Crawford to tie the game. The right-hander became the first Giants pitcher since Robb Nen in 1999 to record nine blown saves in a season. San Francisco also has 28 blown saves as a team, which matches a franchise record set in 2004 and 2005.
"It's crazy, the game," Casilla said. "I'm having bad luck."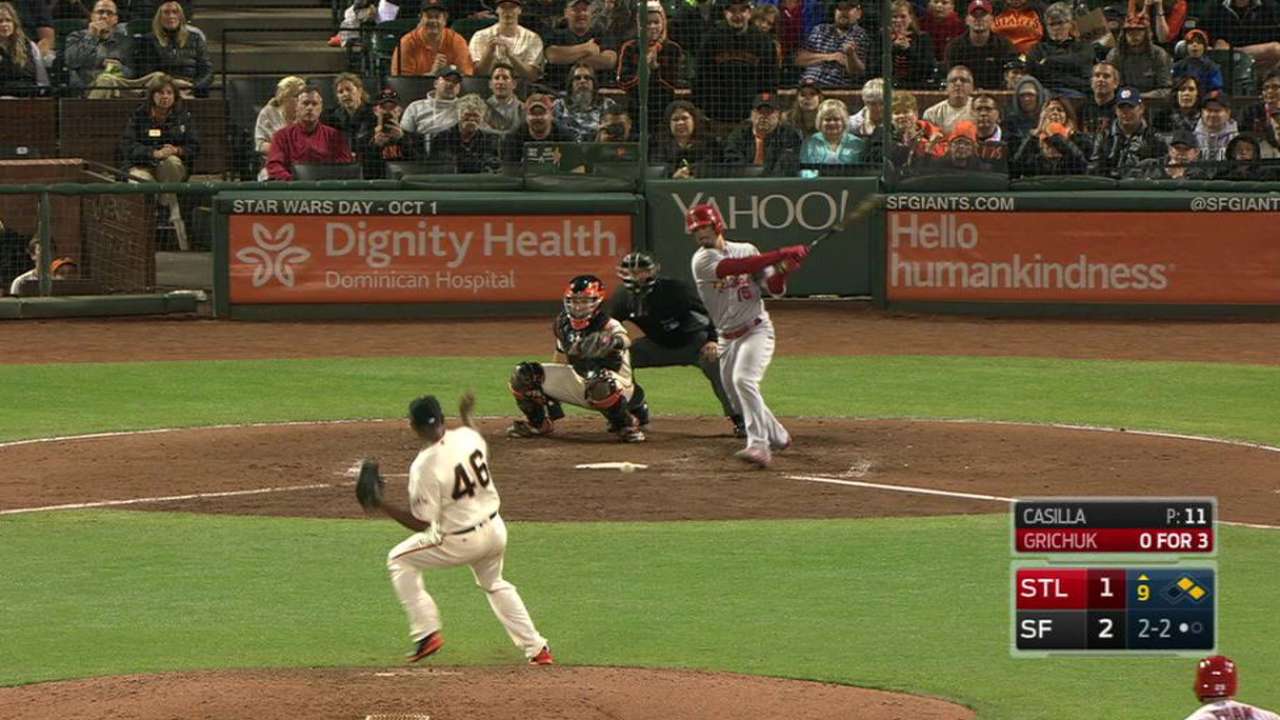 The latest episode in the Giants' arduous experiences in the ninth inning began with Sergio Romo on the mound. But after the right-hander yielded a one-out single to Jedd Gyorko, Bochy pointed to Casilla to face Molina, resulting in a chorus of boos as the longtime closer jogged to the infield.
"For some reason, Molina has seen the ball pretty good off Sergio," Bochy said of the Cardinals catcher, who entered the game batting .500 against Romo in 12 at-bats. "You go on history."
Casilla appeared unfazed by the crowd's disapproval, jumping out to a 1-2 count on Molina. But Molina worked around that and drew a walk. Grichuk then chopped a grounder up the middle to tie the game and end Casilla's night.
It also set the stage for more boos to rain down on Bochy and the closer.
"I've never had that moment before," said Casilla. "I'm working to pitch better. I've never had that moment here, so I've been pitching good for like five years."
Kolten Wong then punctuated the comeback with a sacrifice fly off Matt Reynolds. The result marked the seventh time in September that the Giants have blown a save.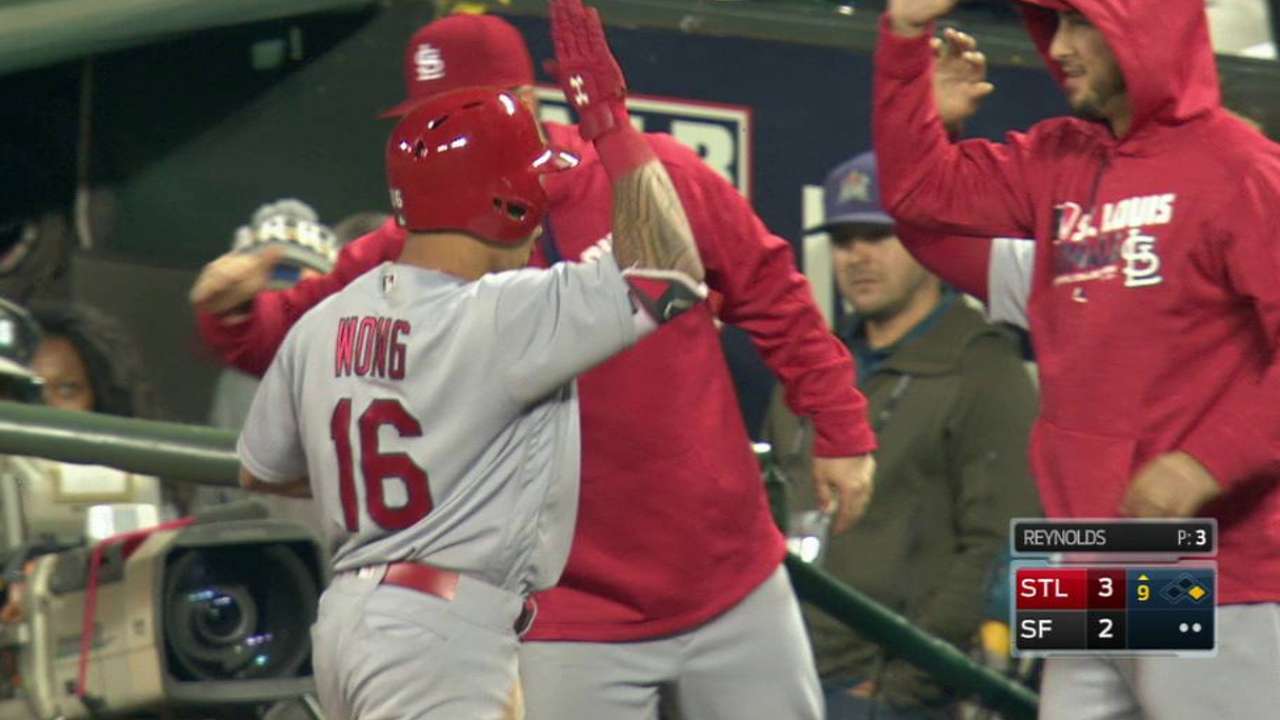 Bochy turned to Hunter Strickland to close the ninth inning twice this week. But after the right-hander recorded a four-out save Sunday, Strickland and Steven Okert blew a three-run lead to the Padres on Tuesday. Then on Saturday, Bochy went back to the closer who had previously lost his job.
"You know he's closed over 30 games," said Bochy. "He threw the ball well last night. We tried some different things; it hasn't worked out. We're going with what we think is our best matchup. Didn't play out tonight."
Derek Law recorded two outs in the eighth inning Saturday. But Bochy said he didn't want to hand the rookie a five-out save opportunity because he only recently returned from the DL.
"He just hasn't been out there," said Bochy.
Bochy reiterated multiple times that the plan all along was to bring Casilla in when Molina came to the plate. The narrative regarding Casilla's ninth-inning struggles didn't change, though, and the Giants have now lost eight games in which they led after eight innings.
"I feel bad," Casilla said. "I tried to do my best. I'm not going to be sad. I'm not going to kill myself. I'm happy. I did my best."
Justin Wise is a reporter for MLB.com based in the Bay Area. This story was not subject to the approval of Major League Baseball or its clubs.