Despite loss, Buxton's September ascent continues
Rookie shaking off tough introduction to Majors, hits 6th homer this month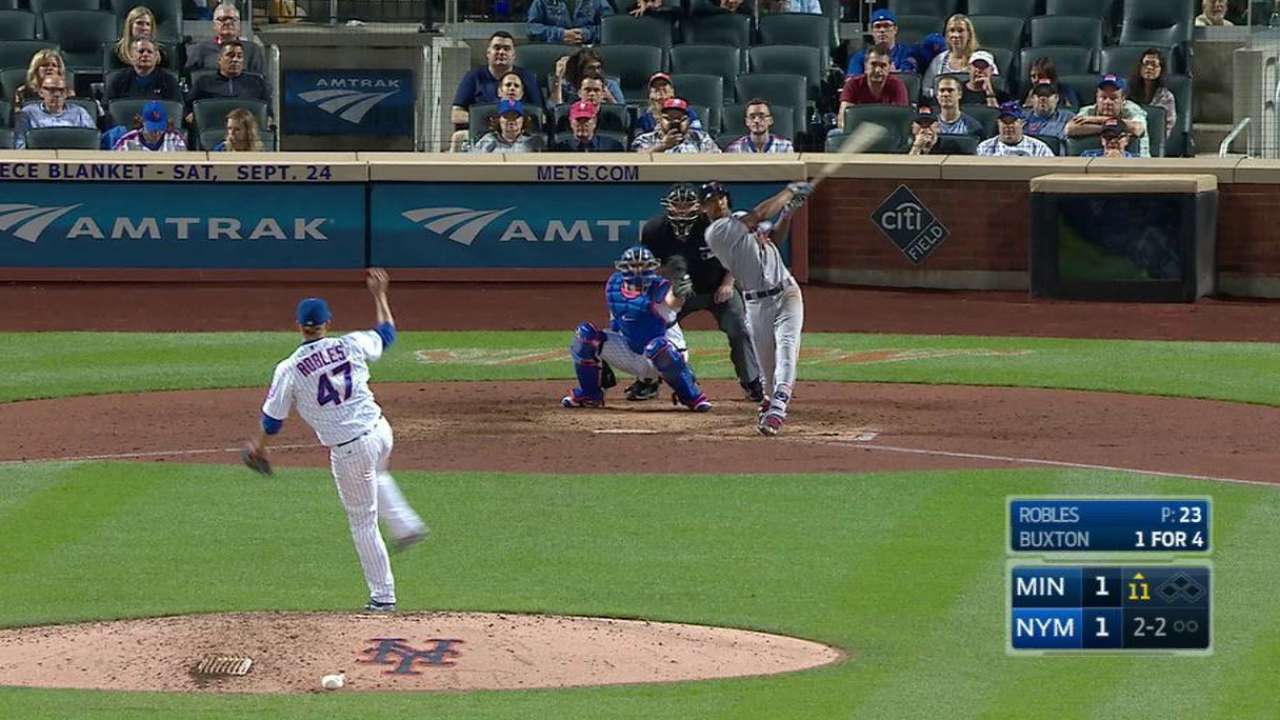 NEW YORK -- It could have been a nice win for the Twins, and it could have been a moment to remember for Byron Buxton.
It could have been and it would have been, if not for Curtis Granderson.
Granderson gets the big headlines, and deservedly so, after his two extra-innings home runs tied and then finished off Saturday night's 3-2, 12-inning victory for the Mets, who are battling for a postseason spot. Buxton is an afterthought, even though his 11th-inning home run could have won the game for the Twins.
"To come up short, it hurts," Buxton said.
The Twins did come up short, but if what they're seeing from Buxton this month is any indication, their prized rookie may be making some big progress.
With two more hits on Saturday, Buxton raised his average to .333 in September, and 11 of his 19 hits this month have gone for extra bases. He came into Saturday in a 2-for-15 slump, but he ended the night with his sixth home run of the month.
In the Majors, only teammate Brian Dozier (nine) and Red Sox first baseman Hanley Ramirez (seven) have hit more home runs in September.
"I feel a little better, but I've still got a lot of work to do," Buxton said. "I'm slowing the game down a little."
Buxton did exactly what he needed to do in the 11th inning, working Mets reliever Hansel Robles to a 2-2 count before driving a 96-mph fastball far over the left-field fence.
"I put a pretty good swing on the ball, and it happened to go out," Buxton said.
The transition to the Major Leagues hasn't been a simple one for the 22-year-old center fielder, ranked by MLBPipeline.com before this season as the No. 2 prospect in baseball. Buxton was hitting just .193 through 63 big league games this year when the Twins sent him back to the Minors on Aug. 7. He had just one home run and 80 strikeouts in 197 at-bats.
Strikeouts have still been plaguing Buxton this month, who has gone down on strikes 20 times in 57 at-bats. When Buxton talks about what he needs to improve, making better contact tops the list.
But the hits have started to come, and the power has come, too.
"I'm just trying to continue encouraging him to play," Twins manager Paul Molitor said. "He's kind of learning to trust his ability more. We know he's got pop. It's figuring out who you're going to be at this level."
It's easier to figure that out when you have a little success. A game like Saturday's should help, although it would have helped even more if the Twins had turned it into a win.
That they didn't wasn't Buxton's fault. He gave them the 11th-inning lead, but closer Brandon Kintzler gave it right back when he surrendered the game-tying home run on his second pitch in the bottom of the 11th.
An inning later, Granderson homered off Ryan O'Rourke to win it, and the Mets were celebrating. Buxton and the Twins were not.
Danny Knobler is a contributor to MLB.com based in New York. This story was not subject to the approval of Major League Baseball or its clubs.