Changing things up backfires on Darvish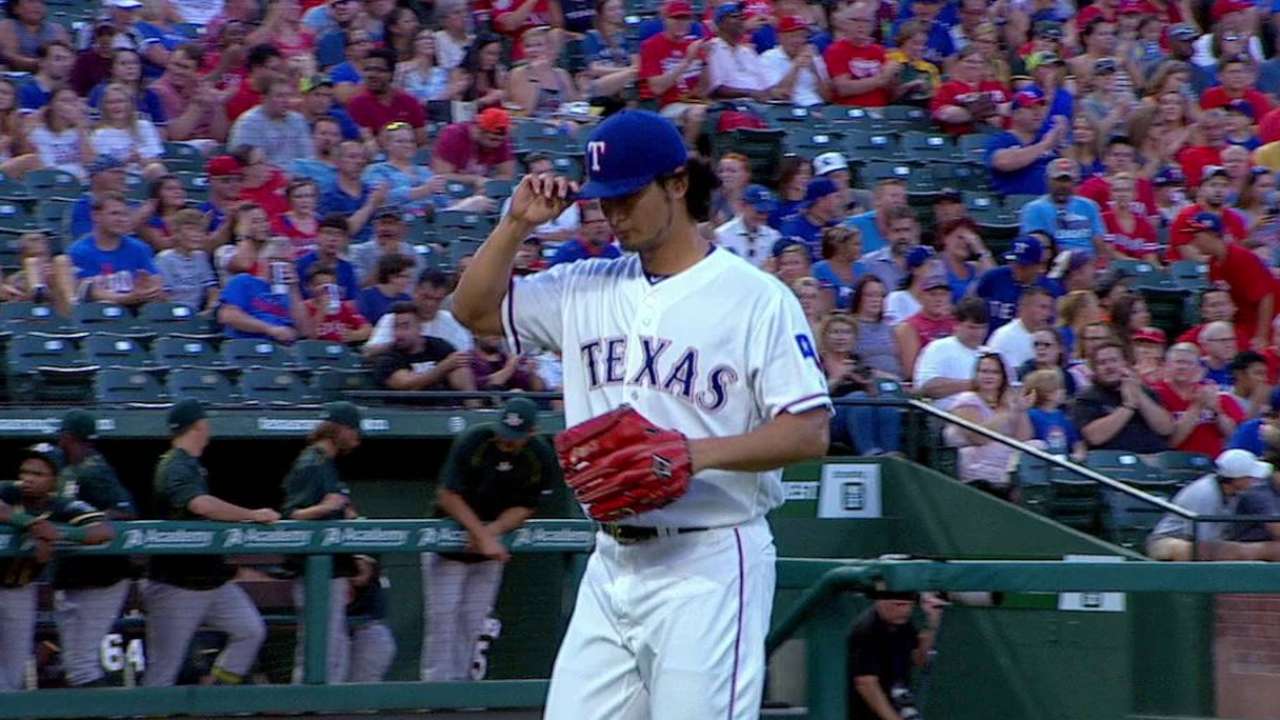 ARLINGTON -- Rangers manager Jeff Banister acknowledged that his two best pitchers -- Cole Hamels and Yu Darvish -- had two rough outings against the Athletics this weekend. He wasn't really interested in developing a theory as to why.
"We have got to be better," Banister said after Saturday's 11-2 loss to the Athletics. "We believe in those two guys, Cole and Darvish. A little challenge for those guys the last couple nights, but we believe they're as good as there is out there."
Maybe Darvish shouldn't tinker with his mechanics so much. Darvish was good in his previous outing, allowing one run in 6 2/3 innings in a 2-1 victory over the Angels last Friday. But he inexplicably decided to change things up between starts, and that seemed to throw him off.
Darvish allowed a season-high seven runs on seven hits and four walks; he struck out eight.
"I mentioned that I had a good bullpen session in between," Darvish said. "That was something different from what I've been trying this season. So it was already a little bit of different mechanics than I've been trying. I was a little concerned about that, because it was totally different from what I've been trying all season.
"I felt a little different in today's bullpen session when I was warming up. I tried to put it back mechanically from where I was when I faced [the Angels]. I kind of prepared for that in case it didn't work out. But during the game I couldn't make the adjustment, because mentally, I think I was a little confused with what I tried in my last bullpen session, which was different than the older mechanics I was using against [the Angels]."
Darvish clearly had a lack of command against the Athletics.
"Not really like him," A's manager Bob Melvin said. "He's usually throwing the ball where he wants, throwing his breaking ball in off-counts, and I think it was just an off night for him, command-wise."
Darvish was pitching on seven days' rest -- he normally works on either four or five -- but he refused to use that as an excuse.
"I just didn't pitch well," he said. "In my mind, I've just got to get better. That's all I'm thinking about, getting better."
Darvish's outing was rough from the beginning, as Joey Wendle, the Athletics' rookie second baseman, hit the third pitch of the game over the right-field fence for a home run.
Darvish retired the next three hitters, then ran into trouble in the second, when he lost command of the strike zone. He walked the first three batters of the inning for only the second time in his career, and they all ended up scoring -- two on a single by rookie catcher Bruce Maxwell, and one on Wendle's sacrifice fly.
"On all three walks, I was trying to make the adjustment, and I couldn't," Darvish said. "I kept going like that the entire game. That's why I couldn't get a good result."
Darvish was able to pitch scoreless third and fourth innings but ran into more trouble in the fifth, when he allowed a single to Ryon Healy and a walk to Yonder Alonso. Marcus Semien, celebrating his 26th birthday, followed with his 26th home run.
T.R. Sullivan has covered the Rangers since 1989, and for MLB.com since 2006. Follow him on Twitter @Sullivan_Ranger and listen to his podcast. This story was not subject to the approval of Major League Baseball or its clubs.