S-Rod on power streak with regular role
Utility man homers in both ends of doubleheader sweep vs. Reds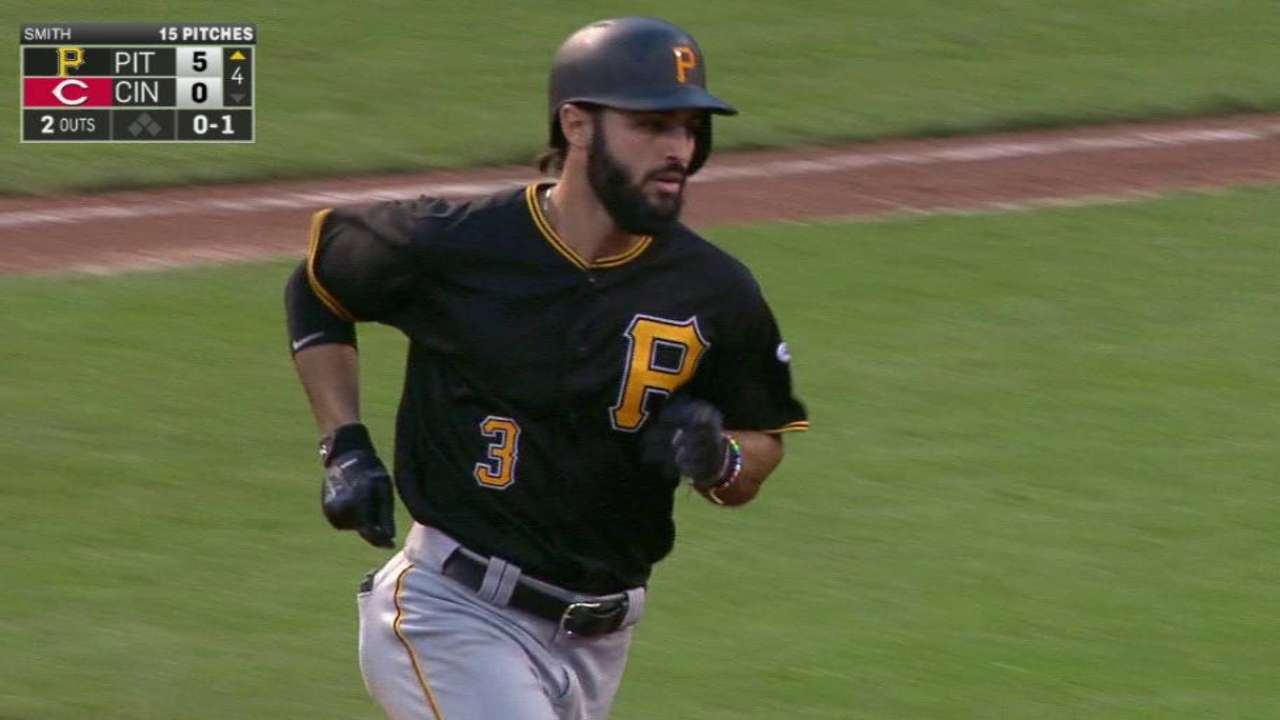 CINCINNATI -- Leading off the third inning against Reds lefty Brandon Finnegan, Sean Rodriguez worked a full count and took a hack at a hittable 94-mph sinker. He tipped it back into the catcher's glove and turned back to the dugout. Walking past manager Clint Hurdle and down the steps, he critiqued his swing.
"As soon as I came in, I said, 'God, I got too big,'" Rodriguez said after the Pirates' 7-3 win over the Reds on Saturday night to complete a doubleheader sweep. "I couldn't have finished saying 'big' and [Hurdle] was already saying, 'Yeah.'"
The next time Rodriguez came to the plate, he reminded himself to keep his swing short. He swung and missed at a slider from reliever Josh Smith, reset and unloaded on a curveball. He watched it for a moment, put his head down and started running. The way he's been swinging lately, he didn't have to look for long.
The ball sailed into the upper deck at Great American Ball Park, jumping off his bat at 104.3 mph and landing a projected 428 feet away, according to Statcast™. The blast was Rodriguez's second of the day, his fourth in five days and his 16th of the season. Rodriguez has powered the Bucs' offense during their four-game winning streak, and he did it throughout their Saturday doubleheader sweep of the Reds, including the 10-4 win in the opener.
"I like the pitches he's hitting. I like where he's hitting it," Hurdle said. "It's not always a fastball. It's not always pulled. His selection at the plate has improved. The at-bats have been good and timely."
That has been the case virtually all season for Rodriguez, enjoying the best offensive year of his career in his second season with the Bucs. The super-utility man is hitting .266/.349/.516 in 293 plate appearances. He finished Saturday with a seven-game hitting streak and, perhaps, the hottest streak of his career.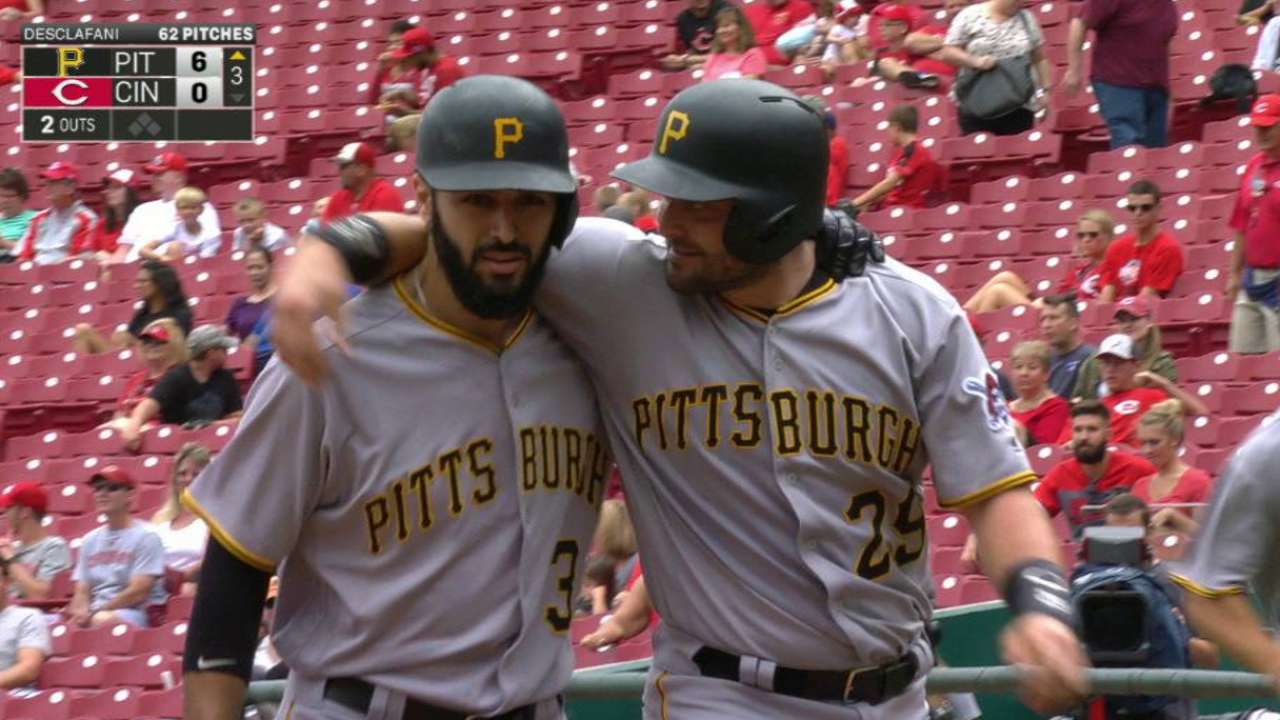 "I guess that's the key, when you're putting good pitches in play. Trying to barrel everything up, and when you do, you hope it falls," Rodriguez said. "It's just trying to get your swing off as much as possible. Clint and [hitting coach Jeff Branson] preach that a lot."
Rodriguez entered last offseason determined to improve at the plate. He hit 12 homers for the Rays in 2014, then struggled through a subpar 2015, and struck out in 26.3 percent of his plate appearances and walked in only 2.1 percent.
"He continues to remind himself of 'short to the ball, stay short to the ball,'" Hurdle said. "Focus to the opposite gap. It's not about power. It's not about hitting homers. He's gotten involved in those lanes in the past; they usually don't end very well for anybody."
Rodriguez has also benefited from additional playing time. It came about as a necessity, with Josh Harrison injured and out for the rest of the season, but Rodriguez has proved to be a more than capable replacement.
"More reps are going to get you a better feel for what you're trying to do," Rodriguez said. "Ultimately you can trust what you're doing and just let it go."
Adam Berry has covered the Pirates for MLB.com since 2015. Follow him on Twitter at @adamdberry. This story was not subject to the approval of Major League Baseball or its clubs.