Cards' rally in 9th bunches NL Wild Card race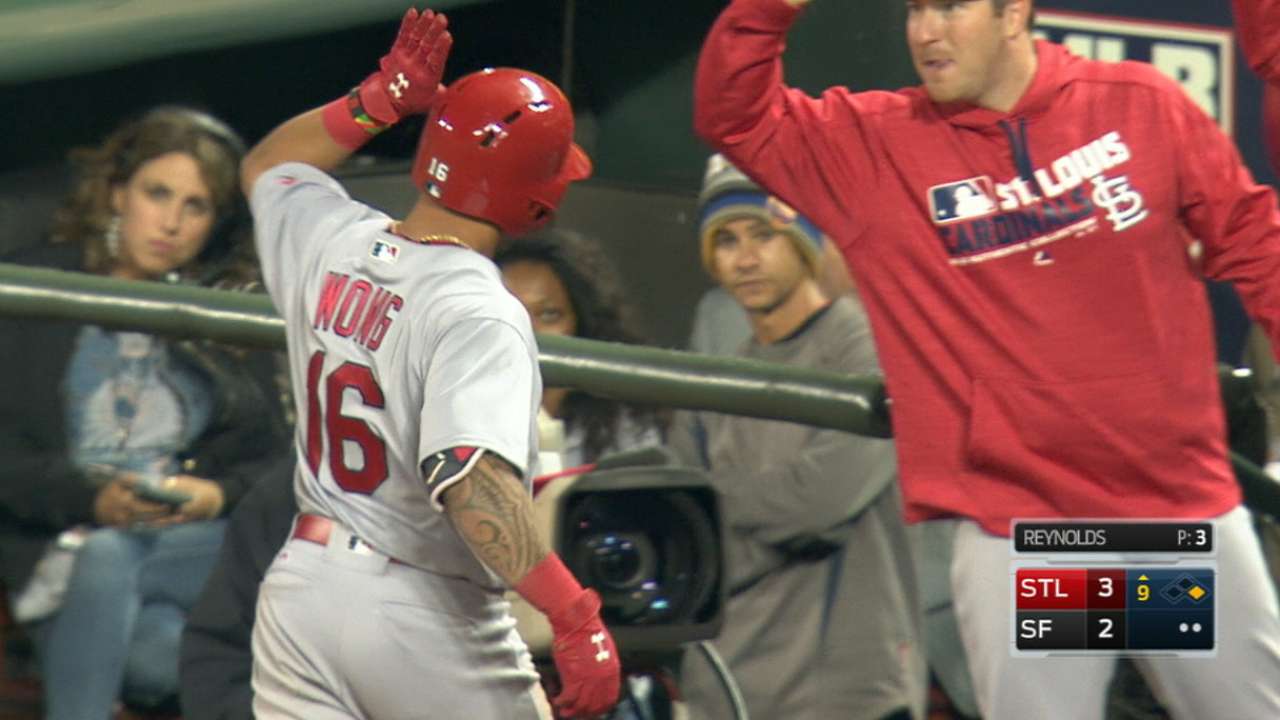 SAN FRANCISCO -- Two outs away from falling into precarious position in the National League Wild Card standings, the Cardinals jumped on a wobbly San Francisco bullpen Saturday night to stun the Giants and tighten a three-way Wild Card race with a 3-2 victory at AT&T Park.
With their 16th final at-bat win of the season, the Cardinals moved to within two games of the Giants in the Wild Card race. And the Giants found themselves with unwanted company. The Mets, victorious in 13 innings Saturday, pulled into a first-place tie with San Francisco. New York also holds the tie-breaker over the Giants by virtue of winning the season series 4-3.
"This is playoff baseball already for us," said Cardinals second baseman Kolten Wong, who had the game-winning sacrifice fly. "We're playing every single game like it's our last, and we want to come in and win as much as we can. We know the Mets aren't going to give it to us, and neither are these guys."
Giants manager Bruce Bochy turned to Sergio Romo to open the ninth with a one-run lead. Bochy then swapped Romo for embattled closer Santiago Casilla after Jedd Gyorko's one-out single. That's when things fractured.
Casilla issued a walk before Randal Grichuk struck a two-strike pitch up the middle to plate the tying run. Wong then gave the Cardinals a lead that Seung Hwan Oh locked down with his second scoreless inning in relief. As for Casilla, he shouldered his ninth blown save, the most by a Giants reliever since Robb Nen in 1999.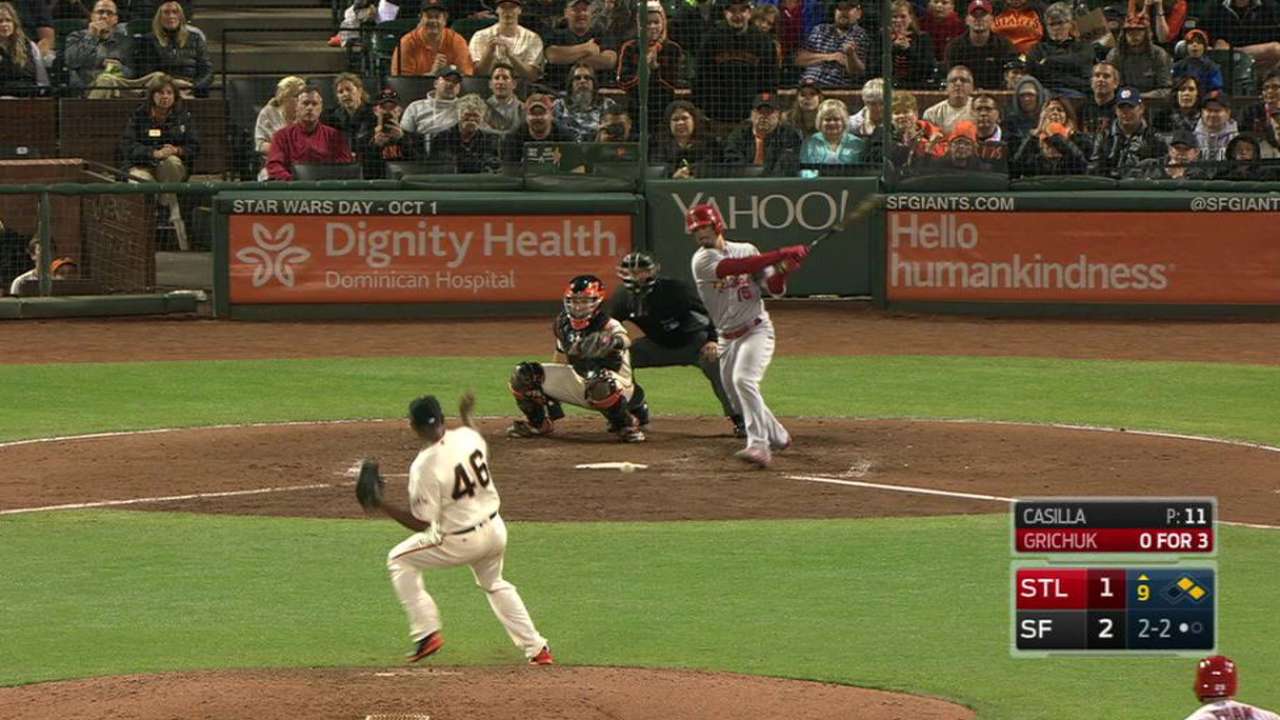 "That's a tough one," said Bochy, whose club has blown a franchise-record 28 saves this season. "Samardzija threw great, we played well, that's just tough luck there on that ground ball [from Grichuk]. It just got through."
The Giants' bullpen troubles cost starter Jeff Samardzija what would have been his first victory over the Cardinals since 2014. He allowed a first-inning home run to Brandon Moss, but otherwise held the Cardinals scoreless over the rest of his 6 2/3-inning outing.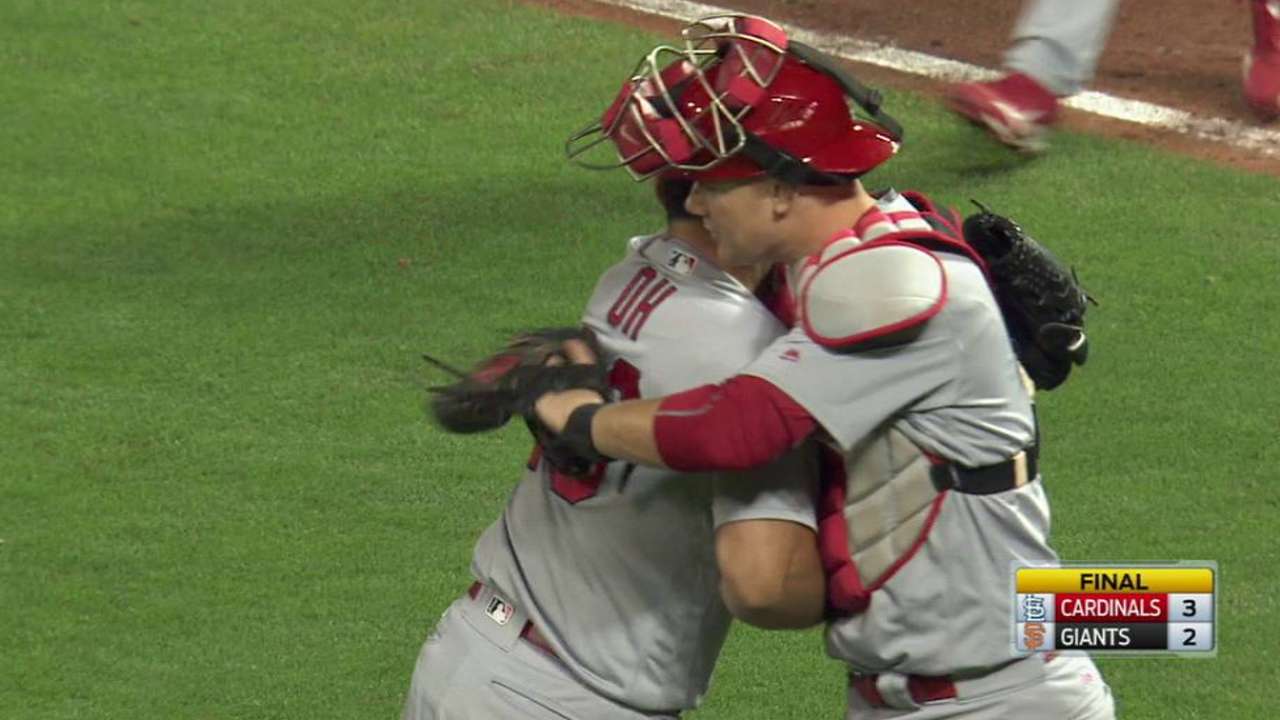 Cardinals starter Mike Leake, back at AT&T Park for the first time since he pitched for San Francisco, squandered his early lead when Brandon Belt picked up his ninth RBI in his last nine games by doubling home Hunter Pence in the second. Samardzija's sacrifice fly pushed the Giants in front in the sixth. Behind Leake, the Cardinals received three innings of clean relief, including two from Oh in his first appearance back from a groin injury.
"There are still a lot of games left, so to say a must-win is a little dramatic at this point," Gyorko said. "But obviously, it was a big one. This was a game we needed to win."
MOMENTS THAT MATTERED
Quick reflexes: Though he jammed his wrist on the play, Cardinals first baseman Matt Adams made a key defensive stop to keep the Giants from posting a crooked number on the scoreboard in the second. Adams made a diving catch to snare a Denard Span line drive and then dove back to first to double up Eduardo Nunez. That ended the inning with Belt stranded at third. Adams left the game two innings later as his wrist continued to give him trouble, but said afterward he does not expect to miss any additional time.
"I was surprised that I caught it, first off," Adams said. "Then I was quick to get up and double the guy up. That was one of my better [plays]."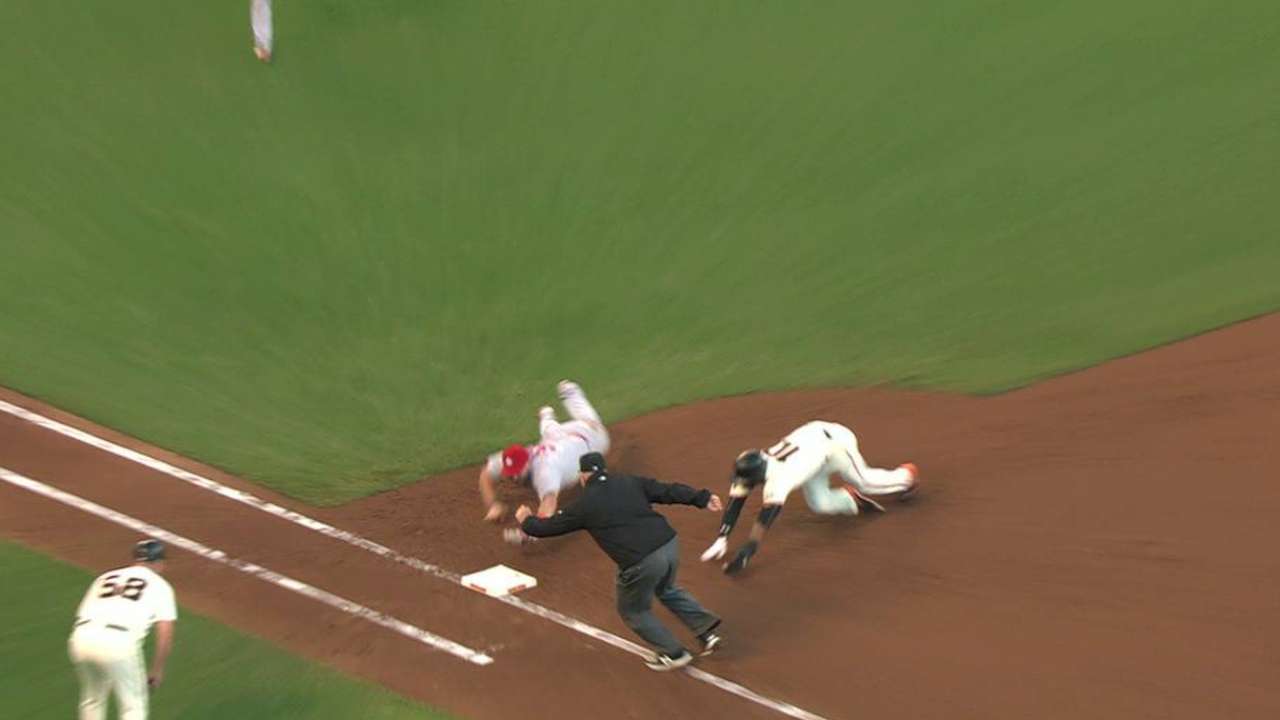 Supporting himself: Samardzija contributed at the plate in the fifth inning, lining a sacrifice fly to right field to score a go-ahead run. The lineout came one pitch after the right-hander bunted a ball foul and resulted in his ninth RBI of the season.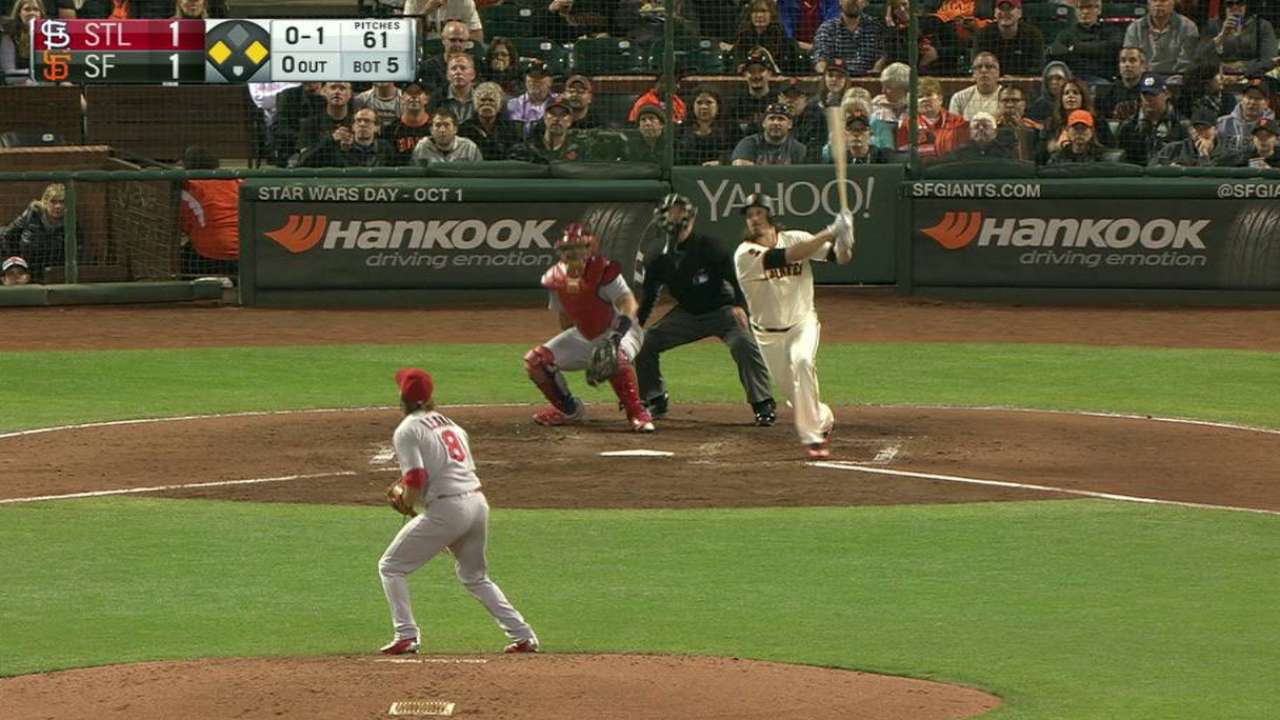 Early advantage: Moss gave the Cardinals their first lead since Tuesday with his home run. The opposite-field blast was also a much-needed pick-me-up for Moss, who entered the night with two hits in his previous 50 at-bats. The homer was Moss' team-leading 27th of the season and the second of his career off Samardzija.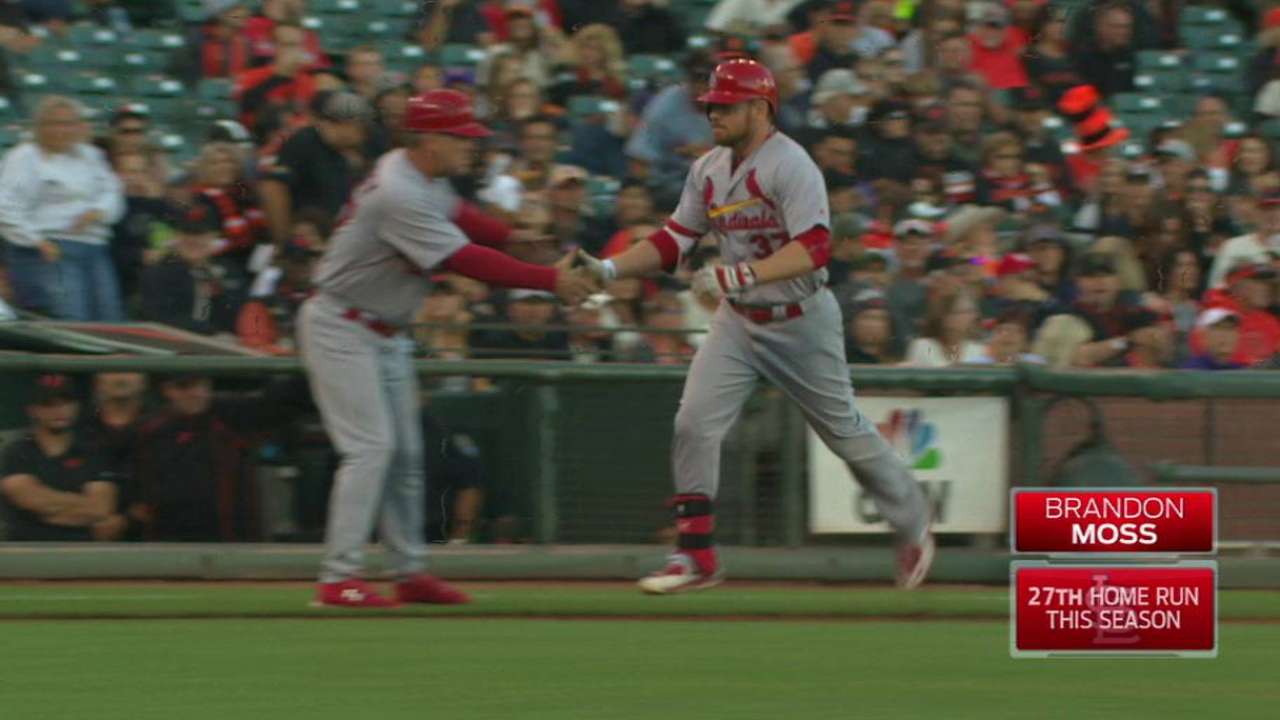 Flashing the leather: Aledmys Diaz appeared to have scored the go-ahead run in the fifth after knocking a sharply hit grounder with a runner on third and two outs. But Crawford snagged the ball before spinning and firing to get Diaz out. It was one of many exceptional plays the shortstop made.
"Following the game plan -- that's the way you like it," said Samardzija. "Anything on the ground is good. If it just so happens to go to Crawford, you're going to have a good day."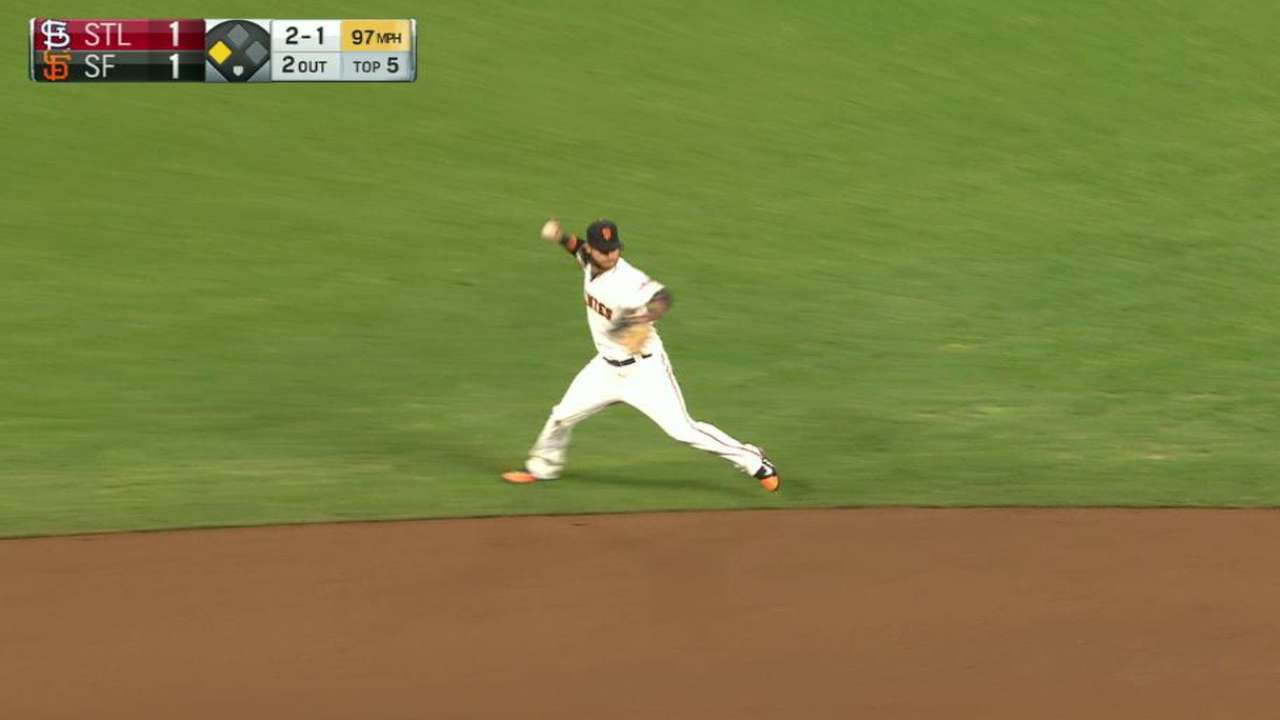 QUOTABLE
"You know he's closed over 30 games. He threw the ball well last night. We tried some different things; it hasn't worked out. We're going with what we think is our best matchup. Didn't play out tonight." -- Bochy on why he continues to call on Casilla in save situations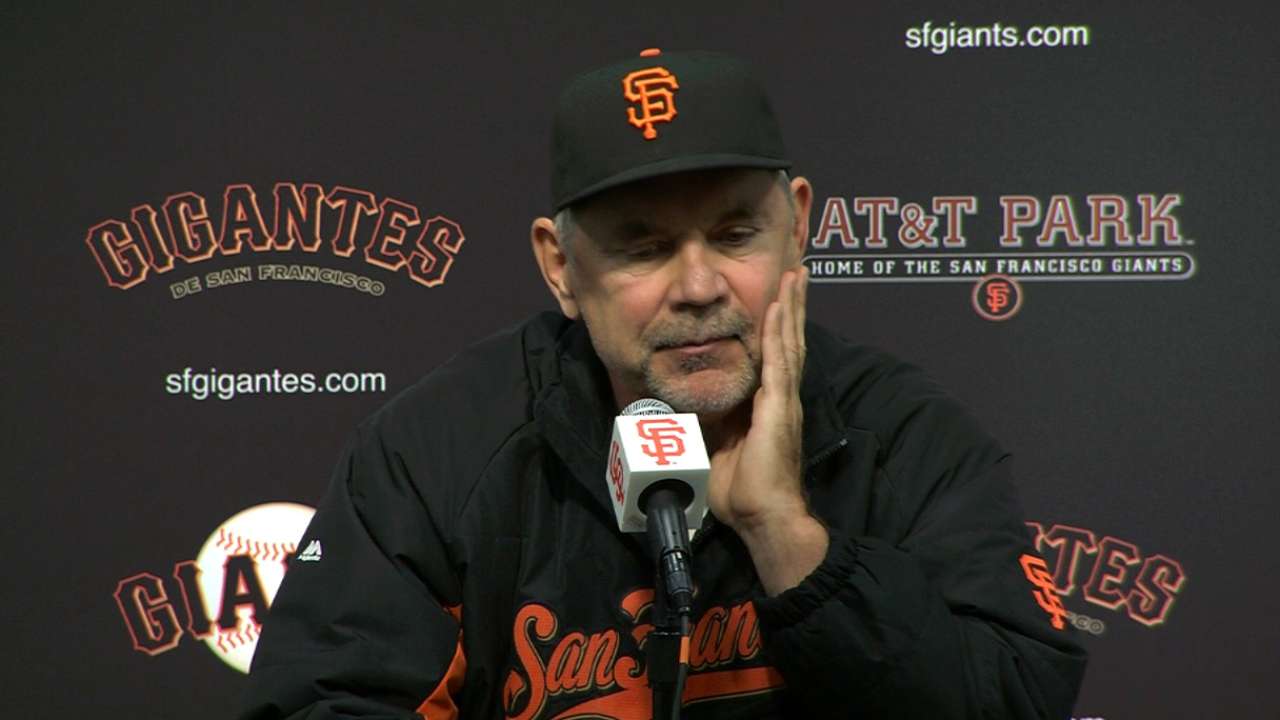 "It's big. With the Mets winning, we had our backs against the wall. We got a 'W' and big momentum there in the end. Hopefully that carries over until tomorrow." -- Grichuk, on the team's sixth win when trailing after eight innings
WHAT'S NEXT
Cardinals: The Cardinals will wrap up their stay in San Francisco with a 3:05 p.m. CT game Sunday. Rookie Alex Reyes draws the start after replacing Jaime Garcia in the rotation. In two career starts, Reyes has allowed three earned runs over 10 2/3 innings.
Giants: Albert Suarez will make his 11th start of the season when the Giants and Cardinals conclude their four-game series Sunday at 1:05 p.m. PT. Suarez is 2-1 with a 3.12 ERA in 11 appearances (four starts) at AT&T Park.
Watch every out-of-market regular-season game live on MLB.TV.
Jenifer Langosch has covered the Cardinals for MLB.com since 2012, and previously covered the Pirates from 2007-11. Read her blog, follow her on Twitter, like her Facebook page and listen to her podcast.

Justin Wise is a reporter for MLB.com based in the Bay Area.

This story was not subject to the approval of Major League Baseball or its clubs.