Given chance, Rays' Shaffer taking advantage
Former first-round pick delivers go-ahead hit, draws praise from Cash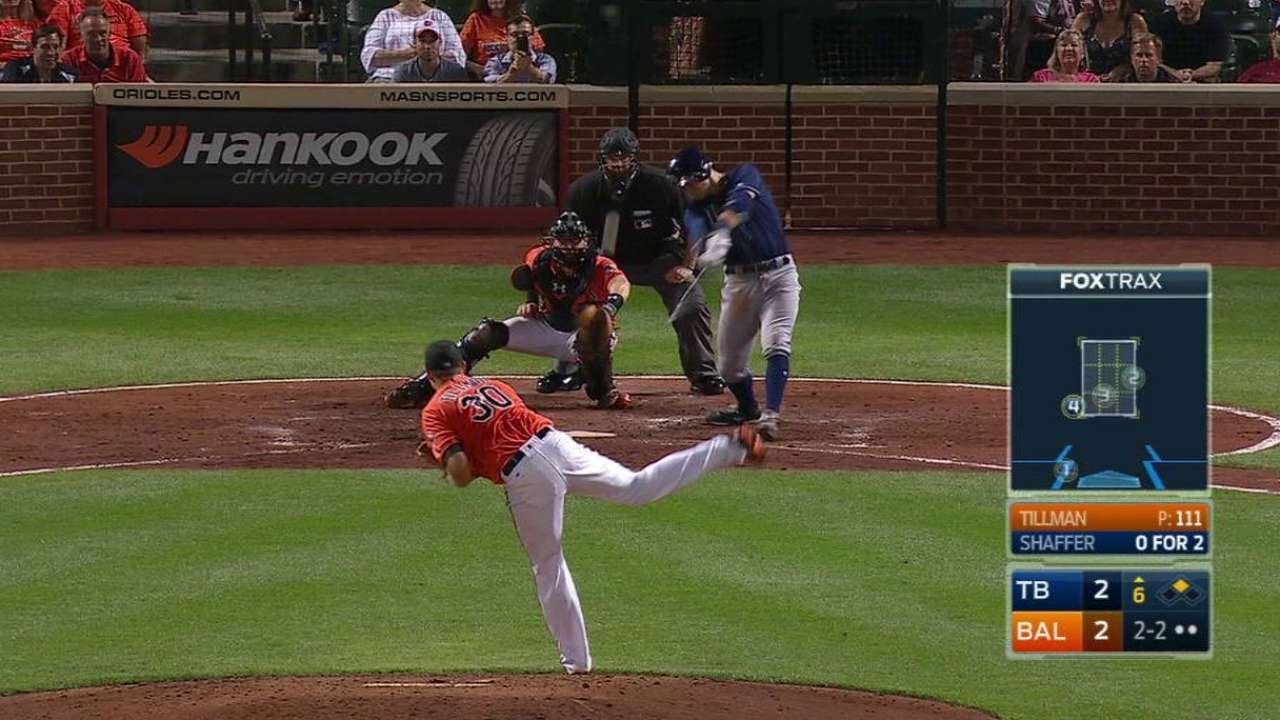 BALTIMORE -- Richie Shaffer came through in the clutch Saturday night.
The Rays' top pick of the 2012 MLB Draft doubled home the go-ahead run in the sixth inning in a 5-2 victory over the Orioles at Camden Yards.
In his third stint with the Rays in 2016, he hit his first home run of the season Friday night in a losing effort.
"Nice to see Richie Shaffer contribute there two nights in a row," Rays manager Kevin Cash said. "That's been really good to see."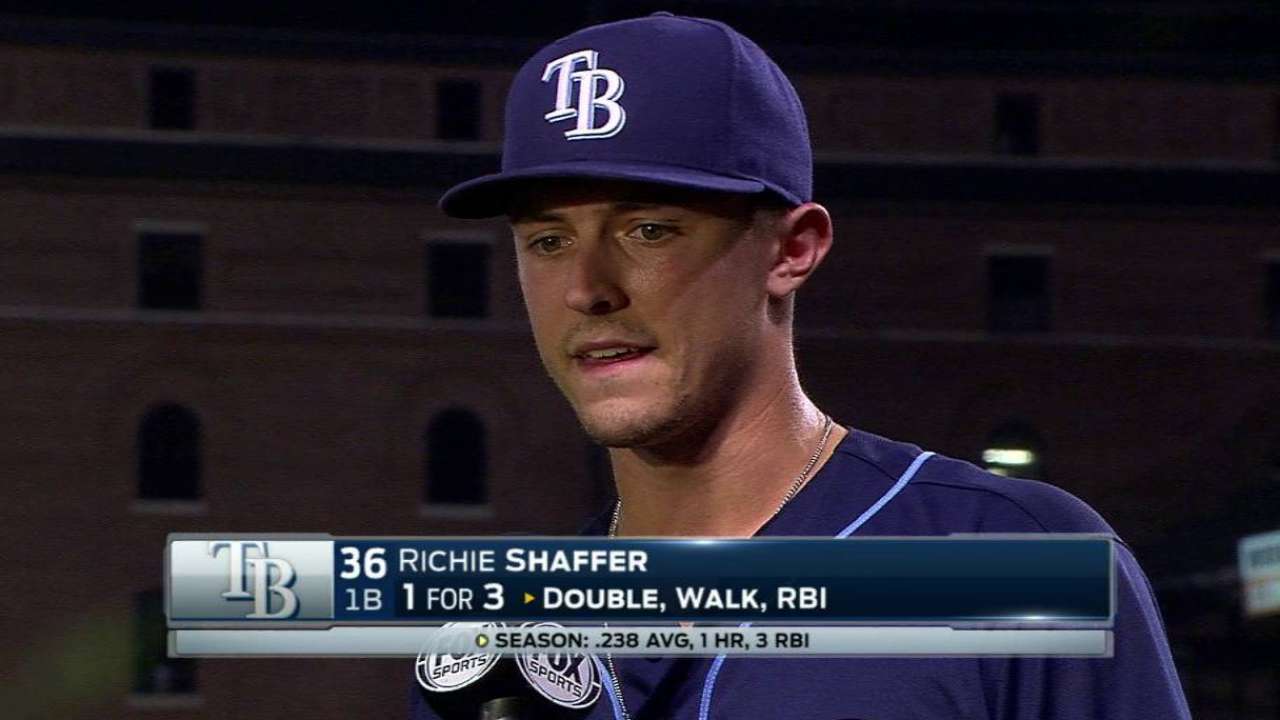 With Logan Morrison out for the season and Nick Franklin nursing a strained left hamstring, Shaffer should get a lot more at-bats as the season winds down. The opportunity could go a long way toward easing some of the disappointment of his season.
"Any opportunity I get, I'm grateful for," Shaffer said. "I hate that it's at the expense of guys getting injured. But that's part of the game. And I'm going to try and make the most out of any opportunities I get."
Shaffer hit .267 with 26 home runs and 72 RBIs for Double-A Montgomery and Triple-A Durham in 2015. Combined with the four he hit for the Rays, he had 30. That fueled some high expectations for the former Clemson standout.
Unfortunately for Shaffer, the Rays had a crowded first-base situation when they broke camp, which punched his ticket for another year at Durham. Shaffer hit just .227 with 11 home runs and 48 RBIs for the Bulls.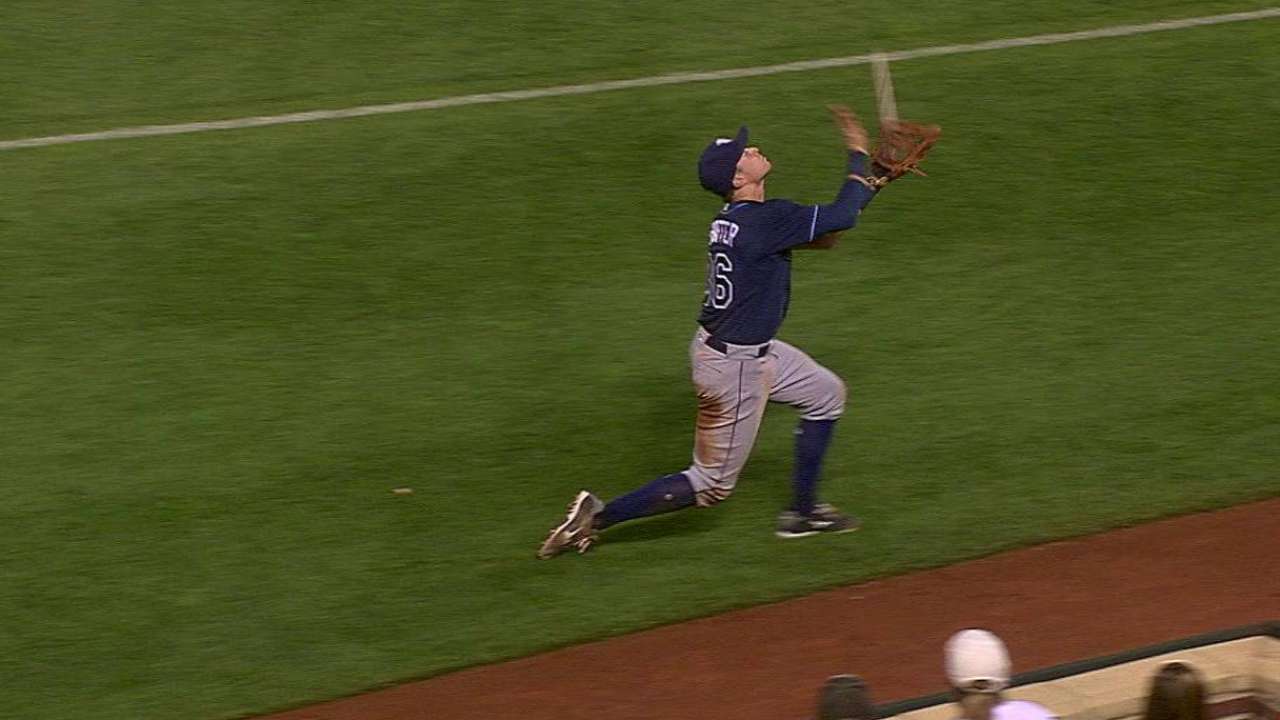 Shaffer doesn't look at the year as a disappointment, rather a learning opportunity.
"The Minor League stuff, it is what it is," Shaffer said. "Obviously, it isn't what I wanted. But the whole point of the Minor Leagues is to learn to be a big leaguer. I learned a lot.
"There's a lot of positives from the year. Just because the numbers weren't where I wanted them to be doesn't mean that I didn't improve and learn more about myself that was going to help me when I'm here."
Shaffer smiled when asked about some specifics he learned.
"A lot of stuff that doesn't work -- just cross things off," Shaffer said. "...A big thing I stressed this year was hitting with guys in scoring position. ... Overall, the numbers weren't awesome, but I think I had better quality at-bats with guys in scoring position this year than I did last year when my numbers were better."
Lesson learned and put into place by Shaffer.
Bill Chastain has covered the Rays for MLB.com since 2005. This story was not subject to the approval of Major League Baseball or its clubs.