Reds 'fairly certain' Finnegan will get 1 more start
Left-hander chased in third inning of Saturday's Game 2 loss to Pirates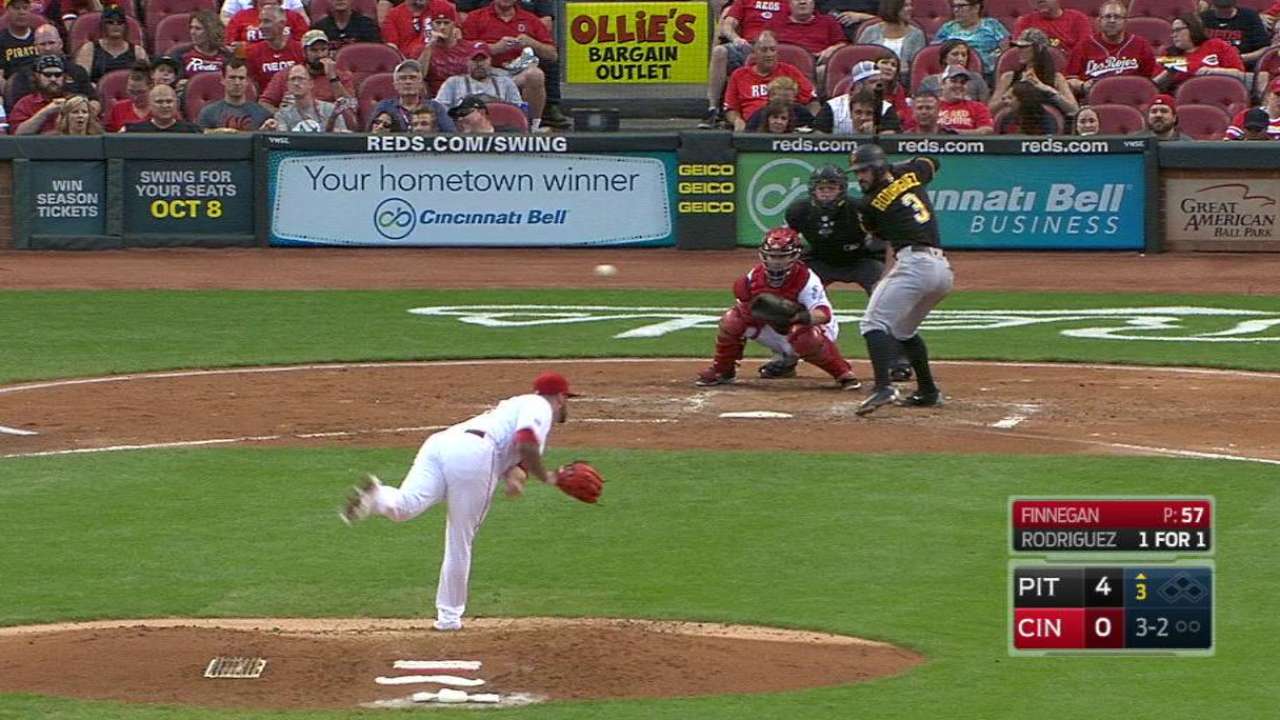 CINCINNATI -- Coming into Saturday, there was a chance that Brandon Finnegan would be making his last start.
The 30-start mark was one the Reds had pointed to earlier in the season as a potential shutdown marker, and Finnegan had shown the promise to give the Reds confidence in his future going into the offseason -- in his previous five starts, he'd pitched 30 innings with a 1.80 ERA and 42 strikeouts.
However, Finnegan lasted just 2 1/3 innings, giving up five runs (two earned) on seven hits and three walks in the Reds' 7-3 loss to the Pirates on Saturday in the nightcap. The Reds lost the opener, 10-4. But if there's a silver lining for Finnegan, it looks like he'll get at least one more start after all.
"As we're coming down the stretch, I would anticipate him making another start and then we'll see where we're at and just go from there," Reds manager Bryan Price said. "We just don't have any starting pitchers up from Triple-A. We certainly aren't going to run him out there past whatever we deem is the expiration date, but that may include another start. I'm fairly certain it will."
The questions surrounding Finnegan were about whether or not his stuff would translate to the rotation, being primarily a fastball-slider pitcher, and whether or not he could hold up over the course of a full season.
To answer the first, Finnegan developed a changeup that's seen marked improvement over the course of the season. As for the latter, Finnegan had looked fresh recently, but the Reds are being careful with his innings limit.
"It's September, I've made 30 starts, it's kind of tough to feel good right now, but I feel fine," Finnegan said. "If they keep giving me the ball, I'm just going to keep going out there."
Cody Pace is a reporter for MLB.com based in Cincinnati. This story was not subject to the approval of Major League Baseball or its clubs.