Verlander shows vintage stuff despite no-decision
Righty tosses 7 innings of 1-hit ball, but lacks run support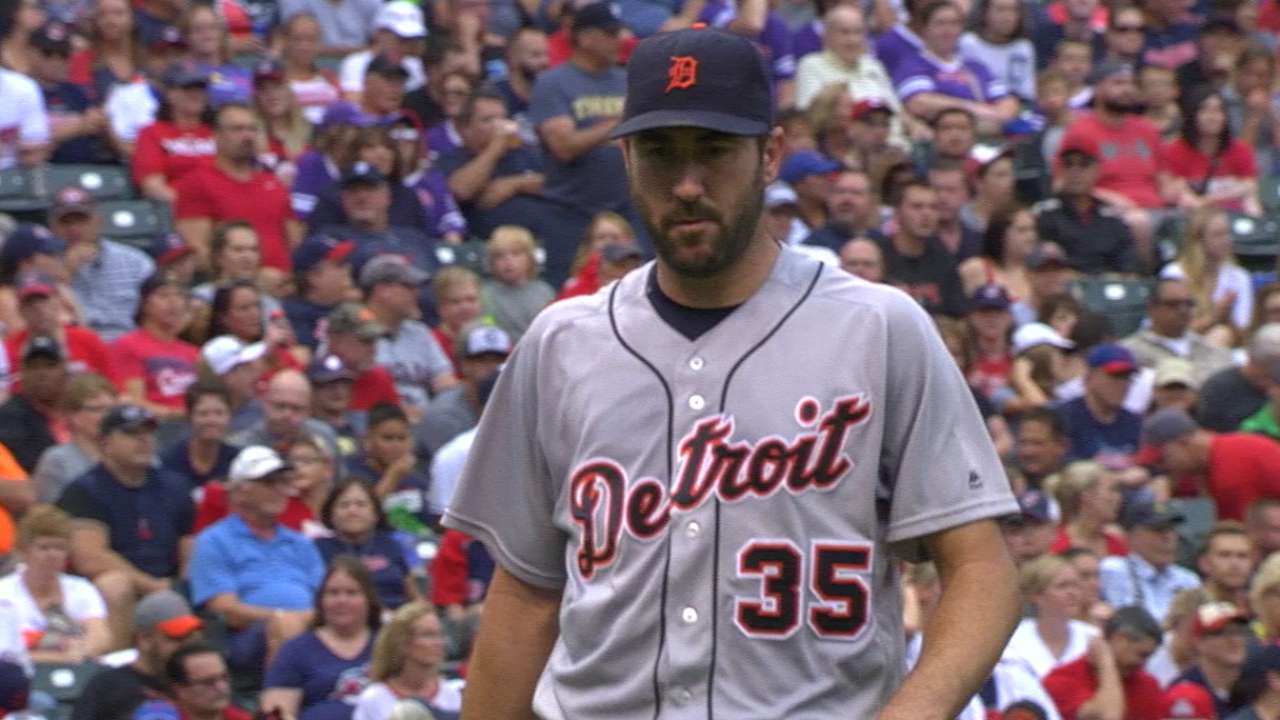 CLEVELAND -- Justin Verlander might as well have held his postgame interview in a library. Even in hushed tones, his voice carried through the visiting clubhouse at Progressive Field. So did the clinks of silverware against plates as players ate. It was that quiet after Saturday's 1-0 loss to the Indians.
"I mean, it felt good to pitch [well] against them, yeah," Verlander shrugged, a twinge of vindication over seven scoreless innings against a Cleveland lineup that hit four homers off him in June. "But we lost, so ... it still [stinks]."
After their 11-4 loss the previous night, players were angry, maybe embarrassed by miscues. It would be better, Justin Upton surmised then, to at least play well and lose than to beat themselves.
It didn't make them feel much better Saturday. In some ways, it felt worse.
"Outside of sloppiness, they just hit the ball last night," manager Brad Ausmus said. "They ended up scoring 11 runs. They hit the ball. If they hit the ball, that happens. Tonight, I felt like our pitchers did a good job, and we were unable to scrape out of a run."
Verlander gave them a chance. On an afternoon when command issues sent him tiptoeing along the precipice of a big inning early, walking four of Cleveland's first 12 batters, Verlander took a no-hitter into the sixth inning and carried a shutout through the seventh. He pumped fastballs past a dangerous lineup -- including six swings and misses across two strikeouts against Tyler Naquin -- until he found the feel for his secondary pitches late.
Sixty-nine of Verlander's 106 pitches were fastballs. Cleveland hitters swung at 37 and whiffed on 13. Facing a team that had owned him for two of three previous starts this season, Verlander went at it with his hardest stuff.
For a while, it was out of necessity. But even once he had his other pitches, finding the slider to strike out Mike Napoli with two on in the third inning, he continued to lean on the heater.
"I felt like I had a decent feel for [the other stuff] the whole game," Verlander said. "I just didn't use them a lot early, just attacked with the fastball. I used it when I needed to."
This was vintage Verlander, for stuff as well as stakes. Like those winner-take-all performances in Oakland in the 2012 and '13 American League Division Series, Verlander carried his team along until it could find its footing and build a lead. The only sign of age might have been the ending, with Verlander exiting after 106 pitches rather than pushing it to 120 or more and risking handing the bullpen a jam to escape.
"Brad's probably not going to let me ride it out there 'til 130 [pitches], so we were ready to get a guy out there to start a new inning," Verlander said. "And it worked out. Our guys did a good job."
The real difference Saturday from those ALDS games, is that the runs never came, not through 10 innings against the Indians' bullpen.
"I mean, every loss is frustrating for one reason or another," Verlander said. "It's easy to look back and say this should've happened or that should've happened or whatever, I made a bad pitch or he didn't hit a pitch. There's so many variables when it comes to losing that you end up second-guessing. I wouldn't put any more emphasis on this one than any other. It's just this time or year, there's more pressure to win. So you feel it. You know you need to win. But it wasn't in the cards tonight."
Jason Beck has covered the Tigers for MLB.com since 2002. Read Beck's Blog, follow him on Twitter @beckjason and listen to his podcast. This story was not subject to the approval of Major League Baseball or its clubs.