Joseph continues strong rookie campaign with 20th HR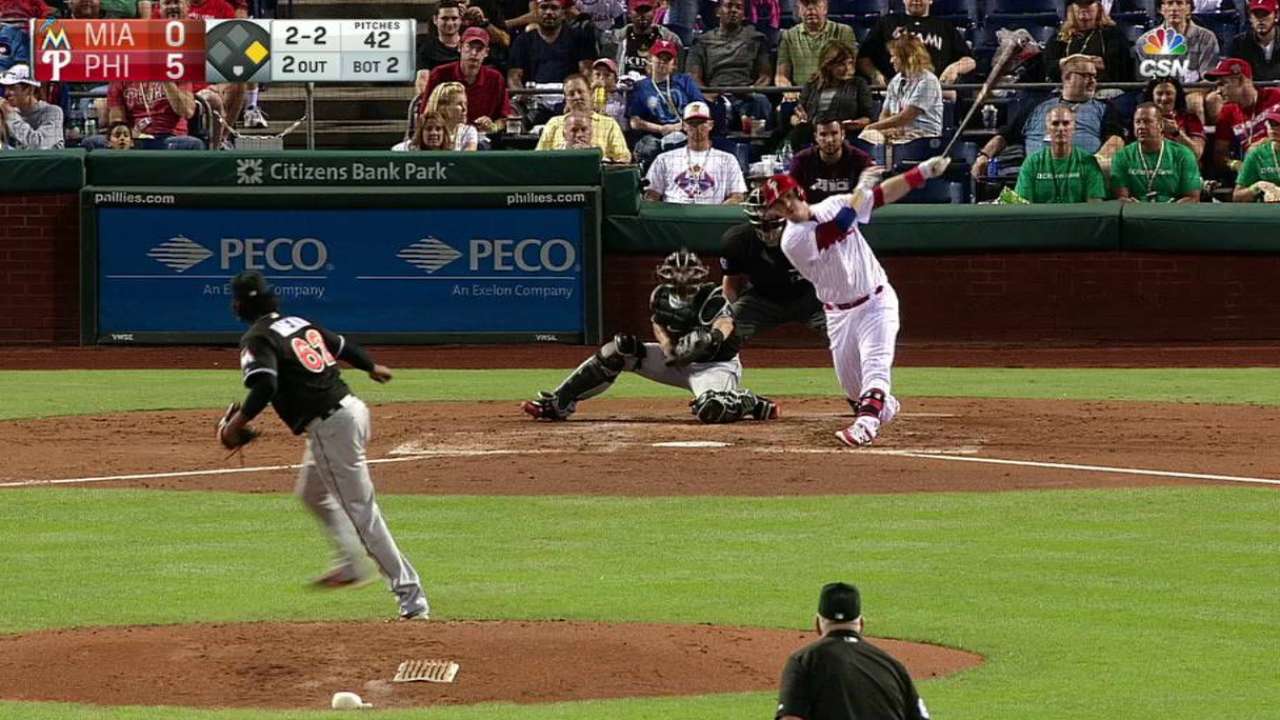 PHILADELPHIA -- So how many people had Tommy Joseph in their 20-and-over home run pool in 2016?
Not even Joseph could have predicted the year he has had with the Phillies. The rookie hit his 20th homer of the season in the second inning of Saturday night's 8-0 victory over the Marlins at Citizens Bank Park.
The two-run shot handed the Phillies a seven-run lead. It also moved Joseph into a fifth-place tie with Larry Hisle on the Phillies' all-time rookie home runs list. Only Willie Montanez (31 in 1971), Dick Allen (29 in 1964), Ryan Howard (22 in 2005) and Scott Rolen (21 in 1997) hit more homers during their rookie seasons. The Phillies still have 13 games to play, so Joseph can keep moving up the list, too.
"It is cool," Joseph said. "At this time last year, a lot of people had given up on my future. But to be sitting here with 20 homers in The Show, it's a pretty special feeling."
The Phillies acquired Joseph from the Giants in July 2012 in the Hunter Pence trade. He was supposed to be their catcher of the future, but they outrighted him off the 40-man roster last October following three injury-plagued seasons in the Minor Leagues.
Joseph's star had fallen far because of concussions and other injuries. In fact, the day the Phillies outrighted him, he got only a secondary mention because the Phillies also outrighted Domonic Brown. But assistant general manager Scott Proefrock said something prophetic that afternoon when he mentioned how the Phillies planned to keep him in the organization as a first baseman.
"There's an opportunity here, if he can swing the bat and play the position," Proefrock said. "We don't really have a first baseman at the upper levels."
The 25-year-old was not in big league camp this spring. But Joseph hit .347 with six home runs, 17 RBIs and a .981 OPS in 100 plate appearances early this season with Triple-A Lehigh Valley. He earned a promotion in May and batted .323 with seven home runs, 16 RBIs and a 1.010 OPS in his first 21 games with the Phillies. He struggled for a stretch, but he adjusted and has hit .284 with 12 homers, 25 RBIs and a .924 OPS in his last 55 games.
"The slugging percentage (.503) is probably where I want it to be, if not better," Joseph said. "But the on-base percentage (.299) is definitely way too low."
But Joseph's overall numbers are why he is expected to be the Phillies' Opening Day first baseman in 2017.
Who would have thought?
"The goal when I went into Spring Training was to get a September callup," Joseph said. "And then once I got here, it was to take it week by week. I think once I hit 18 and 19 [home runs], I was like, 'All right, we can do this. We've got some time left to make this happen.' I don't know if I would have been able to live with myself if I had just stuck at 19. To get to 20 is special. It means a lot to me."
Todd Zolecki has covered the Phillies since 2003, and for MLB.com since 2009. Read his Phillies blog The Zo Zone, follow him on Twitter and listen to his podcast. This story was not subject to the approval of Major League Baseball or its clubs.