Norris day to day with middle-finger sprain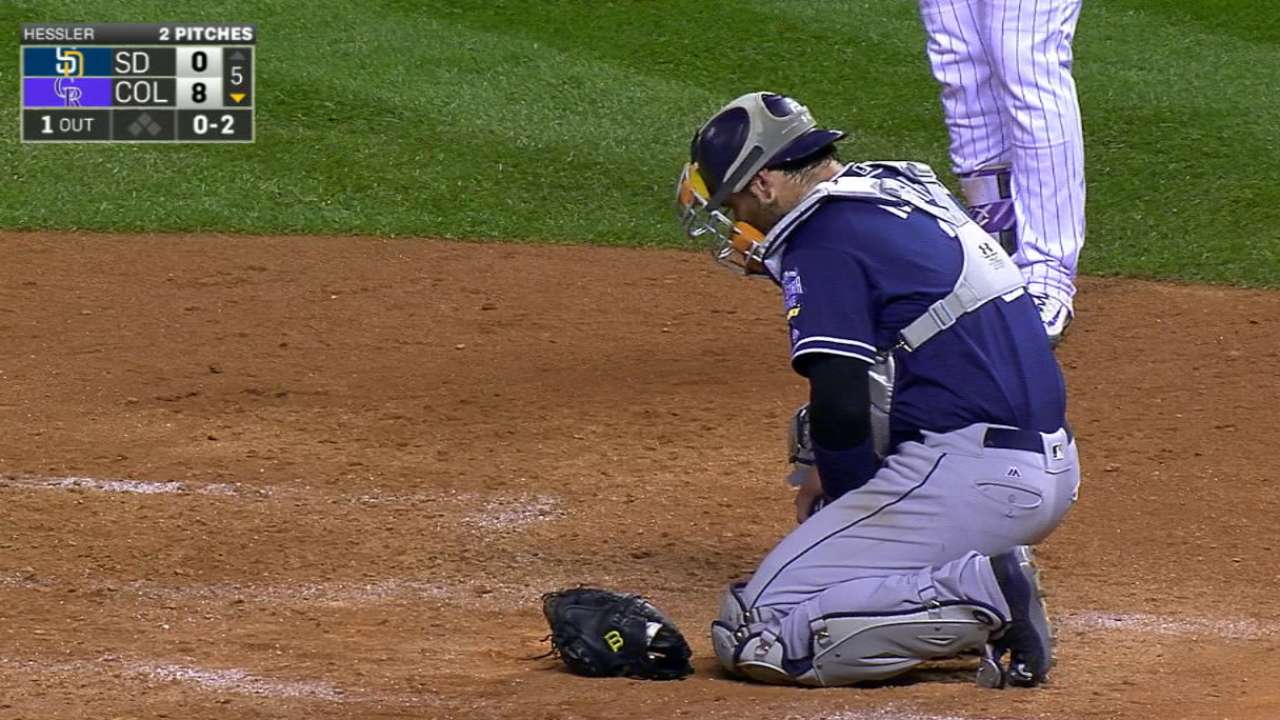 DENVER -- Padres catcher Derek Norris is day to day with a sprained left middle finger, but the injury is not serious enough to warrant the club calling up a third catcher.
Norris exited Saturday's 8-0 loss to the Rockies with a sprained left middle finger after taking a foul ball off his glove hand. X-rays on the finger were negative.
Rockies first baseman Gerardo Parra tipped a pitch from Keith Hessler off Norris' mitt, and Norris immediately reached for his glove hand in pain. After being looked at by a team trainer, Norris was removed and replaced by Hector Sanchez, who started Sunday's finale vs. Colorado.
"I just went to close my glove and the ball tipped it," Norris said. "It took off at an upward angle, kind of just hit it at a direct angle and jammed it pretty good. We just wanted to make sure that nothing was broke, and nothing was. We'll see how it goes after some treatment."
Had Norris been set to miss significant time, the Padres would've likely been forced to call up 24-year-old Austin Hedges. Instead, Hedges will remain with Triple-A El Paso throughout the Minor League playoffs, as planned. Padres manager Andy Green noted that it's likely callups will arrive Thursday, following Tuesday's Triple-A championship game.
Norris, who is hitting .186/.256/.327 in 118 games this season, also took a foul ball off his right shoulder on Sept. 8 and was removed. But he returned to the lineup two days later.
"I'm sure I can put some tape on it, rub some dirt on it, and be good to go," Norris said. "I've played through worse."
AJ Cassavell covers the Padres for MLB.com. Follow him on Twitter @ajcassavell. This story was not subject to the approval of Major League Baseball or its clubs.