Statcast of the Day: Coors boost Exhibit A
Rockies star Arenado gets distance power-up from home park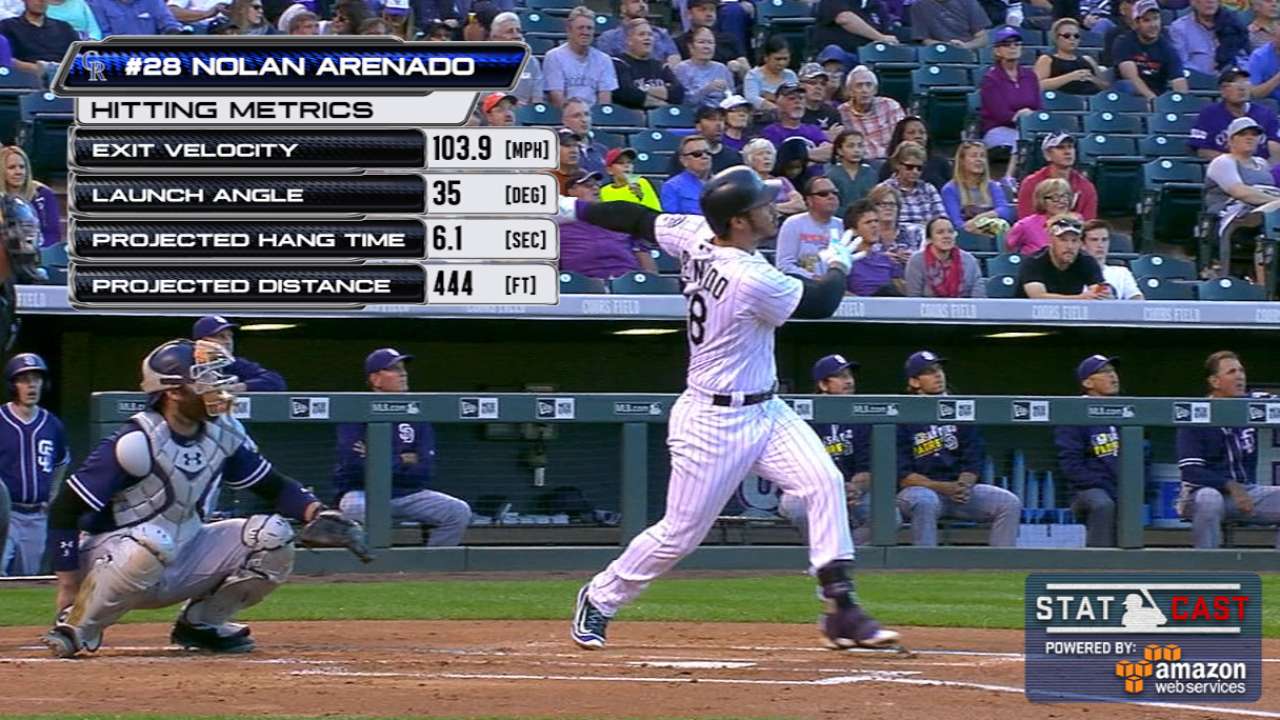 Nolan Arenado has proven he can hit a ball as far as anyone, and the All-Star put that on display again during Saturday's 8-0 win over the Padres. But he also got some help from the friendly hitter's confines of Coors Field.
In a scoreless game in the bottom of the first, Arenado muscled an Edwin Jackson pitch out to the concourse in left field with an exit velocity of 103.9 miles per hour and a launch angle of 35 degrees. Arenado, Jackson and just about everyone in the ballpark could tell from the crack of the bat that the ball was heading for the seats. The hit tracking technology of Statcast™ said so, too, as batted balls hit with similar velocity and angle this year had gone for home runs 70 percent of the time.
The only question was how far the ball would go. The answer? A projected distance of 444 feet -- 13 feet farther than any other home run hit this year with a similar combination of exit velocity and launch angle.
Major League players had combined to hit 61 home runs with those dimensions entering Saturday's games, but none of them had reached the distance of Arenado's slam. One reason is because Arenado's 444 feet worth of distance is more typical of a ball hit within the "ideal launch angle" zone -- which Statcast™ has found to be between 25 and 30 degrees.
But another reason for Arenado's eye-opening distance is what's known as the "Coors Effect."
Since the Rockies began play at Coors Field in 1995, fans have known that the ballpark's mile-high elevation above sea level has been the most conducive to both the number of home runs hit and the distance they travel. Research conducted by Dr. Alan Nathan, a physics professor at the University of Illinois, quantifies this "effect" and shows that balls hit at Coors Field with a high launch angle can expect to gain up to 20 feet of distance over other ballparks across the Majors.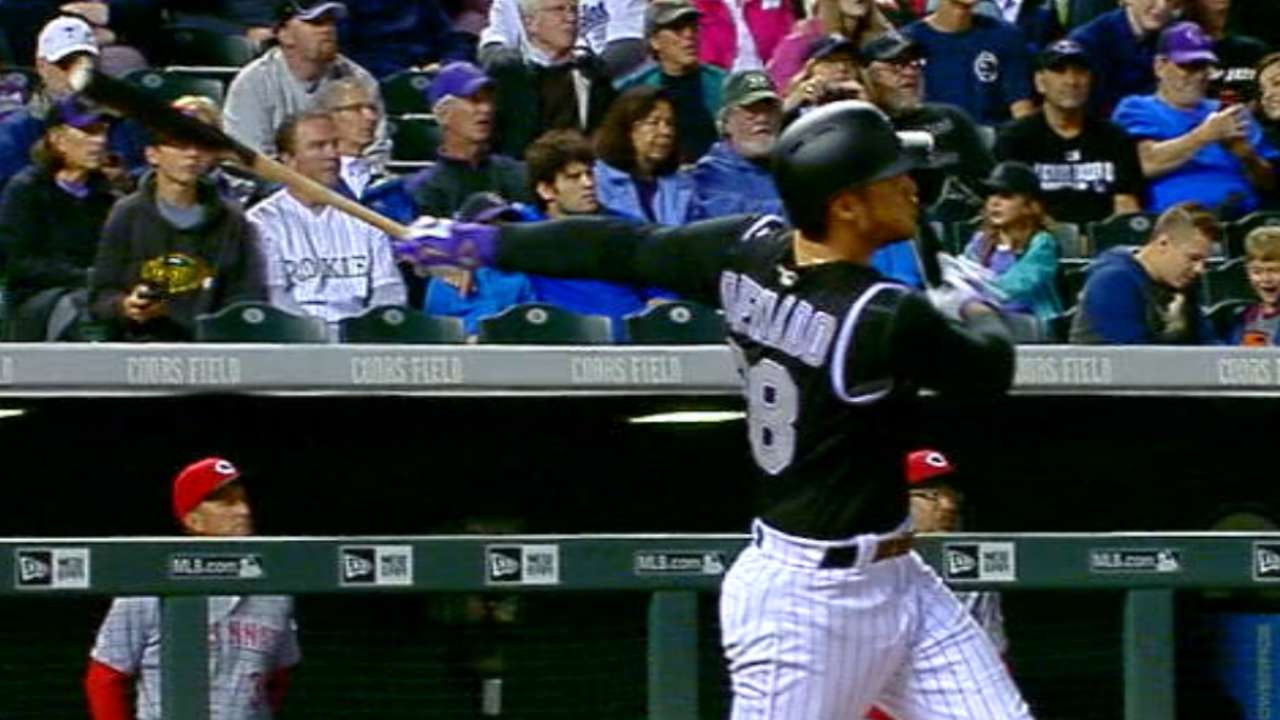 To give a sense of just how much Coors Field can affect a home run, consider this: There have been 102 home runs hit in Colorado this season that have traveled more than 425 feet, according to Statcast™. That's almost twice as much as any other park. Chase Field, with 55 blasts of 425 feet or longer, comes in second.
A look at the other 61 home runs similar to Arenado's seems to confirm that theory. In fact, the next farthest home run with a similar velocity and launch angle as Arenado this year was hit by his Rockies teammate, Charlie Blackmon, whose blast traveled 431 feet into the seats at -- you guessed it -- Coors Field.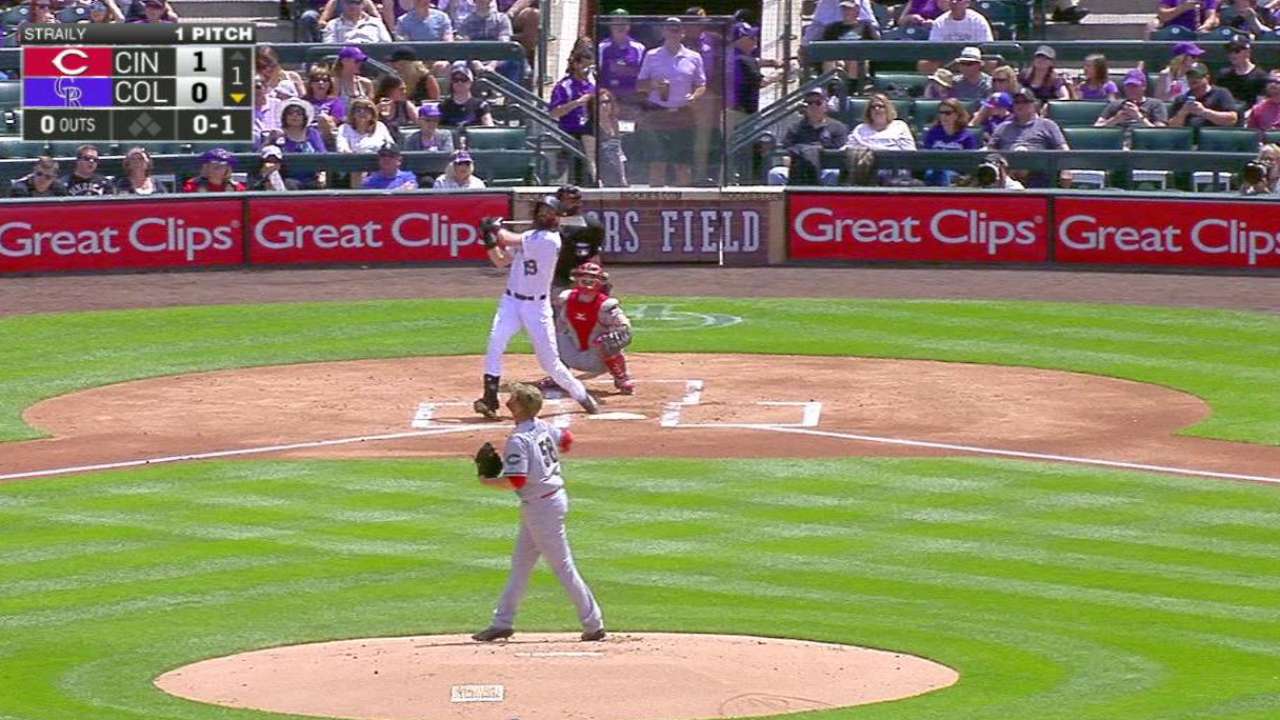 To find a similar homer not hit at Coors Field, you'd have to go down to No. 3 on the list, Minnesota's Kennys Vargas, who hit a home run July 10 at Texas' Globe Life Park with nearly the exact same velocity (103.6 mph) and angle (35 degrees). The difference was in the distance: Vargas' home run traveled 426 feet -- 18 feet shorter than Arenado's -- lending credence to the "Coors Effect."
Arenado has clubbed a total of 27 home runs this year hit with a velocity of at least 100 miles per hour. That's tied for the 16th most in baseball, so no one can dispute Arenado's raw power. But with the "Coors Effect" in play, Rockies fans may be extra spoiled, as they can watch their star's dingers travel just a little bit farther.
Matt Kelly is a reporter for MLB.com based in New York. Follow him on Twitter at @mattkellyMLB. This story was not subject to the approval of Major League Baseball or its clubs.