Moore appreciates, rewards Bochy's trust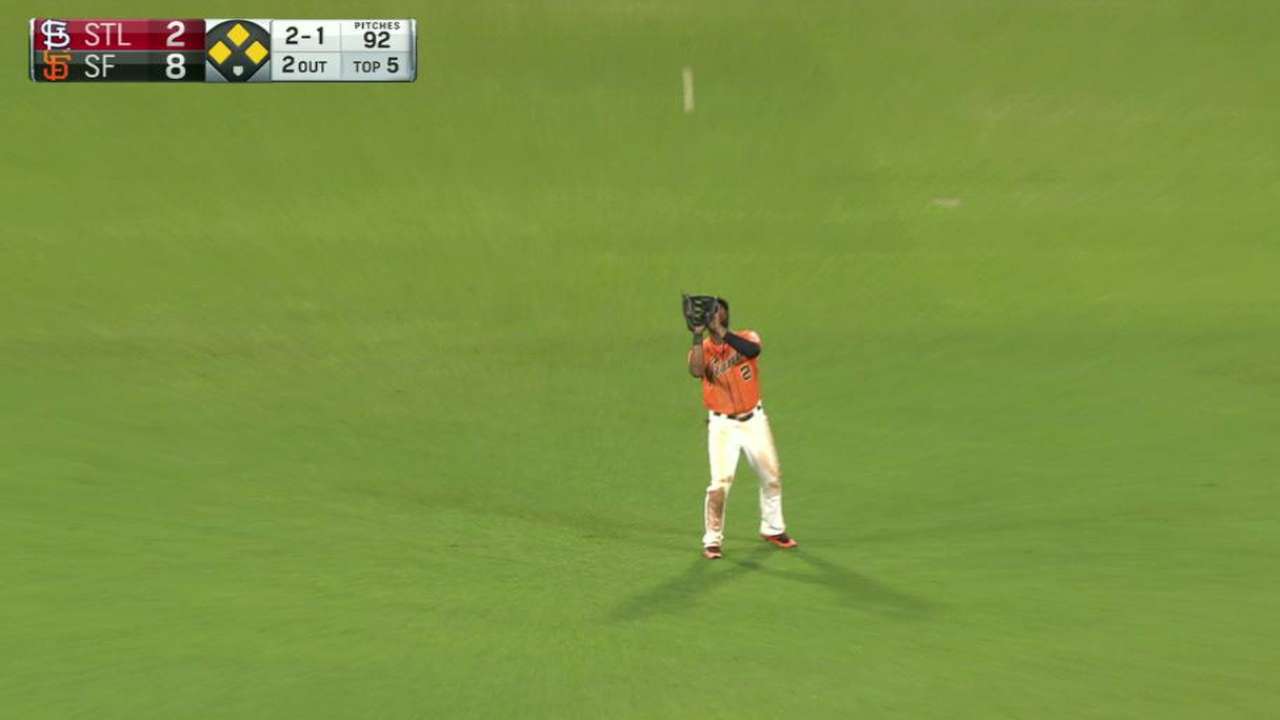 SAN FRANCISCO -- When Bruce Bochy began slow-jogging out of the dugout in the fifth inning Friday, Giants starter Matt Moore figured his outing was over. Moore's never found himself in a situation where a manager came out to the mound and left him in.
That changed during his ninth appearance for the Giants, as Bochy put his trust in the left-hander to get out of a bases-loaded jam with two outs. Moore responded by forcing the Cardinals' Jhonny Peralta to fly out to center field during the club's 8-2 win.
"That was something that was pretty cool for me," Moore said. "Usually when I see Skip head out of the dugout in the past, it's been to take the ball away from me. I was glad he allowed to me to speak up about how I felt. And we wound up getting out of it."
Moore hasn't been a Giant long enough to know that when Bochy doesn't walk to the mound, it usually means you're staying in the game.
"I wish I'd have known," Bochy said before the club's game against St. Louis on Saturday. "Now he's thinking he's coming out of the game, and now he's in the game. That's a big swing as far as how you're looking at it mentally."
Regardless, Moore, who was acquired by San Francisco on Aug. 1, continues to show Bochy and the Giants how productive he can be on the mound every fifth day. While he lasted just five innings and walked three batters Friday, the left-hander has recorded wins in four of his last five starts and posted a 3.45 ERA during that stretch.
That output is why Bochy felt urged to make sure Moore was OK.
"You want to take take care of your guys," Bochy said. "I got to think about his next starts."
• Santiago Casilla made his first relief appearance in a week Friday, pitching a perfect eighth inning that included two strikeouts.
"I loved the way he went out there, the attitude, how he pitched," Bochy said. "It looked like he had good focus out there. I needed to get him out there to see where he's at. He's in the mix, including closing. They're all going to be used."
• Gregor Blanco, reinstated from the 15-day disabled list Friday, replaced Angel Pagan in left field in the ninth inning. Bochy said Saturday that Blanco will primarily be used as a pinch-runner and defensive replacement, but that he could receive at-bats.
Justin Wise is a reporter for MLB.com based in the Bay Area. This story was not subject to the approval of Major League Baseball or its clubs.