Breakout game for Bogaerts boosts Red Sox
Shortstop snaps out of slump with two doubles and a homer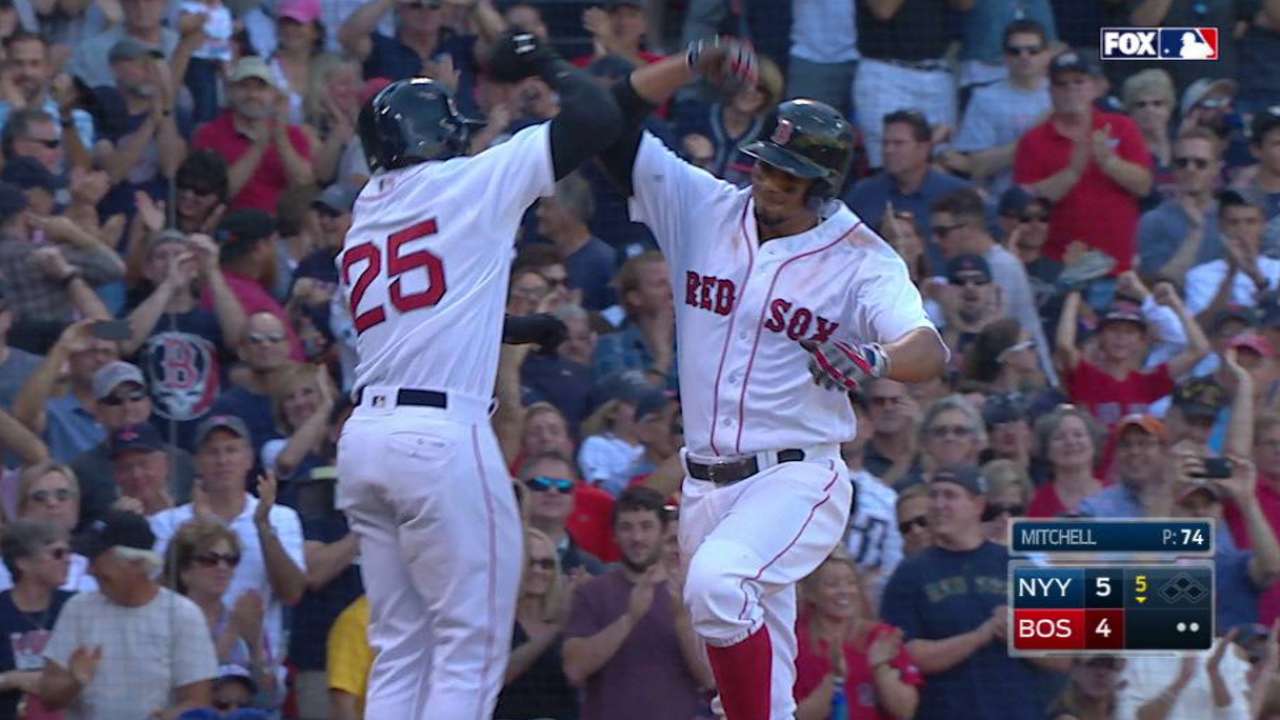 BOSTON -- For several weeks, Xander Bogaerts felt locked up at the plate, with no combination or key to free him.
At last, Bogaerts felt free on Saturday at Fenway Park, and the Yankees were left to pay the price.
Backed by the long-awaited rejuvenation by their All-Star shortstop, the Red Sox pulled out a 6-5 victory that puts them in position to sweep their rivals in this four-game series on Sunday night.
In all three innings that Boston scored, Bogaerts had a key hit. He finished the day 3-for-4 with two doubles and a home run -- his 20th of the season.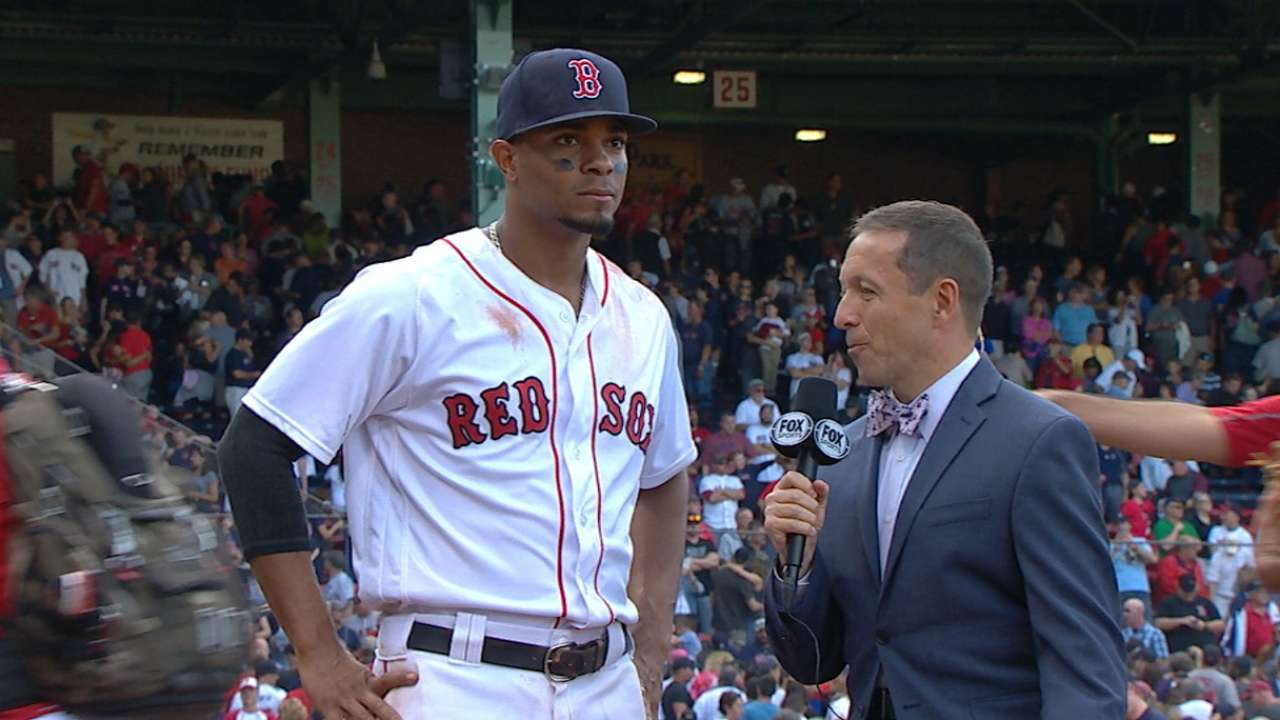 From Aug. 1 through Friday, Bogaerts hit .214 with a .608 OPS.
"It's just me at the plate -- I've been locking up myself," said Bogaerts. "I tend to dive a lot and stuff like that. It's just something I was doing for a period that wouldn't allow me to do what I wanted to do. I mean, it's frustrating because I'm the type of guy that I know what I feel. Sometimes I don't know why I feel that way or what's leading to me doing this. You just look at videos and obviously trust the coaches."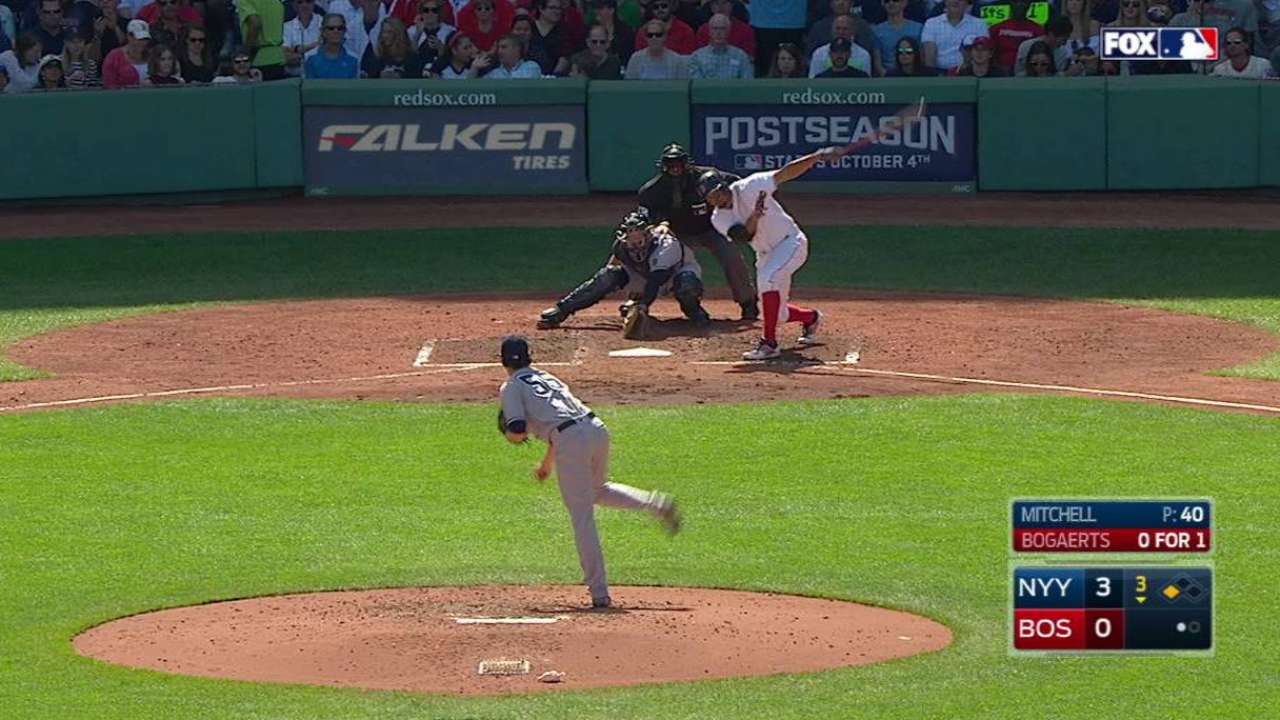 Finally, there was payoff for all the work that has taken place behind the scenes. On Saturday, Bogaerts looked like the type of hitter that prompted Oakland's Stephen Vogt to anoint him as the best hitter in the American League in a conversation with David Ortiz.
He wasn't just hitting the ball hard, but going to all fields. In the third, with the Red Sox down 3-0, Bogaerts hammered an RBI double to left-center.
Down 5-2 in the fifth, Bogaerts roped an inside fastball that was about to hit him over the Green Monster to make it a one-run game.
"We don't even have to be talking about it right now. I have no right to be swinging at that pitch," Bogaerts said. "In Toronto, I did the same thing, and I hit one out."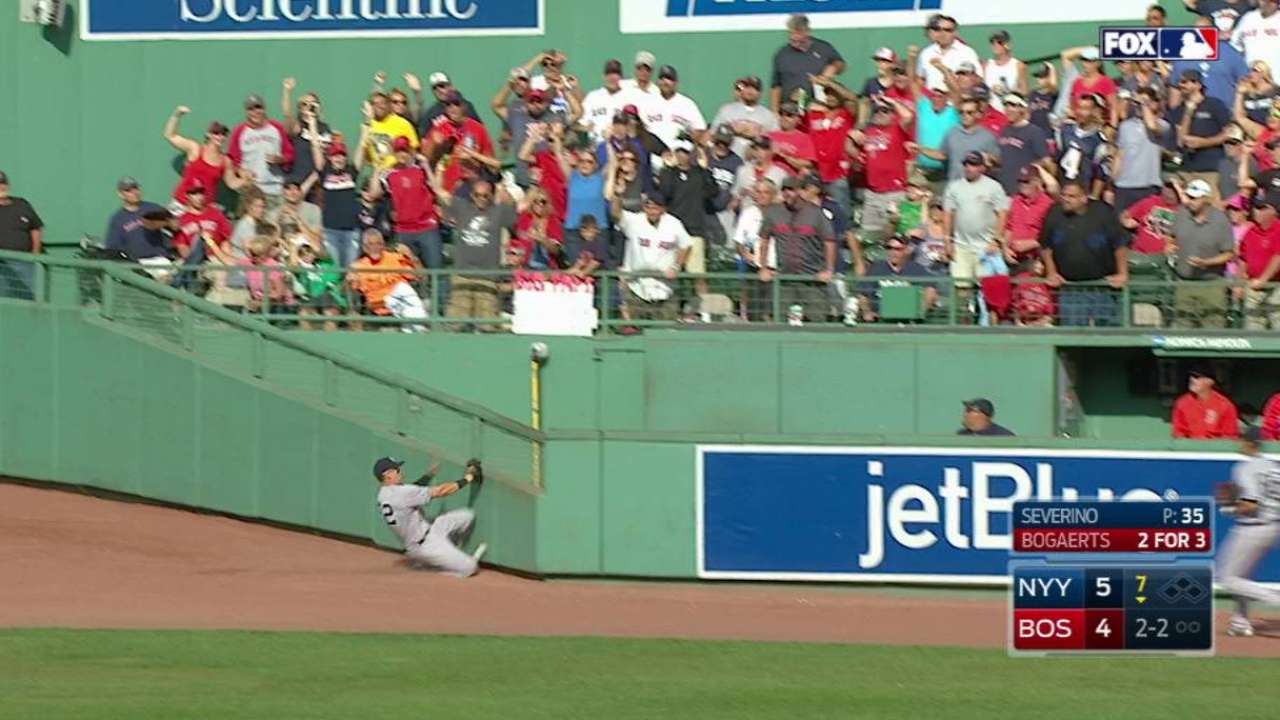 In the seventh, with Boston still down a run, Bogaerts started the two-run rally with a laser double to right-center.
"He's been pitched tough," said Red Sox manager John Farrell. "Throughout the course of this year he's become the focal point of the opposition. He's been constantly [worked] in and away, in and away, you see the pitch pattern that's taking place and sometimes he's been a little jumpy and susceptible to breaking balls away and some fastballs on the outside part of the plate, so today was a big day for him. The double to right-center field was the biggest of the three today."
Ian Browne has covered the Red Sox for MLB.com since 2002. Follow him on Twitter @IanMBrowne and Facebook. This story was not subject to the approval of Major League Baseball or its clubs.