De La Rosa hopes he can pitch again this year
D-backs righty dealing with elbow inflammation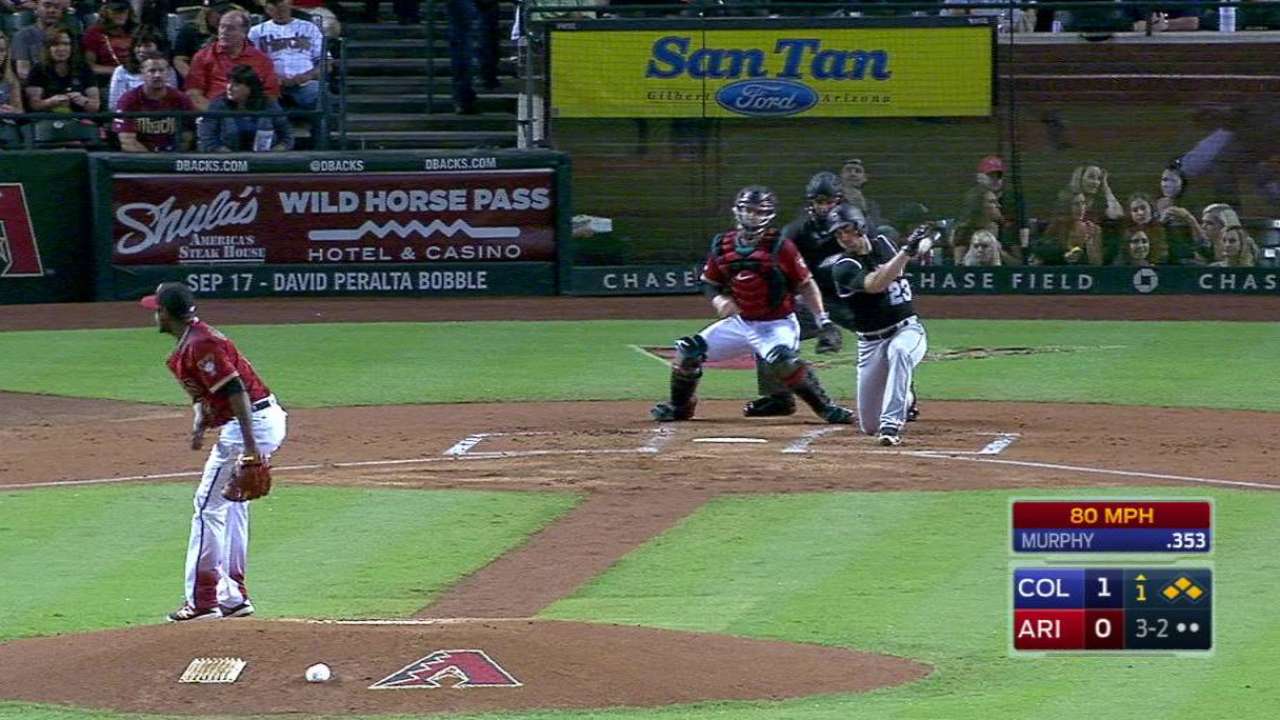 PHOENIX -- Two days after D-backs manager Chip Hale said starter Rubby De La Rosa would be shut down, it turns out the right-hander may pitch again this season.
De La Rosa (right elbow inflammation) threw a bullpen session on Saturday. He will either throw another one next week or pitch in a simulated game. If he feels well after that, he may pitch in another Major League game before the end of the season.
"It's not that bad, maybe like some people think, but it's bad because I don't have my control," De La Rosa said. "I just want to get my confidence back; that's pretty much what I'm losing right now."
De La Rosa spent more than three months on the disabled list. He was activated earlier this month, then made a pair of short starts. De La Rosa allowed a run in two innings against the Giants on Sept. 9, then allowed a run in an inning against the Rockies on Sept. 14.
After that outing against Colorado, De La Rosa said his elbow still felt "uncomfortable." Hale, De La Rosa, chief baseball officer Tony La Russa and general manager Dave Stewart met to decide what to do with the pitcher for the rest of the season, with the initial decision seemingly to have him not pitch in the Majors again this year.
"It's dependent on his sides and his simulated games," Hale said. "If he started feeling like he has better command, then we might put him back in a game. That was the point of it; I didn't want to completely shut it down that he wouldn't pitch in a game. If he felt good, his velocity was good and he was commanding where the ball was going better, then we might put him back in a game. But we wanted to do it through simulated games first."
Worth noting
• Outfielder A.J. Pollock (strained groin) has been hitting, running on a treadmill and in water, and will soon resume running.
"We're ramping things up," Pollock said. "It was sore afterwards, but it's gotten better every day."
Pollock will join the D-backs for the team's 10-game road trip beginning in San Diego on Monday. Hale said the earliest Pollock could play is the series in Washington that begins on Sept. 26. Pollock remains optimistic he will play again this season.
"We'll see how every day comes," Pollock said. "The last two days it's felt a lot better."
• Oscar Hernandez was recalled on Saturday to serve as the team's third catcher. Chris Herrmann is out for the season, so Arizona only had Welington Castillo and Tuffy Gosewisch on its active roster. When Castillo had quad tightness on Wednesday and Thursday, the D-backs decided to bring up Hernandez.
Jake Rill is a reporter for MLB.com based in Phoenix. This story was not subject to the approval of Major League Baseball or its clubs.