Dominance: Kimbrel K's 4 straight for save
Red Sox closer shuts down Yankees at Fenway Park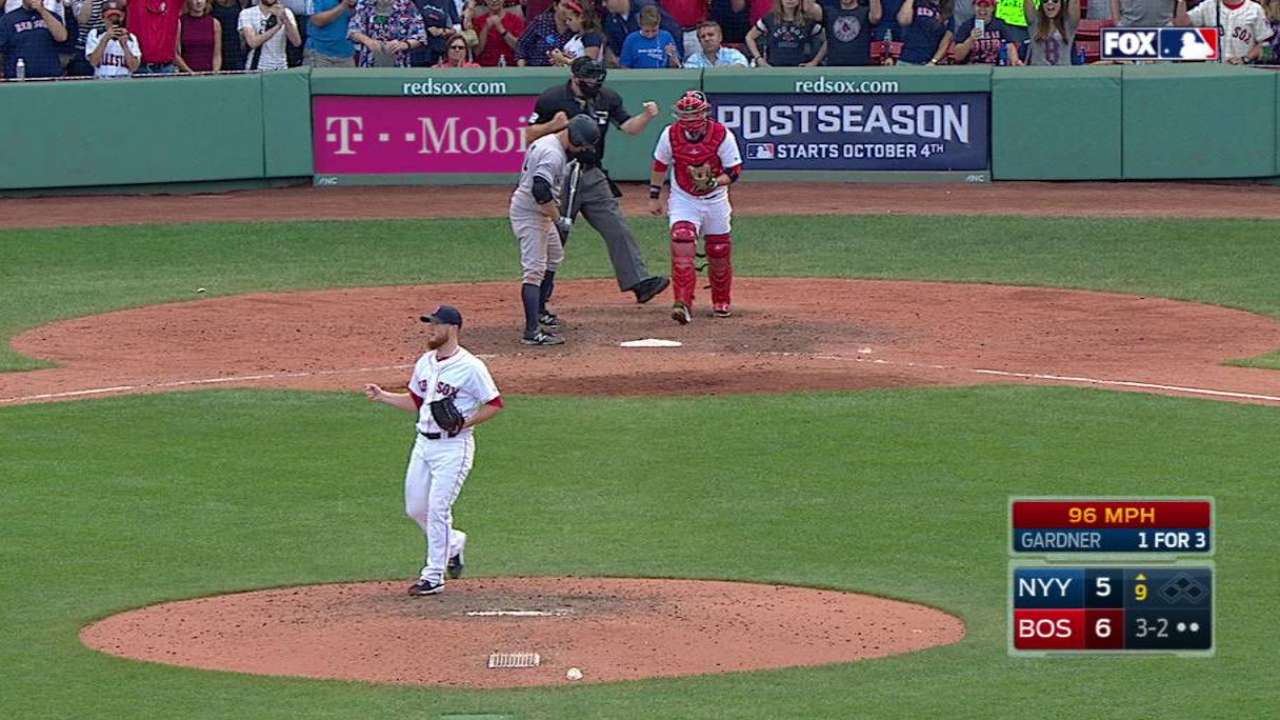 BOSTON -- When Red Sox manager John Farrell went to Craig Kimbrel for a four-out save on Saturday at Fenway Park, he was just looking to seal the deal. The closer delivered in style, posting four straight strikeouts for a 6-5 win against the rival Yankees.
Saturday was just the second time Kimbrel completed a four-out save this year, the last one being Aug. 20 against the Tigers. Farrell was trying to avoid bringing his closer in with Didi Gregorius at first and Chase Headley at the plate. But it only took four pitches for Kimbrel to send Headley back to the dugout empty-handed.
Kimbrel inherited right-hander Matt Barnes' runner, and Barnes was well aware that he'd thrown 21 pitches, 12 for strikes. He was being careful in his seven-pitch at-bat to Gregorius, which ended in a walk, due to the knowledge of who loomed in the bullpen.
"In that situation, I have a strong assumption that if a guy gets on, Kimbrel's coming in, which is why I was so careful with Didi," Barnes said. "The last thing I want to do is accidentally leave a heater middle or leave something over the plate that he can drive and then get a guy into scoring position. He's one of the best to ever do it and he's in his prime, so I feel pretty comfortable with him behind me."
After being placed on the disabled list with a left knee medial meniscus tear on July 9 and having surgery on July 11, Kimbrel returned on Aug. 1, and has since been lights-out. The closer is 10 for his last 10 save opportunities, posting a 0.63 ERA (one earned run) in 14 1/3 innings over that span.
It helps that Kimbrel is clicking as October is around the corner. The Red Sox have 14 games left in the regular season, and if things pan out the way Boston wants it to, Kimbrel's ninth-inning consistency will be a major asset.
"He's not only as efficient, but probably as powerful as he can be," Farrell said.
Deesha Thosar is a reporter for MLB.com based in Boston. This story was not subject to the approval of Major League Baseball or its clubs.