Morneau hopes to return during road trip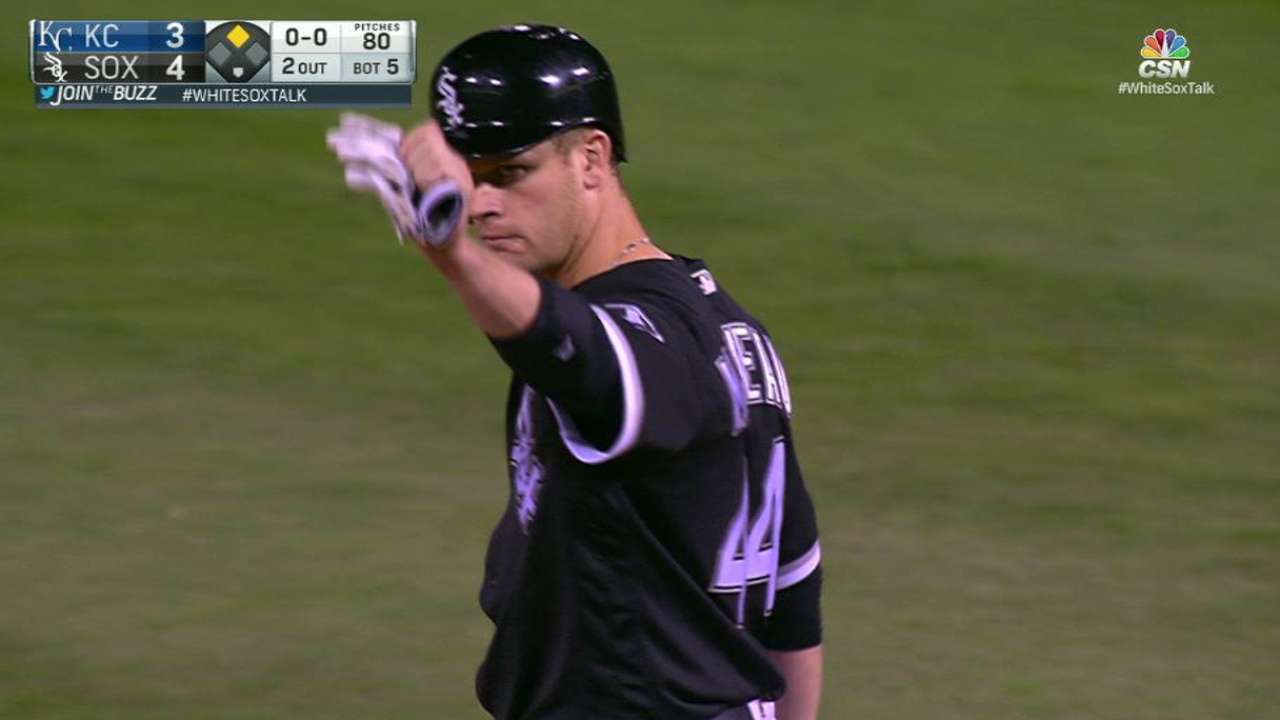 KANSAS CITY -- Justin Morneau's self-described "old man neck" is getting better, and the White Sox designated hitter hopes to return to the lineup during this current nine-game road trip.
As for the 35-year-old coming back for a 15th season in 2017, Morneau won't make that decision until the year is over.
"It will be interesting to see what opportunities there are, if I've shown teams enough by coming back in the middle of the year for them to feel like I can help their team next year," said Morneau, who is hitting .256 with five homers, 13 doubles and 22 RBIs. "It's one of those things hopefully I've shown enough but you never know. If the right opportunity is not there, the choice might not be up to me.
"At this point I would lean towards I still enjoy the work and still would like to play. But it also has to make sense, at this point, with my family and spending time away and all that stuff."
Morneau doesn't have a specification in regard to playing full-time or part-time, with finding an opportunity to win being his biggest target.
"Teams usually are looking for left-handed bats and left-handed help," Morneau said. "I'll need to play a little more first base and get out there and do that.
"You can't have a guy who only plays against right-handed pitchers and only DHs that takes a roster spot that leaves a manager with a lot less flexibility. That's my goal: to be able to go through the offseason, if it looks like there's an opportunity to go out and at least get out there a couple days a week and play and give whoever is playing first a break. I also bring value defensively, just experience, what I can do over there."
This neck soreness happened while Morneau was swinging in the batting cage, causing him to miss the last five games. But he has every intention of playing during the final 14 games.
"Yeah to show myself and everyone else that to be able to finish the year is important. Just wanting to be out there," Morneau said. "Obviously missed a good chunk of the year early with a different injury. But to be able to go out there and play all the way to the end is something that matters and hopefully that's what's going to happen."
Saladino out of action
Tyler Saladino felt a pop in his left calf during Friday night's 7-4 victory over the Royals and was out of action Saturday night for the White Sox. Saladino has started 38 games at second, 10 at third and 27 at shortstop, where he played Friday.
"I use the word pop. He felt something in his calf, and we had to get him out of there," said White Sox manager Robin Ventura, with Tim Anderson replacing Saladino in the ninth at shortstop last night. "He tweaked it enough to get him out of the game.
"He doesn't ever complain about anything. So you knew if he was complaining about something it had to be enough to get it checked out."
Scott Merkin has covered the White Sox for MLB.com since 2003. Read his blog, Merk's Works, follow him on Twitter @scottmerkin, on Facebook and listen to his podcast. This story was not subject to the approval of Major League Baseball or its clubs.