Texas sets club record with Friday's comeback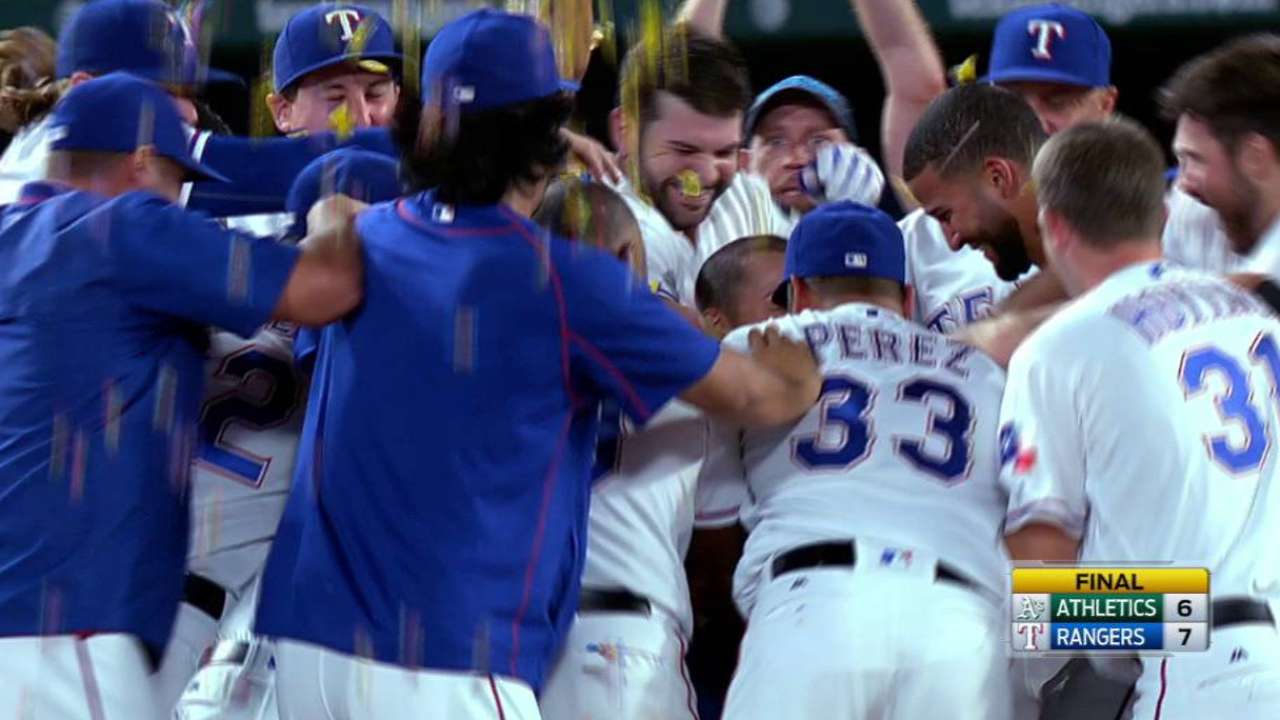 ARLINGTON -- The Rangers set a club record on Friday night, recording their ninth win when trailing in the ninth inning or later after Jonathan Lucroy's two-run walk-off single sent them home winners over the A's. They are the first team in the Majors to win that many games when trailing in the ninth or later since the 2012 A's.
Manager Jeff Banister is honored to be a part of the team that set the record, but he has another milestone on his mind -- bringing the team its first World Series title.
"I don't think we're going to raise a flag out there next year that says that," Banister said of the record.
Banister wasn't able to point to one facet of the Rangers that makes them better suited for comebacks. He did, however, push aside the notion that his team has been lucky.
"OK, you got us, we've got 472 lucky charms out in that clubhouse with a couple different rabbit's foots," he quipped. "The reality is, we've got some skilled players that are talented and go out there to win a baseball game. We have to tell them to stop playing at the end of the night. You see them dumping Powerade on each other after every win."
In Banister's view, the late wins are one aspect of what has been a great year for the Rangers, who led the American League West by 9 1/2 games entering Saturday's game vs. the A's.
"I'm sure at some point, when all of this is done, I'll look back at it and admire it," he said. "But right now what I'm focused on is how we're going to win a baseball game today."
Fielder returns to Globe Life Park: For the first time since his emotional news conference on Aug. 10, when he announced that his playing days are over, Prince Fielder returned to Globe Life Park.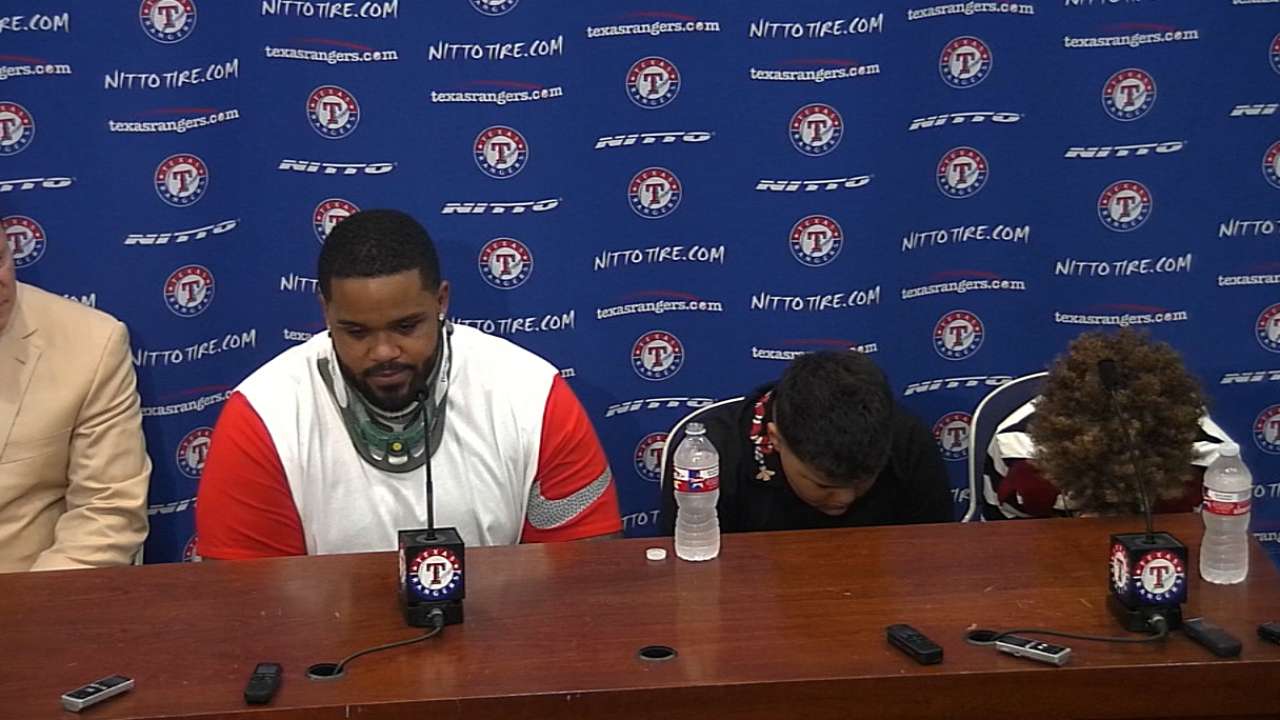 "Prince is as much a part of this team as anyone else out there," Banister said. "He's a high character, high leadership guy. Nothing about him being out there can be bad."
Fielder's effect on the team was evident during batting practice. Both players and coaches were drawn to him between rounds of swings, and Fielder's infectious smile was on display nearly the entire time.
"He's a part of the heartbeat of this team," Banister said. "You saw the emotions of our players during the press conference."
Rangers beat
• The Rangers have considered pushing Cole Hamels' next start to next weekend's series in Oakland. His next scheduled turn in the rotation would fall on Wednesday, against the Angels, but Banister has not announced a starter for that game.
• Shin-Soo Choo took 40 swings off a tee using a regular bat on Saturday and reported feeling good afterward. Choo had only been using a fungo bat to this point as he rehabs a broken left forearm.
• Reliever Shawn Tolleson, sidelined for the remainder of the season with a strained lower back, is with the Rangers during this homestand. He is undergoing physical therapy but has not begun a throwing program.
• Left-hander Michael Roth cleared waivers and has been outrighted to Triple-A Round Rock. Roth, who was designated for assignment on Sept. 11, will become a sixth-year Minor League free agent at the end of the season.
Ryan Posner is a reporter for MLB.com based in Texas. This story was not subject to the approval of Major League Baseball or its clubs.