Marlins easing Stanton back in after return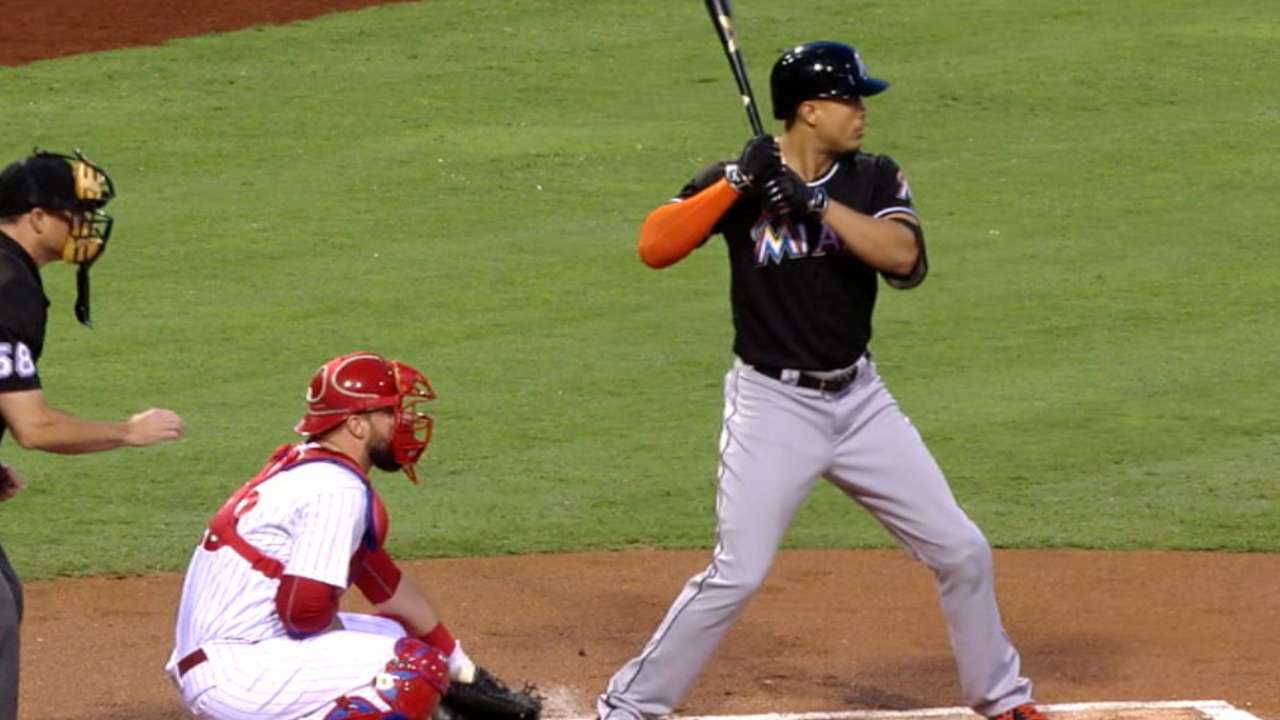 PHILADELPHIA -- A day after manager Don Mattingly penciled Giancarlo Stanton into the Marlins' lineup for the first time in more than a month, Stanton returned to the bench.
A combination of Stanton still easing back into an everyday role and a career .067 batting average (1-for-15) against Phillies starter Jeremy Hellickson contributed to the decision to start Ichiro Suzuki in right.
But Mattingly had also hoped for better results in Stanton's return on Friday night. His slugger, who had been out with a Grade 3 left groin strain, went hitless in four plate appearances but walked twice and scored a run. It wasn't the way he swung the bat, though, that disappointed Mattingly.
"It was a little less than I expected," Mattingly said. "I thought he was going to be closer to 80 or 90 percent, rather than it looked more like 70 to me.
"It's one of the things we talked about today, to kind of pick and choose [when Stanton will play]. Defensively, he has less range. He can't do as much on the bases."
Mattingly noted specifically the fifth-inning double from Martin Prado that Stanton went first to third on. Stanton, when 100 percent healthy, scores on that ball, Mattingly said. Although J.T. Realmuto singled home Stanton a few batters later, it luminated to Mattingly Stanton's limitations.
"It opened my eyes a little bit," Mattingly said. "I thought there was more than that there. That's all he's got. It's not like he's not giving us what he's got. That's where we've got to weigh the balance of extra at-bats compared defensively what it could cost us."
Like Mattingly said, he has to pick his spots in easing Stanton back in. And with Stanton less mobile than originally thought, it's additionally important for Mattingly to maximize the at-bats Stanton gets.
According to Mattingly, Stanton was not going to play all three games this series or start a matinee after a night game. So Mattingly sat Stanton against the pitcher he has struggled against in Hellickson, though he expects him to return to the starting lineup for the series finale on Sunday against Alec Asher, whom Stanton has never faced.
Evan Webeck is a reporter for MLB.com based in Philadelphia. This story was not subject to the approval of Major League Baseball or its clubs.