Castellanos to ramp up rehab in Florida
Zimmermann feels fine after bullpen session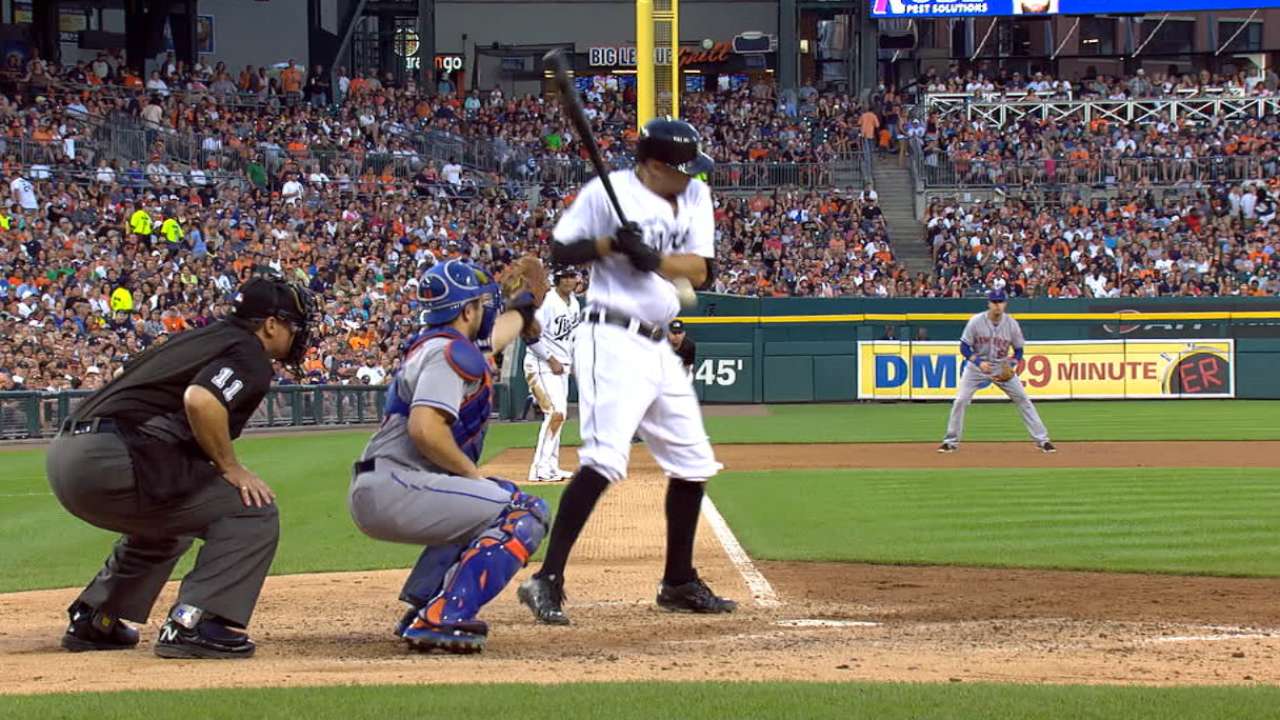 CLEVELAND -- Nick Castellanos is going to give it another try to ramp up his rehab toward a return to action before the season is up. The Tigers' third baseman, out since early August after fracturing his left hand on a pitch, left on Saturday to work out at the Tigers' Spring Training facility in Lakeland, Fla.
Castellanos will take batting practice the next couple of days. Once pitchers arrive early next week for instructional ball, he'll resume facing live pitching for the first time since facing against Jordan Zimmermann in his simulated game last Wednesday in Detroit.
Considering Castellanos lasted one at-bat against Zimmermann before feeling discomfort in his hand, his latest try comes with no guarantees. Still, Castellanos was encouraged enough taking batting practice with the Tigers on Friday that they decided it's worth another attempt.
"He said he felt great," manager Brad Ausmus said. "He felt ready to take the next step."
By setting up simulated games next week, the Tigers could get Castellanos a bunch of at-bats in a day, allowing him to get his timing at the plate potentially quicker than a traditional rehab assignment. Of course, that depends on how Castellanos' hand reacts to live pitching again, which is why nobody is assuming Castellanos will return this season.
"I'm not banking on anything," Ausmus said. "We're seeing if we can get him ready to play, and if he is, then we'll play him. But we still have to make sure. He said he felt great in BP, but facing live pitching is still different."
Zimmermann throws bullpen session
Zimmermann appears ready for another go at rejoining the Tigers' rotation, but there's no announcement on when. The veteran right-hander, whose gave up six runs in an inning-plus in his first start in a month, threw a 25-pitch bullpen session on Saturday and said he felt fine afterward, both healthwise and mechanically.
Zimmermann, who threw an 80-pitch simulated game on Wednesday to try to refine his mechanics, believes he has improved.
"The last simulated game, I was working on mechanics then," Zimmermann said. "I'd have three or four or five good [pitches] and then one bad one. Honestly, I'm getting better, and if the percentages are getting more of those bad ones out of there, then I'm moving in the right direction."
Jason Beck has covered the Tigers for MLB.com since 2002. Read Beck's Blog, follow him on Twitter @beckjason and listen to his podcast. This story was not subject to the approval of Major League Baseball or its clubs.