Guerra out for rest of season to protect arm
Rotation regular was Brewers' 'biggest surprise' in 2016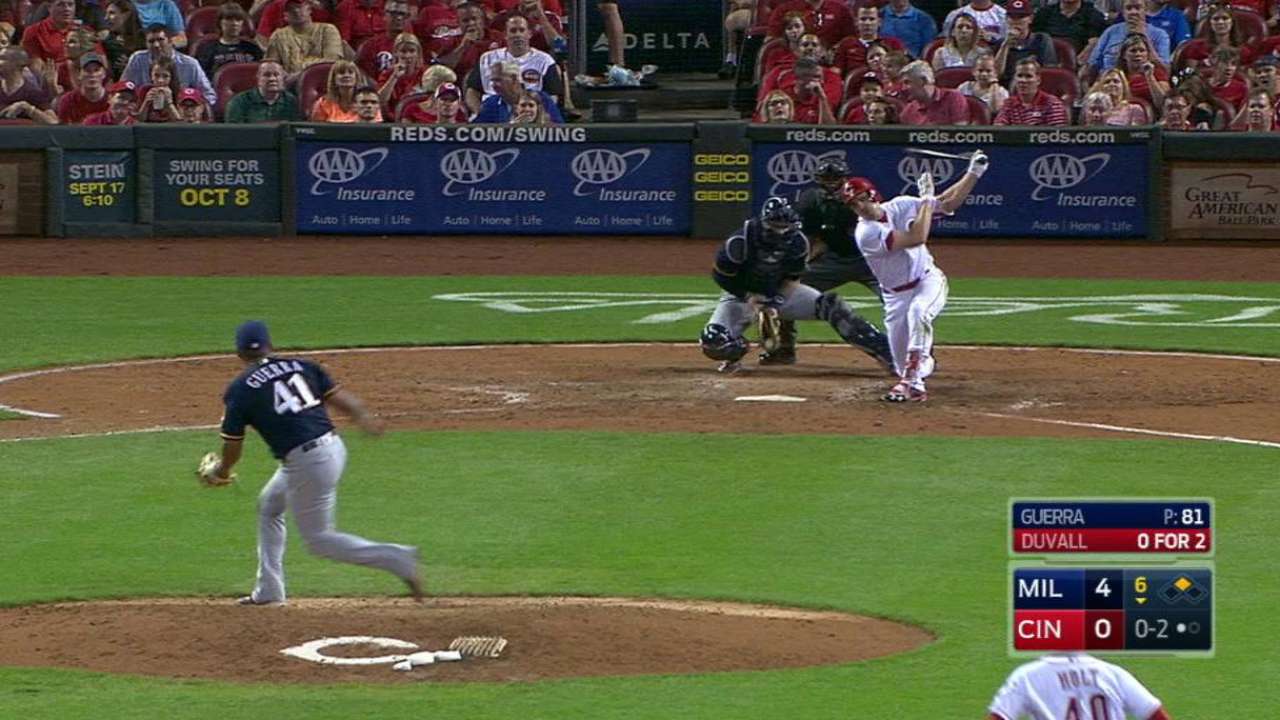 CHICAGO -- The Brewers stumbled onto a pleasant surprise this season with right-hander Junior Guerra, and now they're trying to protect the 31-year-old rookie starter's arm.
Guerra, who has gone from waiver claim to rotation regular, will not pitch for the Brewers again this season. The right-hander had a stint on the 15-day disabled list in August for elbow inflammation, but manager Craig Counsell said the decision isn't related to an injury. It's about innings, with Guerra already at a career-high 148 1/3 thrown between Triple-A Colorado Springs and the Brewers.
"We've just gotten to the point, innings-wise, where we just want to stop," Counsell said Saturday at Wrigley Field. "He's completely healthy. He finished strong. He finished exactly the way we wanted him to finish coming off the injury. It's just, we know that he's an important part of this thing going forward, so his offseason has started because his innings have gotten to the point where [it's] more than he's ever thrown, for sure."
Guerra began his professional career in 2006 in the Braves organization before getting released in March 2007. He was signed by the Mets as a free agent in October '07 but was released again in June '09. He wasn't signed by another Major League team until the White Sox signed him Oct. 28, 2014, as a free agent.
Guerra appeared in three games for Chicago in 2015, posting a 6.75 ERA in four innings of relief, but he was put on waivers after the season. The Brewers signed him Oct. 7, 2015, but they had no idea what he'd become when he showed up for Spring Training.
Guerra, who features a split-fingered fastball, started the season in Colorado Springs. He was recalled May 3 and earned a regular spot in the rotation.
"This was a surprise," Counsell said. "You claim somebody off waivers and you're just hoping for the best, and he's been a great surprise, to his credit."
Guerra has played a lot of winter baseball in his journey leading up to this season, but Counsell said his participation this offseason has yet to be determined.
"That's a little ways off," Counsell said. "What's important is that we think about how Junior can come back next year and get to 180 innings, get to 200 innings. That's kind of what the focus turns to, and I think what his focus has already turned to. So we talked about that [Friday], and I know that's on his mind."
Counsell said the Brewers will use the off-day Monday to help account for Guerra's departure from the rotation, moving everybody up a day. Matt Garza will start Tuesday against the Pirates at Miller Park, followed by Jimmy Nelson starting Wednesday in what would've been Guerra's spot.
Guerra went 9-3 with a 2.81 ERA in 20 starts for the Brewers, covering 121 2/3 innings, and he struck out 100 with 43 walks.
"This is all on him, he earned all of this," Counsell said. "We didn't create anything for him. He forced his way into it, and really, he forced his way into us considering that we have to be careful with his innings. Obviously, we weren't expecting 150 innings from him this year, so this is all a product of his achievement and his performance. There's no question he's our biggest surprise this year, and he's pitched at a really high level."
Brian Hedger is a contributor to MLB.com based in Chicago. This story was not subject to the approval of Major League Baseball or its clubs.