After walk-off, Montero wants 'to finish as strong as possible'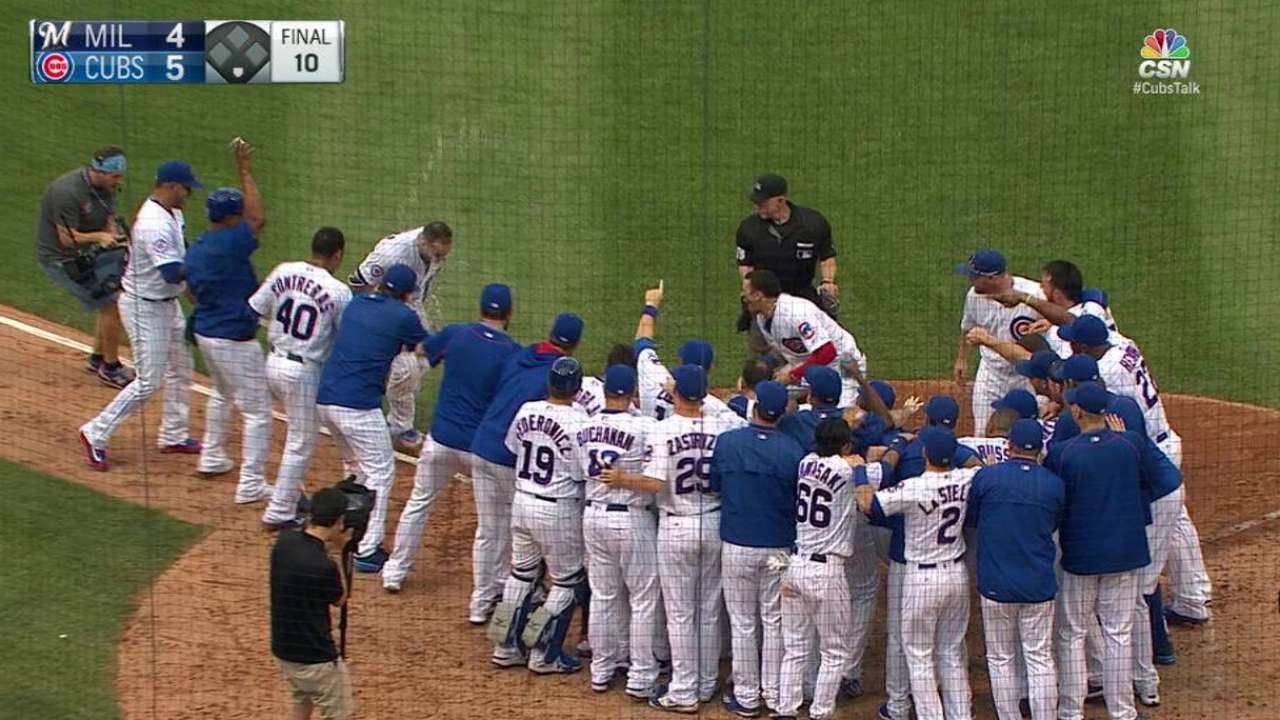 CHICAGO -- Last season, Miguel Montero started 90 games at catcher, only the second time in the last eight seasons that he didn't top 100. With the arrival of Willson Contreras this year, Montero has started 58 games behind the plate. And he has handled the decrease in playing time like a pro.
Montero delivered a walk-off home run leading off the 10th inning on Friday to lift the Cubs to a 5-4 victory over the Brewers. It was his second extra-inning walk-off hit of the season -- Montero also hit a walk-off RBI single on Aug. 29 against the Pirates in the 13th inning for an 8-7 win.
Montero is the lone Cub this season with multiple walk-off hits in extra innings. In 2015, Starlin Castro and Chris Denorfia had multiple walk-off game winners in extra innings.
"To have the consummate team player, Miguel Montero, who has handled this up-and-down year so, so well, to have him walk us off and launch the celebration was very apropos," Cubs president of baseball operations Theo Epstein said after Friday's win.
Montero enjoyed the moment.
"It's amazing," Montero said. "A great feeling. Obviously, it hasn't been a great year for me, but it's not about me, it's about the team. Overall as a team, we've been having a good year, and we want to keep it up. You don't want to fall behind. It's been tough [for me] but it's not how you start, it's how you finish. I'm trying to finish as strong as possible. It was a great feeling. It was one of the most rewarding feelings in my life."
Manager Joe Maddon complimented Montero for how he's handled the reduction in playing time following the arrival of rookie Contreras.
"I give [Montero] all the credit in the world," Maddon said. "What he's done for Willson, you can't see it, but it's there. You can see Willson has grown as a catcher, but I'm privy to a little bit of the conversastions and I think it's fabulous."
Maddon said Montero may not admit it, but the time off may have helped him.
"I'm sure he had bumps and bruises that he hasn't talked about, and now he feels better and his game is back," Maddon said. "It's not easy to do what Miggy has done during the course of a season where he'd been the starting catcher and we split it among three people now. He has not given up on himself."
Worth noting
• Kris Bryant was the only Cubs regular to return to the lineup on Saturday, and that's because he wanted to play. Maddon planned on giving the regulars two days off. Jorge Soler was not available after coming out of Friday's game with a sore right side. His status was day to day.
The Cubs may have clinched the Central Division, but there's still work to be done. Their magic number to clinch home-field advantage through the NL Championship Series was nine after Friday's win.
"We want to have the best record in baseball," Maddon said. "Does it matter at the end of the day? We'll find out. Competitively speaking, who you are as an athlete and what you do, you want to be the best."
Maddon said he needed to meet with his coaching staff and discuss how they'll handle the two-week stretch of regular-season games that remain. One topic to be discussed is whether lefty Mike Montgomery will stay in the rotation or not.
"I need to let [the coaches] know what I'm thinking so we're all on the same page," Maddon said. "It's unusual [to have this much time] -- it's an unusual moment. It'll be a learning experience for me also to make sure we get it right. You don't want to figure out in October that you got it wrong."
• Reliever Carl Edwards Jr. was spotted in the Cubs' clubhouse during Friday's postgame celebration wearing a "W" flag and dancing.
"They saw me and said I haven't changed. They said, 'You still do the same stuff you did in high school,'" Edwards said.
• Maddon knew Epstein and his front office staff were watching Friday's game from the Wrigley Field bleachers.
"I was jealous," Maddon said.
Carrie Muskat has covered the Cubs since 1987, and for MLB.com since 2001. She writes a blog, Muskat Ramblings. You can follow her on Twitter @CarrieMuskat and listen to her podcast. This story was not subject to the approval of Major League Baseball or its clubs.