Uehara being back big part of 'pen's success
Right-hander firing zeros since return in early September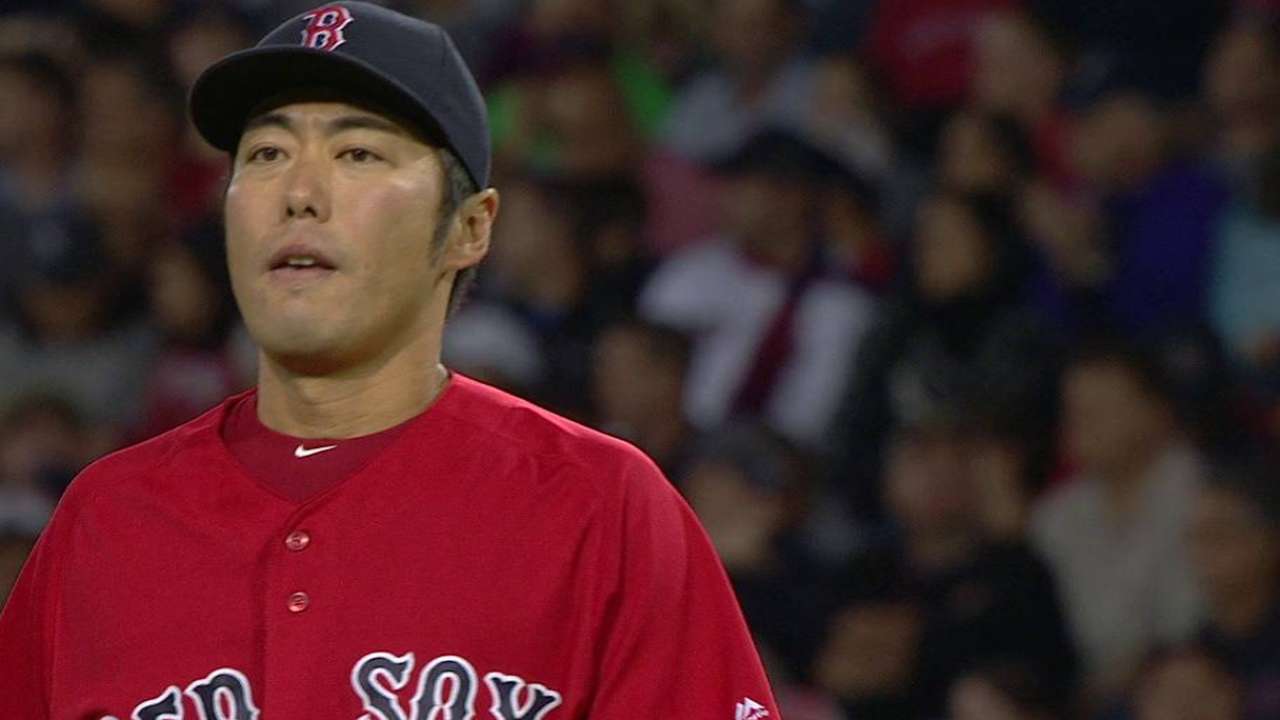 BOSTON -- When Koji Uehara strained his right pectoral muscle after a strikeout against the Giants on July 19, the Red Sox thought his season might be over. But the 41-year-old quietly battled back and hasn't missed a step since his return from the disabled list, helping Boston's relievers find their role in the bullpen.
The Red Sox's bullpen went from being the team's biggest problem to holding the Majors' lowest ERA (1.14) in September. Boston's relievers have not allowed an earned run in 11 of 14 games this month, and Uehara's return on Sept. 5 is a major reason for the 'pen's boost.
The righty has not surrendered a run or walked a batter in his last nine appearances, allowing just four hits and striking out 11 batters through 8 1/3 innings in that span. Uehara has held left-handed batters hitless in their last 20 at-bats against him. The last hit he allowed to a lefty was a homer to Rougned Odor on July 4 at Fenway Park.
"At the time of the pec injury, we felt like this has a chance to be a season-ending one for him," Red Sox manager John Farrell said. "Once he started to get out to his normal long-toss distance, that's when the light became a little brighter in when he'd return. But the fact that he missed two months, he didn't even go out on rehab, and threw some BP, he's right back in the mix. It's pretty amazing what he's doing right now given the amount of time missed and very limited live pitching before being activated."
Uehara's near-flawless return lets relievers like Matt Barnes find stability in the 'pen. A combination of Barnes and Brad Ziegler replaced Uehara's eighth-inning role, and Barnes was overused, especially in situations with inherited runners.
Barnes' ERA spiked to 8.04 in 16 relief appearances during Uehara's absence. But Uehara's recovery combined with Joe Kelly's return from Triple-A Pawtucket allowed Barnes to be used less frequently. Barnes has surrendered just three hits and no earned runs in 2 2/3 innings since Sept. 5.
Farrell said Barnes receiving extra rest in the last two weeks has been beneficial to the righty.
"Matt is one of the two guys that we've brought into dirty innings, he and Robbie Ross [Jr.] have been the two guys that have most success with inherited runners," Farrell said. "He will be at the same type of roll, anywhere from the sixth inning on, depending on who's available and what the situation may call for. But with Koji's return and on days that he's available, that gives a lot more latitude with guys like Joe Kelly, Matt Barnes and even Brad, as was the case [Friday] night."
Deesha Thosar is a reporter for MLB.com based in Boston. This story was not subject to the approval of Major League Baseball or its clubs.