Royals snap skid, help Yost get win No. 1,000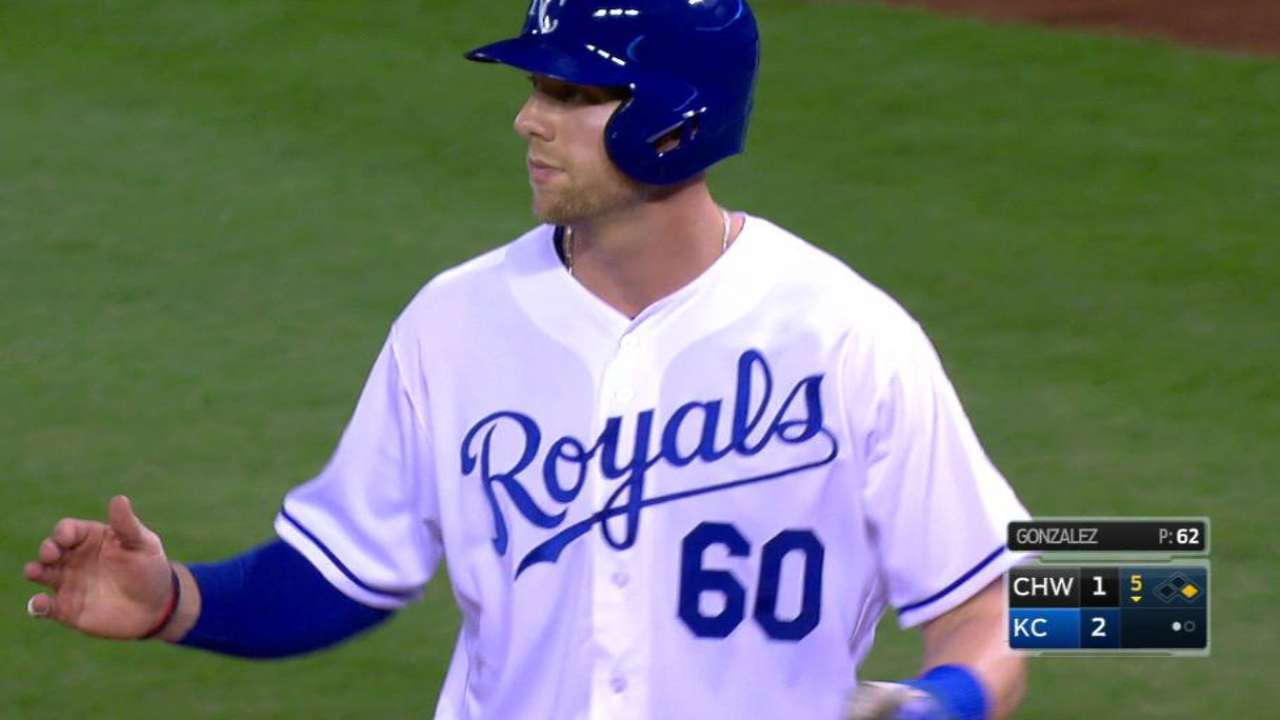 KANSAS CITY -- Ned Yost had to wait almost one week, but the Royals manager now is the proud owner of 1,000 career victories.
The historic win came on Saturday night, as the Royals held on for a 3-2 victory over the White Sox before 34,805 at Kauffman Stadium. Dillon Gee earned the victory by allowing one run in 4 1/3 innings of relief, entering for Jason Vargas after the southpaw threw three innings.
Yost's 1,000th win was made even sweeter by the fact that it came on a night when the Royals got a long-awaited glimpse of a veteran pitcher they hope can bolster their starting rotation next season.
Vargas made his first start since July 21, 2015, working his way back from Tommy John surgery. Vargas was on a pitch count and exited after 52 pitches, yielding one run on two hits, while striking out one and walking one.
"He was even a little better than I expected," Yost said. "It has been 14 months since he has been on a Major League mound. I don't know how you have expectations on anything like that. You just want him to go out, feel good, get through it and come out healthy and on a good note."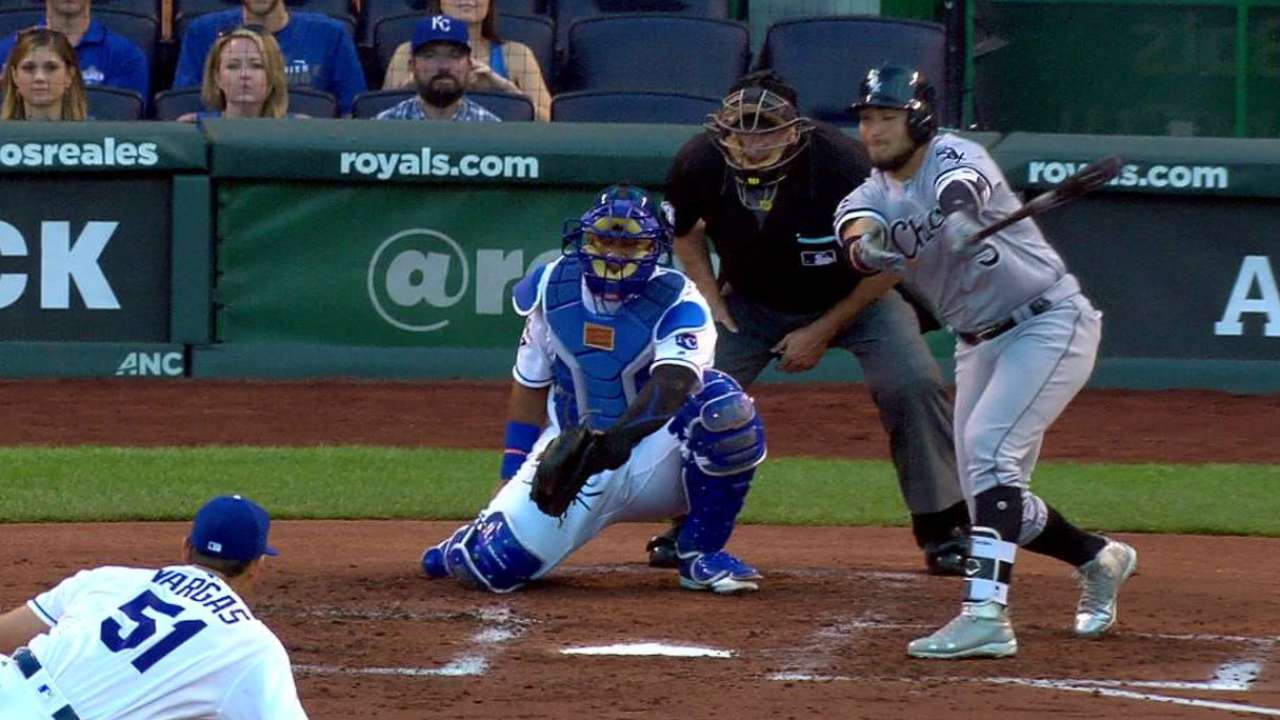 With the win, coupled with the Orioles and Blue Jays' losses, the Royals are now six games back of Baltimore and Toronto in the American League Wild Card race.
Miguel Gonzalez suffered the loss, although he pitched well enough to win. The right-hander gave up three runs on six hits over seven innings, striking out two and not issuing a walk. The Royals scored the two go-ahead runs in the fifth on run-scoring singles from Hunter Dozier and Eric Hosmer. The victorious effort ended the Royals' five-game losing streak.
"We had opportunities," White Sox manager Robin Ventura said. "We hit the ball pretty good, got some guys on base and just couldn't cash them in. But you know as far as swinging the bat, even Adam [Eaton] hit the ball hard all night tonight [and finished 0-for-5]. So, you can do what you want to do. You just don't score any runs."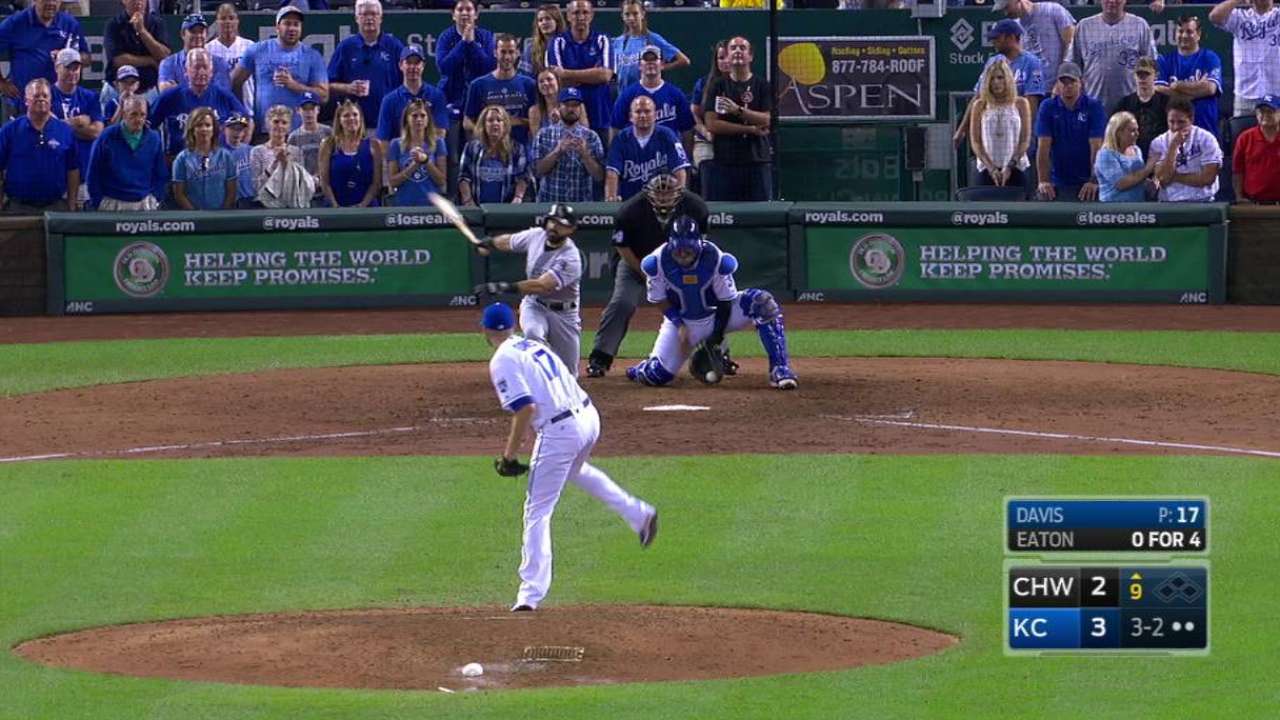 MOMENTS THAT MATTERED
Soria comes through: Right-hander Joakim Soria hung tough despite a bad break to get the Royals to the ninth inning with a lead. Soria came on with two on and one out in the eighth and the Royals up 3-1. Soria struck out Todd Frazier and then Avisail Garcia hit what looked like a harmless grounder to third. But the ball hit the bag and caromed away for an RBI double. However, Soria came back to retire pinch hitter J.B. Shuck on a grounder to shortstop, preserving a 3-2 lead.
"Typical Jack luck," Yost said. "A three-hopper down the line that hits the corner of the bag and shoots over there. But he ended up getting the next hitter out."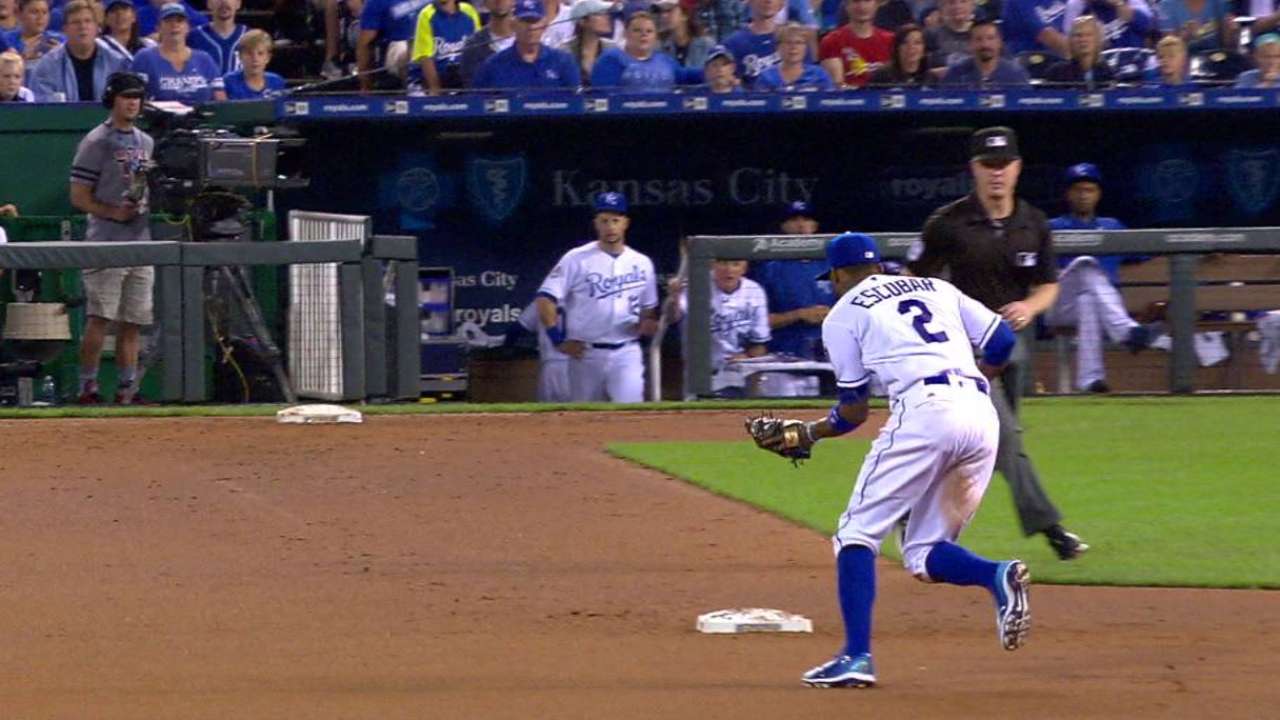 Razor sharp: Gonzalez saw his record fall to 4-7 on Saturday, but the right-hander got stronger as the game progressed. He retired the last seven Royals faced and needed only 19 pitches to get through the sixth and seventh combined.
"Yeah, gotta stay strong. Mentally, and kept making pitches," Gonzalez said. "I know this team is really aggressive and early on I was falling behind, but I felt better as the game went on."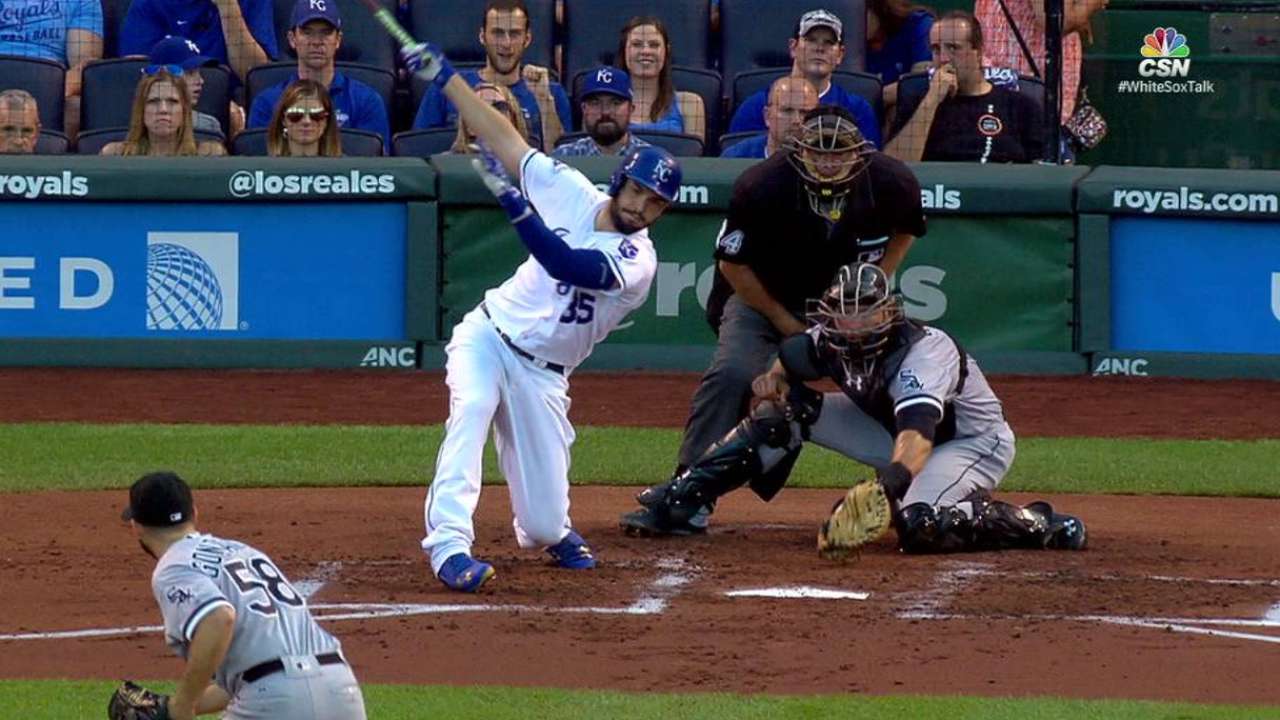 Merrifield gem: Second baseman Whit Merrifield made a sparkling defensive play in the first to take a run away from the White Sox and keep Vargas' pitch count from becoming problematic. With two on, two out and the White Sox already ahead 1-0, Merrifield dove to his right to field a smash by Garcia. Merrifield got enough on his throw to retire Garcia and keep Vargas' pitch count at 22.
"That was a nice play up the middle," Ventura said. "We had something rolling there. You would like to get a little more out of it, but defensively they are pretty good. That kid plays all over the place and he does a pretty good job."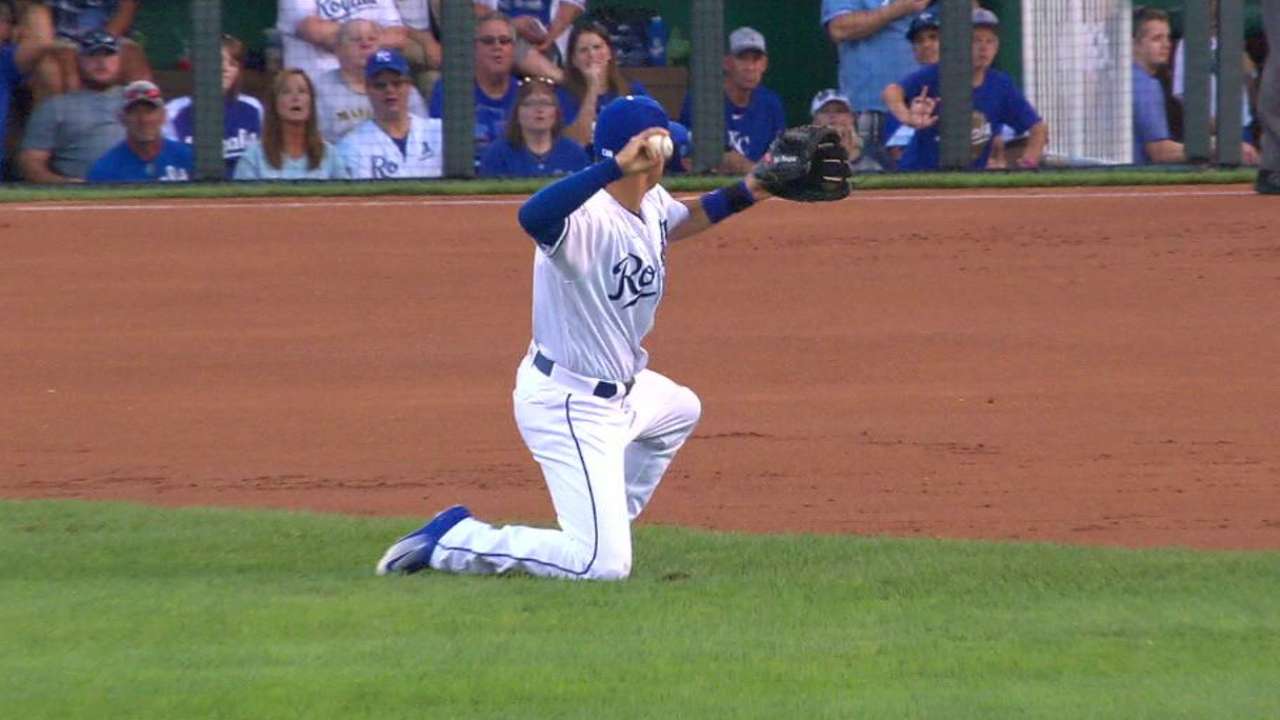 That's a first: Catcher Kevan Smith picked up his first career hit with a single to center leading off the fifth after going hitless in his first nine career at-bats. Smith was scheduled to start on April 25 in Toronto before he injured his back during stretch and didn't return to the Majors until September callups.
"A little weight lifted off the shoulders that's for sure," Smith said. "Got into a good count, 3-0, I was sitting heater and he gave it to me.
"I tried to stay through the middle and it worked out like I planned. It's certainly a good feeling. Got to my phone here and see a bunch of messages. I'll get back to them in a little bit."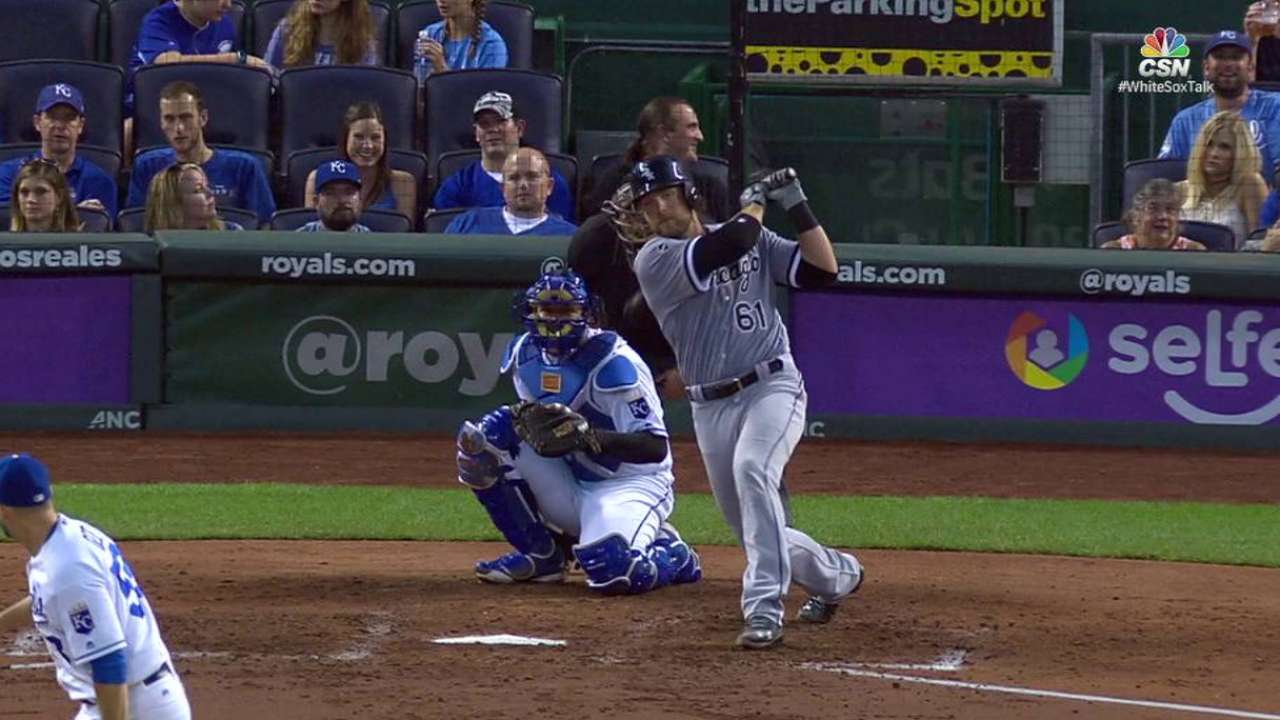 QUOTABLE
"It's almost like you are on a cloud kind of. It's kind of surreal because you know that's around nobody so they have no chance. I hit that one up the middle in Minnesota and (Brian) Dozier laid out for it and made that crazy play. This time it was a for sure thing so it was a nice, easy jog to first." -- Smith, on his first career hit.
MORE FIRSTS
Smith became the sixth White Sox player to record his first Major League hit this season, joining Jason Coats, Charlie Tilson, Anthony Ranaudo, Omar Narvaez and Tim Anderson.
LET'S GO TO THE REPLAY
Ventura used his manager's challenge in the first inning after Anderson was ruled out at second on Jose Abreu's slow roller to shortstop Alcides Escobar. The video replay overturned the call, and the White Sox went on to score a run on Melky Cabrera's single to center.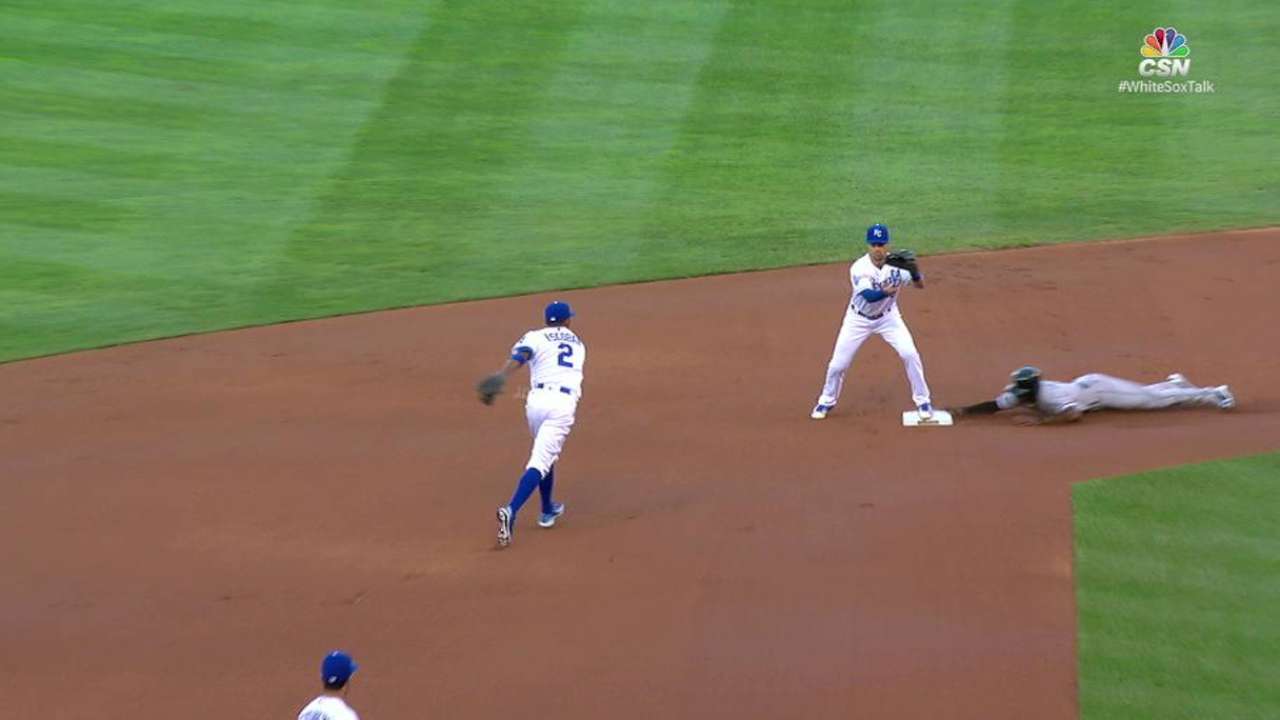 WHAT'S NEXT
White Sox: Jose Quintana makes his 30th start of the season, 16th on the road and fourth against the Royals in Sunday's contest with a 1:15 p.m. CT first pitch. Quintana will have a fourth straight season with at least 30 starts and needs eight innings to reach 200 for a fourth straight season.
Royals: Left-hander Danny Duffy (11-2, 3.15 ERA) will try to remain dominant at home as the Royals look to recover from what has been a tough homestand. Duffy is 6-0 at Kauffman Stadium this season and unbeaten in his last 13 starts at home. Duffy is one of only three MLB pitchers unbeaten at home with at least six wins.
Watch every out-of-market regular-season game live on MLB.TV.
Scott Merkin has covered the White Sox for MLB.com since 2003. Read his blog, Merk's Works, follow him on Twitter @scottmerkin, on Facebook and listen to his podcast.

Robert Falkoff is a contributor to MLB.com based in Kansas City and covered the Royals on Saturday.

This story was not subject to the approval of Major League Baseball or its clubs.