Vogelsong addresses a flaw in his delivery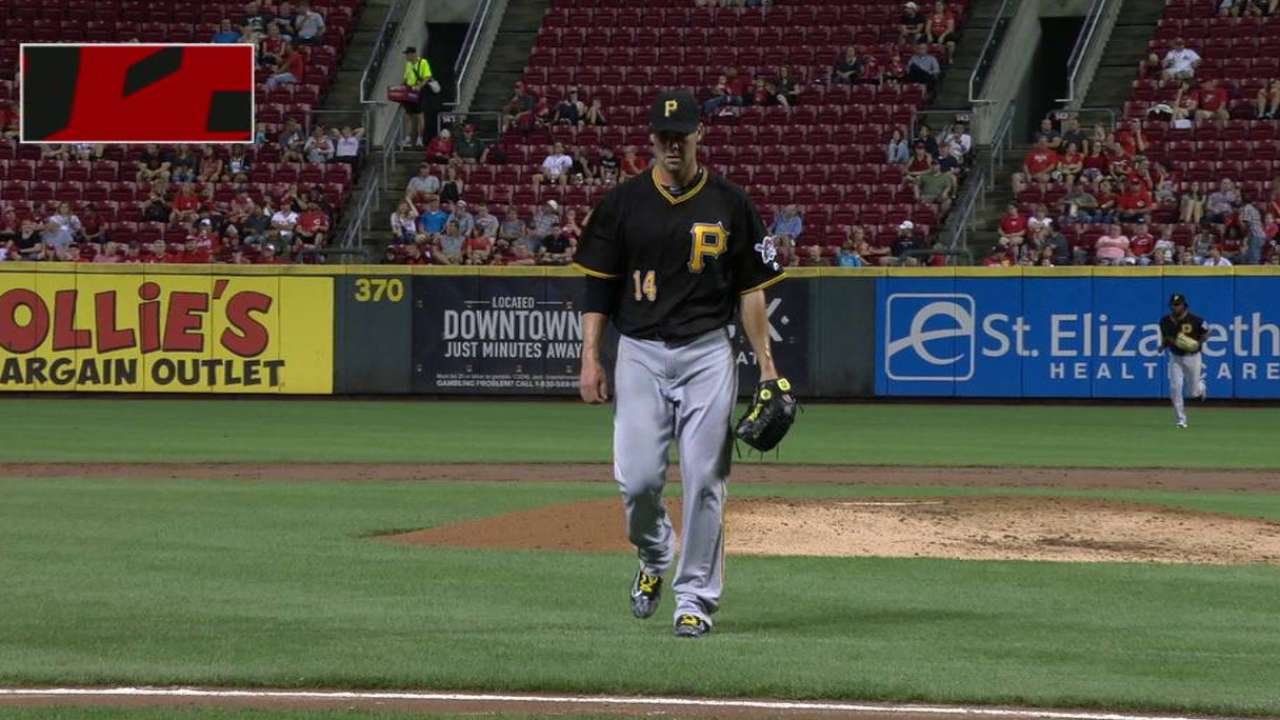 CINCINNATI -- Ryan Vogelsong made an encouraging, inspiring and, most importantly, productive return to the Pirates' pitching staff, after missing more than two months with fractures around his left eye. The veteran right-hander posted a 2.48 ERA in his first five starts, securing a spot in a turbulent rotation.
Since then, however, Vogelsong has struggled in four straight starts. He gave up six runs -- four of them earned, although the other two were a product of his own dropped-ball error -- on seven hits and two walks over 4 2/3 innings on Friday night, although the Pirates came back to beat the Reds, 9-7, in 10 innings.
Over his last four outings, Vogelsong owns a 10.19 ERA and 1.98 WHIP. Opponents have hit .342 with a 1.090 OPS against him, and he has as many walks (nine) as strikeouts in 17 2/3 innings. Pittsburgh has won only one of those four games.
But Vogelsong struck an optimistic tone after Friday's game, and not just because Pittsburgh picked him up. While warming up between innings, Vogelsong said he corrected a mechanical flaw that has been creeping into his delivery over his last few starts.
"It's all mechanical with me," Vogelsong said. "When I'm missing pitches like that, it's mechanical. I feel like I've got something that should help that. ... It's just very easy to fall back into bad habits. You can see where sometimes it's there and it's not there. I kind of fall back into some bad habits. I've really just got to stay on top of what I'm doing and continue to execute what we've worked on."
Vogelsong was one out away from leaving a tie game after five innings on Friday. But he couldn't reel in John Jaso's throw while covering first base on Brandon Phillips' grounder, and that proved to be the end of his day. Reliever Zach Phillips then allowed a two-run triple, with both unearned runs attached to Vogelsong's final line.
"It's crazy, the weird stuff that keeps happening. I don't think I've ever dropped a ball running to first base on a flip," Vogelsong said. "When I'm right and mechanically sound, I throw the ball where I want to a lot. I'm just a little off."
While he was on the disabled list, Vogelsong poured his energy into his throwing sessions, with an eye toward repeating his delivery. Vogelsong doesn't possess overwhelming stuff, so command is the key to his success -- and a sound delivery is the key to consistent command.
But as the starts began piling up, Vogelsong found himself falling back into bad habits. He finally figured it out between innings on Friday and began looking forward to working on correcting those flaws in his next between-starts bullpen session.
"It's the hand I've been dealt the last four games, and I feel like it's going to turn," Vogelsong said. "I feel like I put my finger on something [on Friday]. Hopefully, that's it and things go in the right direction."
Adam Berry has covered the Pirates for MLB.com since 2015. Follow him on Twitter at @adamdberry. This story was not subject to the approval of Major League Baseball or its clubs.