Frazier dealing with tender left foot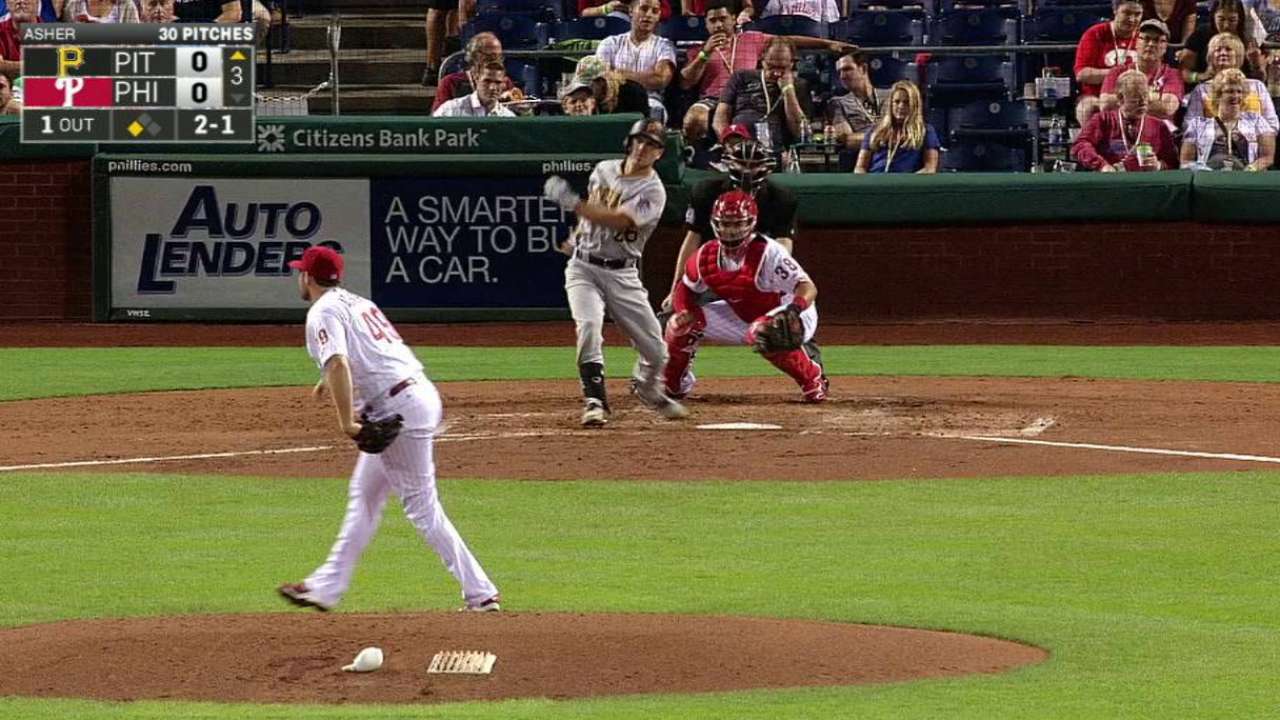 CINCINNATI -- Rookie utility man Adam Frazier reported to Great American Ball Park on Saturday morning with his left foot in a walking boot, opening the door for prospect Alen Hanson to make his first Major League start at second base.
Frazier fouled a ball off his left foot while working a 12-pitch walk in the ninth inning of the Pirates' 15-2 win over the Phillies on Thursday night. The boot was a precautionary measure. He received treatment before the first half of the Pirates' doubleheader against the Reds on Saturday, recovered quickly enough to enter the Pirates' 10-4, Game 1 victory in the seventh inning as a defensive replacement for Matt Joyce in left field and started Game 2 in left.
In the 7-3 victory over the Reds in the nightcap, Frazier went 3-for-4 with a walk.
With Josh Harrison out for the rest of the season and Starling Marte sidelined by lower back spasms, Frazier has been splitting time at second base with Sean Rodriguez and starting in the corner-outfield spots. Preparing to play at least 18 innings on Saturday after a 10-inning win on Friday night, the Bucs penciled in Rodriguez at shortstop and Joyce in left field, which left Hanson as their best option at second base.
"I thank God for the opportunity to be able to be trusted with that opportunity," Hanson said through interpreter Mike Gonzalez. "I'm just glad I was able to play well and thankful to the team for trusting me."
Hanson, the Pirates' No. 13 prospect according to MLBPipeline.com, picked up his first Major League RBI on Saturday and went 1-for-2 with two walks. He also made a sharp turn and relay throw in the second inning, cutting down Tucker Barnhart at the plate.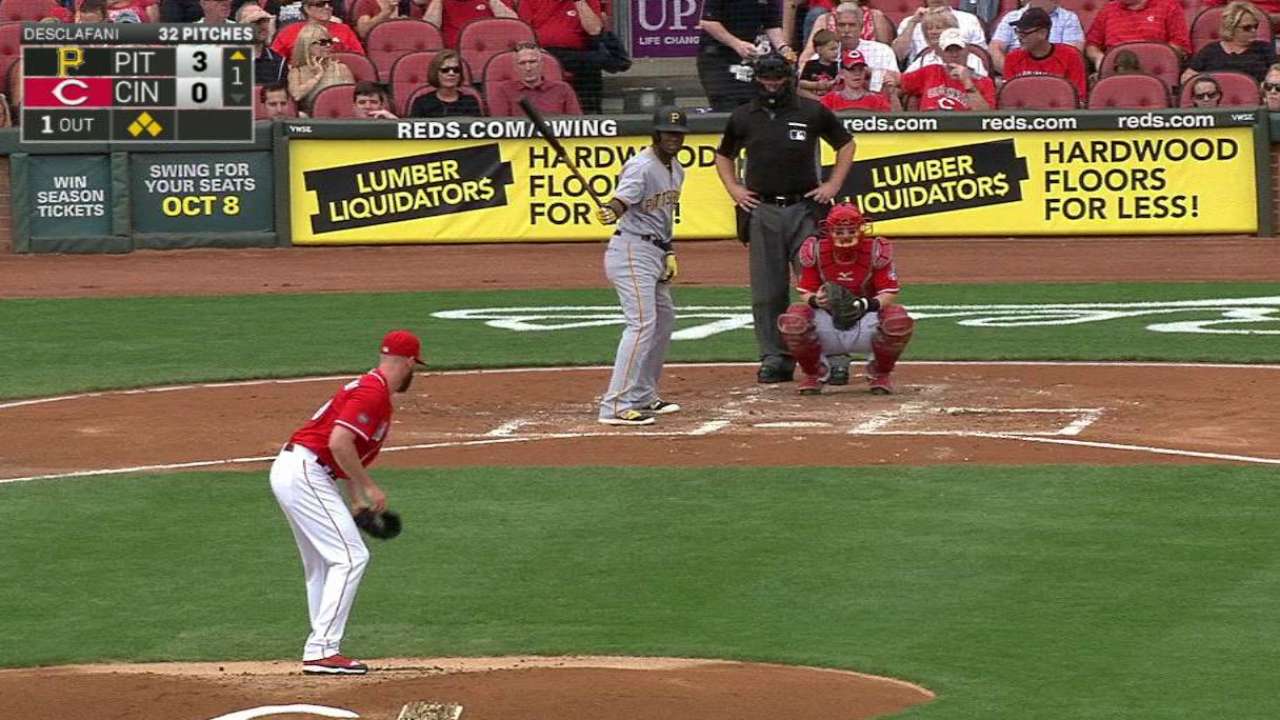 "Being given the opportunity a few times already to come in the game, whether it was late or in the beginning, that kind of made me feel free from any nerves," Hanson said. "I didn't feel nervous at all. I just felt very proud to be on the field for my team."
Marte still sidelined
The Pirates were hoping Marte (back spasms) would be healthy enough to start one of Saturday's games, but he was unavailable for both games. Joyce got the start in left field in Game 1, batting leadoff.
Marte has been sidelined since Sept. 5, out of the starting lineup for 13 straight games. Manager Clint Hurdle said Marte's lower back flared up on Friday, though he was already feeling better by Saturday.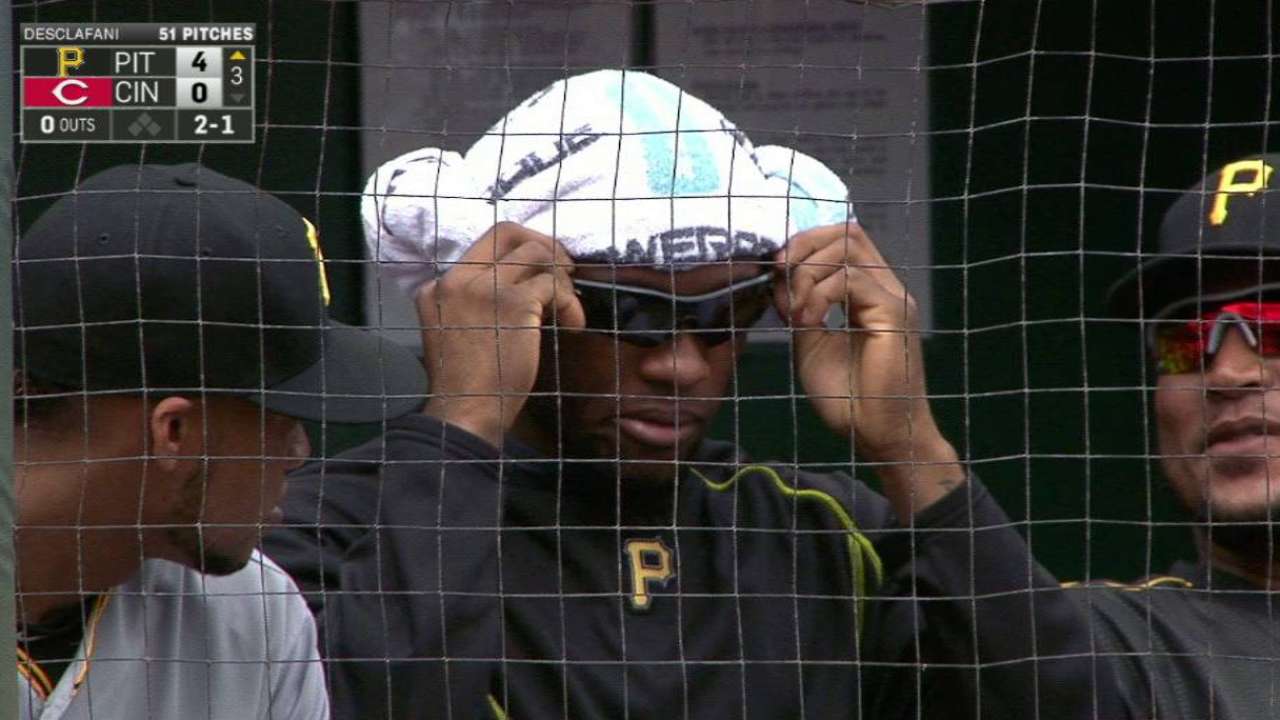 He found a way to keep himself busy in the dugout on Saturday afternoon, at least, fashioning a towel into what may have been a Princess Leia-inspired hat on the bench.
Adam Berry has covered the Pirates for MLB.com since 2015. Follow him on Twitter at @adamdberry. This story was not subject to the approval of Major League Baseball or its clubs.