Diet, hard work come to fruition for Ruiz
Braves No. 15 prospect called up for final two weeks of season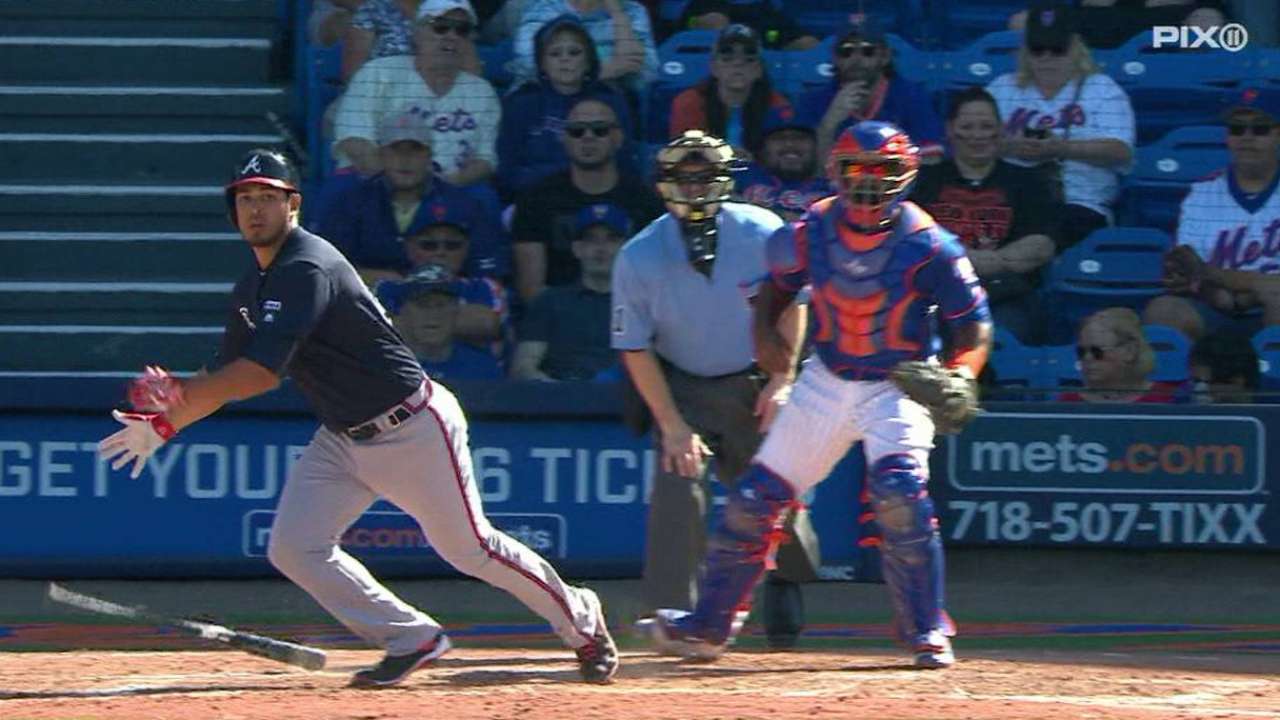 ATLANTA -- Coming off a disappointing 2015 campaign with Double-A Mississippi, Rio Ruiz met with Braves president of baseball operations John Hart during instructional league to discuss his career going forward.
The exchange focused on Ruiz taking ownership of his career, and it included a challenge for the 230-pound third baseman to get in better shape. But Hart also reinforced the club's adoration for him.
That conversation lingered in Ruiz's mind throughout the offseason and into this year. And after dropping close to 30 pounds since then, the 22-year-old earned his reward on Saturday, when the Braves selected his contract from Triple-A Gwinnett.
"It was really a loss for words because I couldn't think of words to say," said Ruiz, Atlanta's No. 15 prospect according to MLBPipeline.com. "I tried to say thank you, but it wouldn't come out. I just gave [Gwinnett manager John Moses] a big hug and told him thank you for everything he helped me out with throughout the season."
But meeting Hart's demands didn't come without its challenges. As he worked throughout the offseason to shed weight, Ruiz often found himself tested to maintain his diet.
"There were times where I just wanted to eat anything in sight," Ruiz said. "But it's my career, and I thought back to what [Hart] had told me. If he had said that and it's coming from him, then obviously it means something."
So he heeded Hart's word.
In addition to losing weight, Ruiz concentrated on improving at the plate after hitting .229 with five homers and 46 RBIs in his first season in the Braves' organization. And through his first month with Gwinnett, the results of his hard work showed.
Ruiz, one of three prospects acquired from the Astros in the trade that sent Evan Gattis to Houston during the 2014 offseason, slashed .310/.389/.452 in April. But his success was short-lived.
The third baseman hit just .198 in May as he reverted to his Double-A habits of trying to do too much at the plate and put the ball over the fence.
"It didn't really work out for me, and I kind of just had a talk with [Moses] and he settled me down," Ruiz said. "That team, of course, helped me out a whole bunch. And I kind of just got back to who I was."
Ruiz hit .287 with seven homers and 43 RBIs from June until August and finished the season with a team-high 62 RBIs. His 10 homers doubled his output from a season ago.
And after his hard work helped him earn a chance to make his Major League debut, Ruiz will look to make the most of his opportunity.
"The only thing you can control is how you play the game," Ruiz said. "I was lucky enough and fortunate enough that the Braves gave me the opportunity to come up today, finish the season here, get some at-bats, hopefully, and continue to learn up here."
• In addition to selecting Ruiz's contract from Gwinnett on Sunday, Atlanta recalled right-hander Tyrell Jenkins and selected the contract of Emilio Bonifacio from Triple-A.
Jenkins posted a 2-4 record and a 6.20 ERA in 12 games (eight starts) with the Braves before being optioned to Gwinnett on Aug. 21. The right-hander allowed only two runs across three Triple-A starts.
Pat James is a reporter for MLB.com based in Atlanta. This story was not subject to the approval of Major League Baseball or its clubs.