Greinke fares better against Dodgers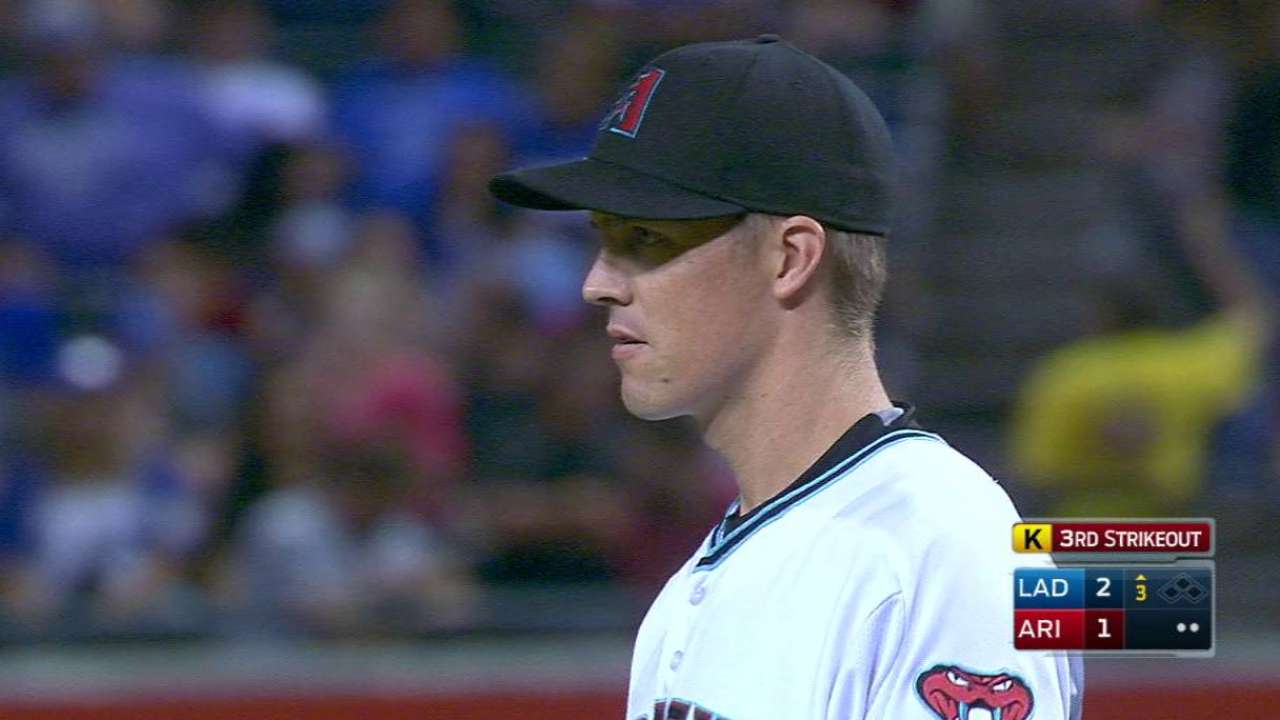 PHOENIX -- Zack Greinke knows the Dodgers well. He played for them the past three seasons and just 11 days ago, they torched him for five homers in Los Angeles.
The D-backs starter faced his former club again on Friday night and although the results were better, he still came away with a loss for his third start in a row. Greinke allowed three runs, two of which were unearned, over six innings, but settled in nicely after a challenging first inning as the D-backs fell, 3-2.
"They're a tough team to pitch to, they don't have a lot of holes," Greinke said. "You can't really mess around too much with them because if you make a mistake, they do a lot of damage with it."
On the first pitch of the game, Greinke allowed a double to Chase Utley. Two batters later, Justin Turner hit an RBI triple to right to put Los Angeles ahead, 1-0, with just one out recorded in the game.
Turner came in to score on a passed ball by Arizona catcher Welington Castillo, the first of two unearned runs scored by the Dodgers.
The next unearned run came in the fourth inning when D-backs second baseman Jean Segura tried to complete a 6-4-3 double play, but instead threw the ball past first baseman Paul Goldschmidt, allowing Adrian Gonzalez to score.
Greinke allowed four hits, while striking out four and issuing a season-high four walks for the second outing in a row.
"I need to do that just about every time, I had a couple really bad outings this year that I didn't even give anybody a chance for anything," said Greinke, who fell to 12-7 and has just one win in his last six starts.
One of those lesser starts was when Greinke allowed eight runs to the Dodgers on Sept. 5. He has done better the last two times out, posting quality starts both times, but not getting a winning result.
"I thought he pitched well," manager Chip Hale said. "I thought he did a good job. Obviously you're facing a team that you played for and they have a pretty good idea what you're going to do, he was really battling each pitch. He was having to locate, they hit some balls hard, but he also did a nice job of not allowing a bunch of runs. I think it was a good outing."
Jake Rill is a reporter for MLB.com based in Phoenix. This story was not subject to the approval of Major League Baseball or its clubs.