Price frustrated as two reviews go against Reds
Manager ejected for arguing result of replay in 10th inning of loss to Bucs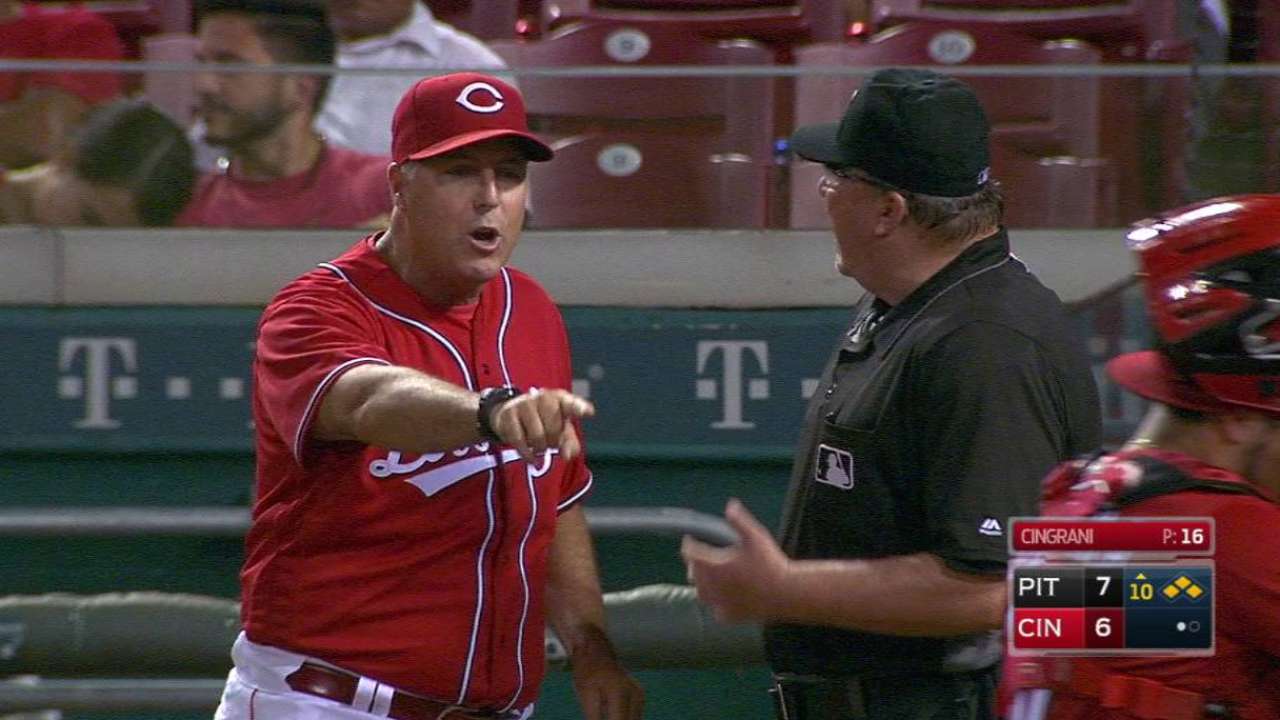 CINCINNATI -- After Friday's game between the Reds and Pirates needed more than nine innings, things took a bizarre turn.
Tony Cingrani allowed a tiebreaking single to Jordy Mercer in the 10th inning of the Reds' 9-7 loss to the Pirates, then the lefty faced pinch-hitter Jason Rogers. The ensuing play resulted in two replay reviews and an ejection.
Rogers hit a hard grounder to shortstop Jose Peraza, who threw the ball home to get Sean Rodriguez at the plate. Rodriguez slid wide into home, but catcher Ramon Cabrera was able to get Rogers at first base to complete the double play.
However, Pirates manager Clint Hurdle challenged the call at first, arguing that Rogers beat the throw. After review, the umpires in New York agreed with Hurdle and the call was overturned.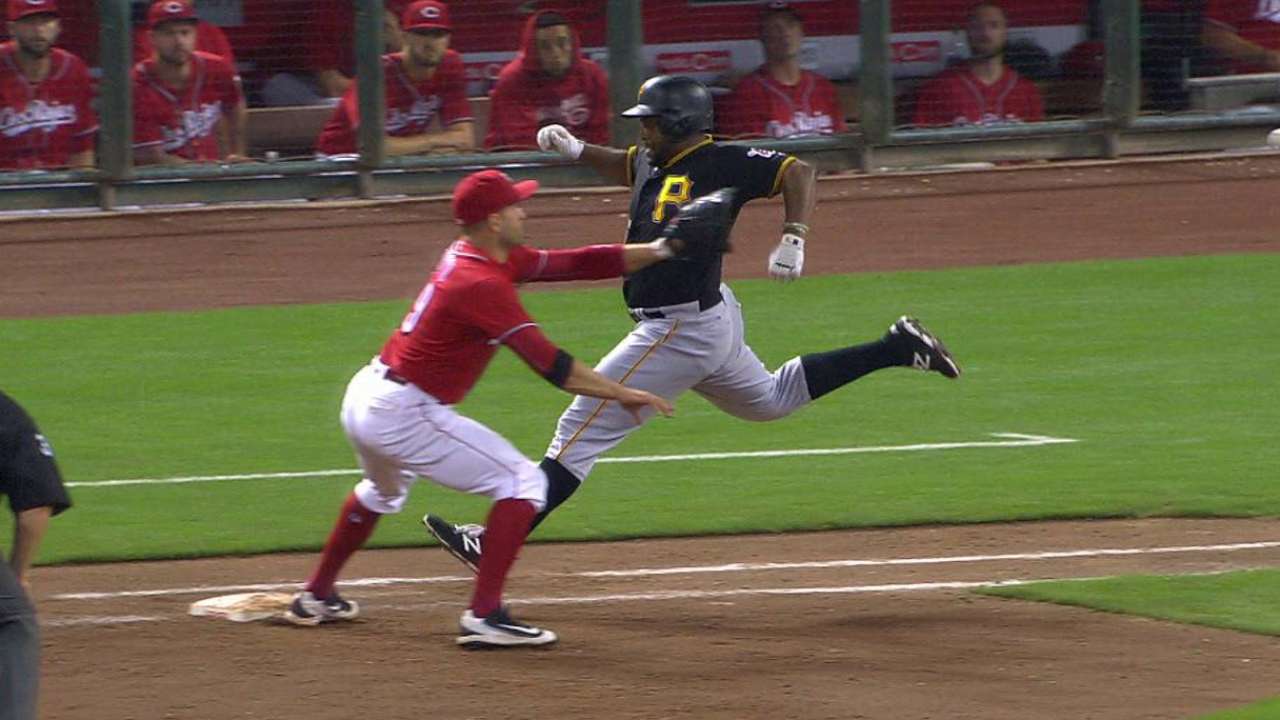 That drew Reds manager Bryan Price out of the dugout for the second time in the inning. Despite not having a challenge, which he used in the first inning, Price convinced home-plate umpire Gerry Davis to review Rodriguez's slide into home.
In the replay, it appeared that Rodriguez slid wide into home and hooked Cabrera's leg with his foot. Cabrera double-clutched on the play, which provided just enough time for Rogers to beat the throw.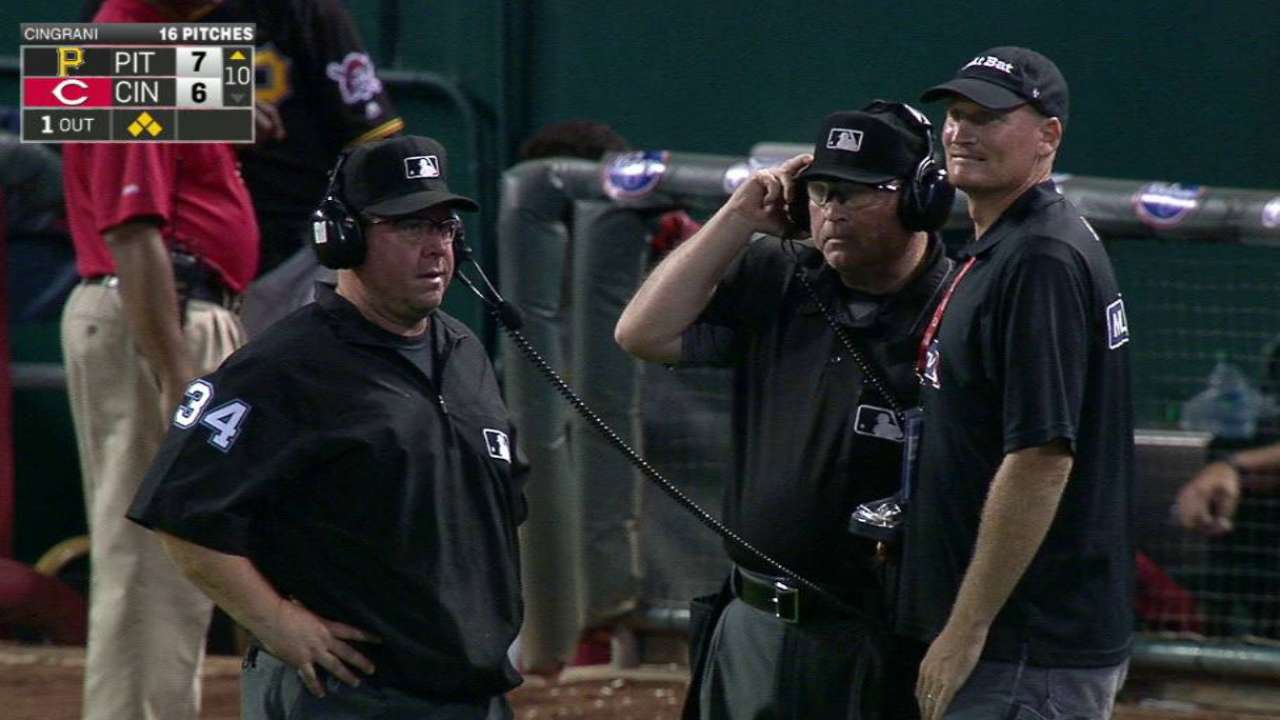 "I felt he hit me," Cabrera said. "[He hit me] right in the foot. It's nothing big, but you can see in the replay how he slid."
Umpires didn't see it that way, and confirmed the safe call for Rogers. Heated, Price came out of the dugout and continued to argue with Davis and was ejected.
"As much time as we spend sitting here listening about these rules, you want them to be put in place when there's video evidence to suggest that there should be and tonight it failed badly," Price said. "I mean, it failed as badly as I've seen this year. It was a real poor assessment of that play. There's just no reason at all for that play not to be overturned and the runner at first base to be called out."
Cody Pace is a reporter for MLB.com based in Cincinnati. This story was not subject to the approval of Major League Baseball or its clubs.