Rangers' lineup an embarrassment of riches
Five hitters account for seven runs in walk-off win over Athletics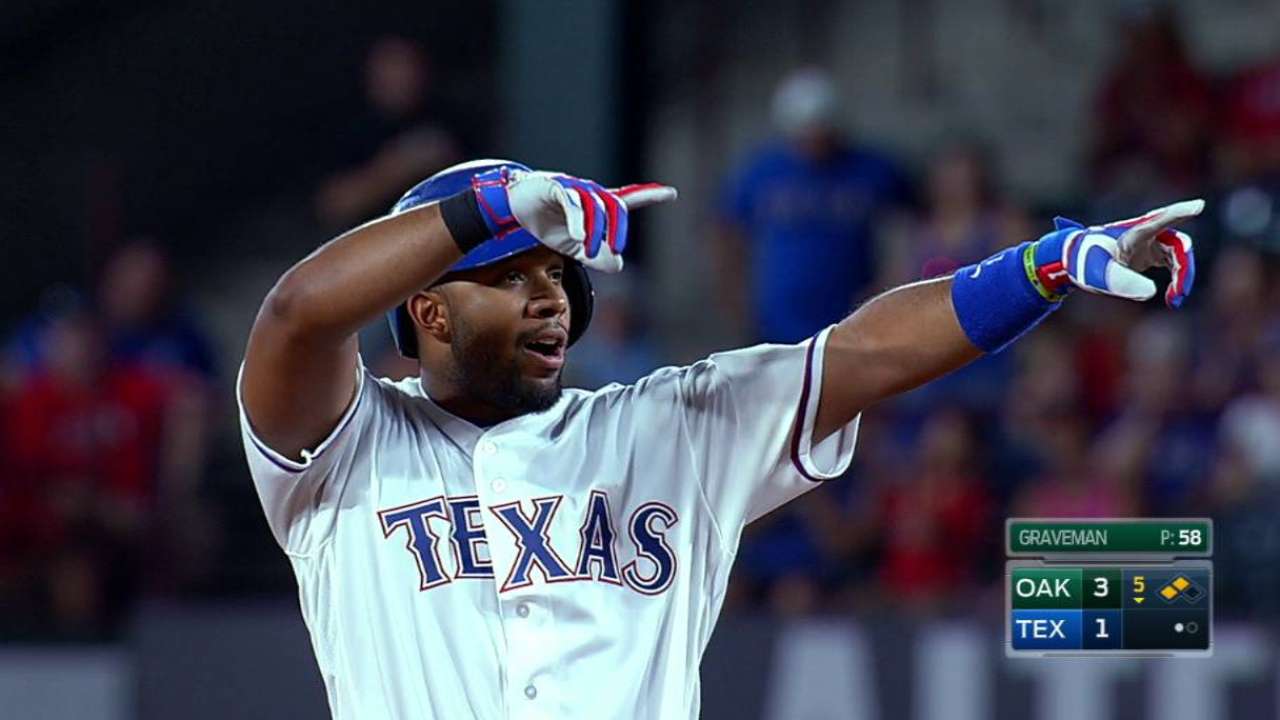 ARLINGTON -- At this point in the season, the Rangers have taken a little bit of the surprise factor out of a comeback victory. They pulled off a club record -- and Major League-leading -- eighth win when trailing after the eighth inning when Jonathan Lucroy delivered a two-run walk-off single to give them a 7-6 victory over the A's on Friday night.
"I don't think it should be a surprise," Lucroy said. "You've got some serious talent up and down that lineup. You're talking some serious, serious talent."
Lucroy added that the Rangers lead the Majors with six players who have a qualifying average over .280. That depth was certainly on display in the team's 45th come-from-behind win of the season, which also leads the Majors. Five hitters accounted for the Rangers' seven runs.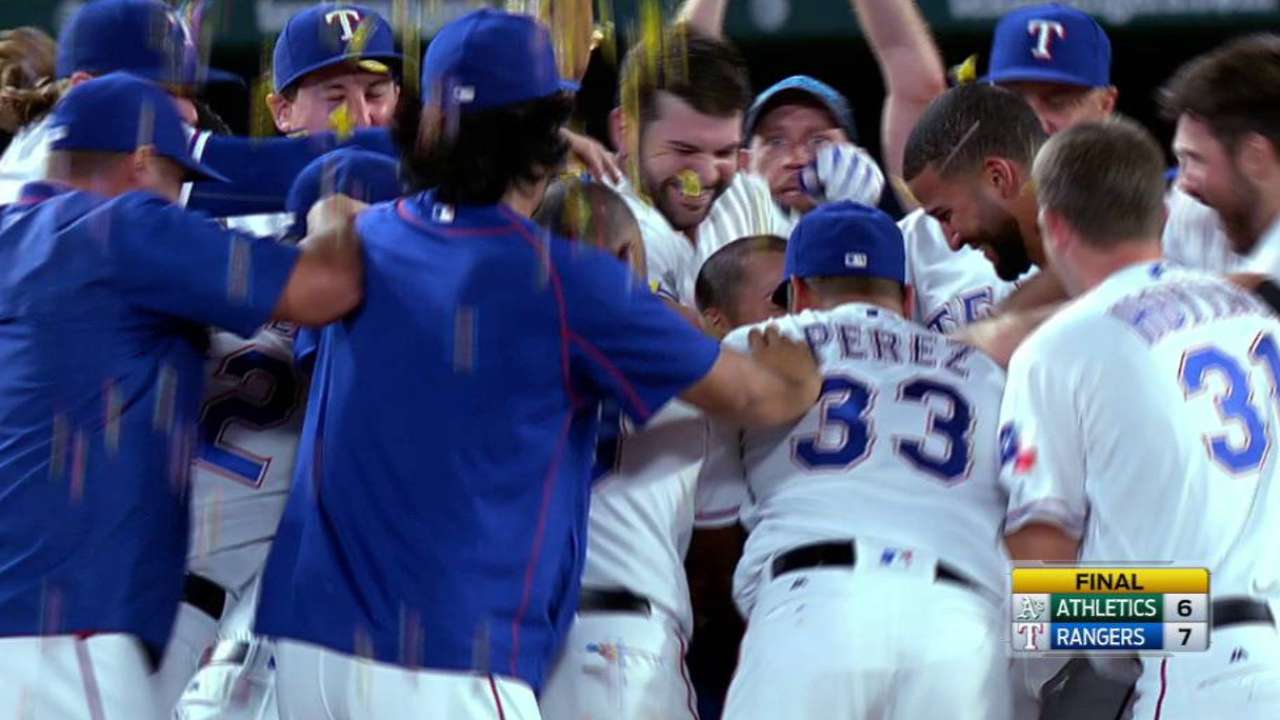 "I think that's all you've got to say right there," Lucroy said.
Elvis Andrus drove in the Rangers' first run with a double in the fifth. Carlos Gomez followed with a run-scoring groundout.
The Rangers were back at it in the sixth, when Adrian Beltre drove in Carlos Beltran with a double and Mitch Moreland delivered an RBI single three batters later. Gomez then made it a one-run game in the seventh with a solo homer before Lucroy sent the Rangers home winners with his walk-off single.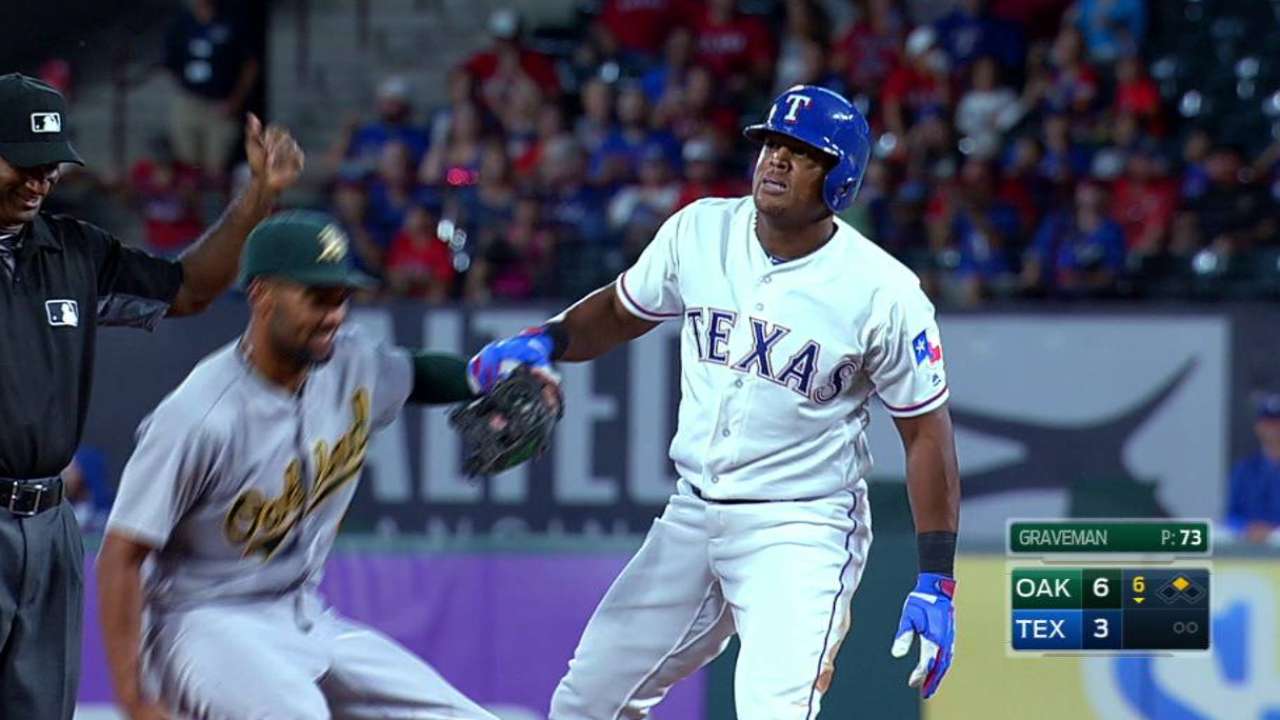 "When you look at the depth of the lineup, there are guys inside the lineup that can do different things," manager Jeff Banister said. "They can get on base, they can grind an at-bat out or hit a homer against a closer. We've got some guys who can steal bases in a certain situation and take bases for us. We put ourselves in position to have success and we're not afraid of success. I think that is the biggest key."
The Rangers might not have homered off the A's closer, but they checked off nearly every box Banister mentioned in the ninth inning alone.
Beltran lined a double in the gap in right-center with one out, then Beltre grinded out a walk to get the winning run on base. Pinch-runner Joey Gallo followed with a stolen base before Lucroy drove him in for the win.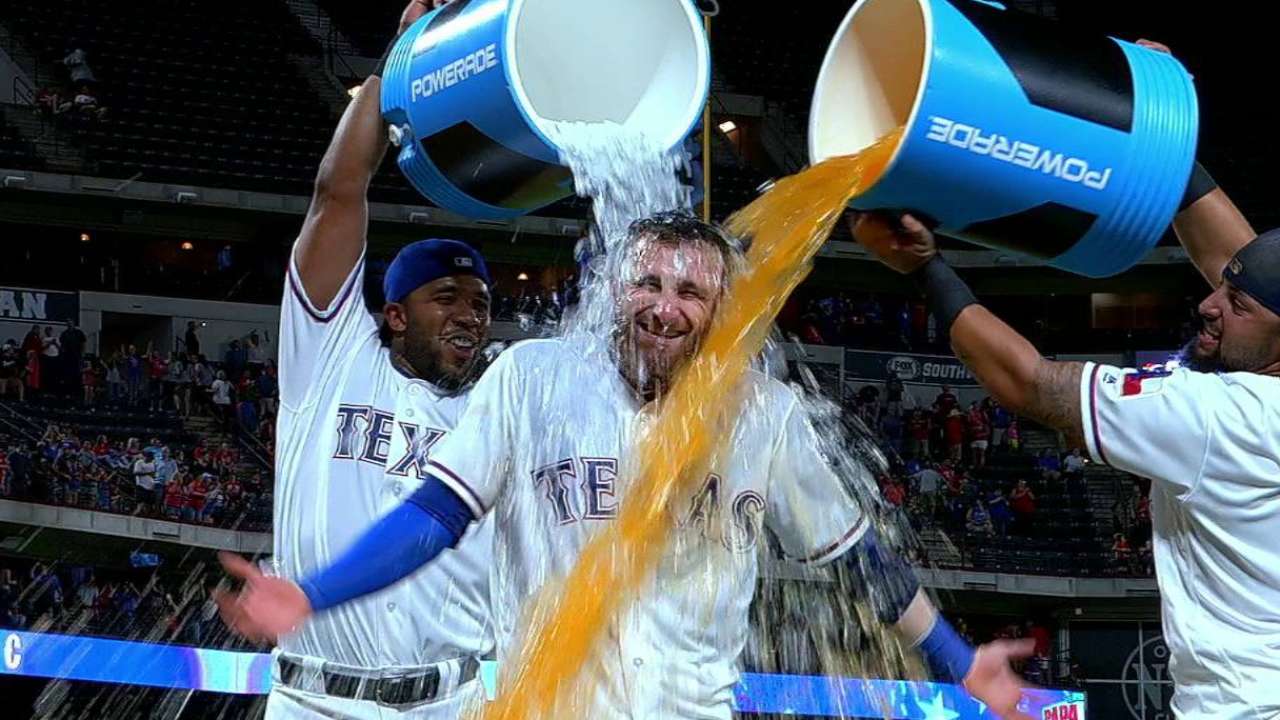 "The lineup just kept turning over, putting together good at-bats and chipping away," Lucroy said. "We definitely battled. It's just nice to be out there and be apart of it and do something."
The Rangers' seventh walk-off win of the season took starter Cole Hamels, who allowed six runs over six innings, off the hook.
"Obviously, the way we played in the long run can be a good overshadowing," Hamels said with a smile.
Hamels has now allowed six-plus runs in three of his last four starts, but the Rangers went on to win two of those shaky outings.
"You really have to credit this offense," Hamels said. "It's such a great attitude to be around. The vibe is that nobody's going to hold us down for long."
Ryan Posner is a reporter for MLB.com based in Texas. This story was not subject to the approval of Major League Baseball or its clubs.