Myers is first in franchise with 25 HRs, 2Bs, steals
Padres first baseman joins Trout as only players to accomplish feat this season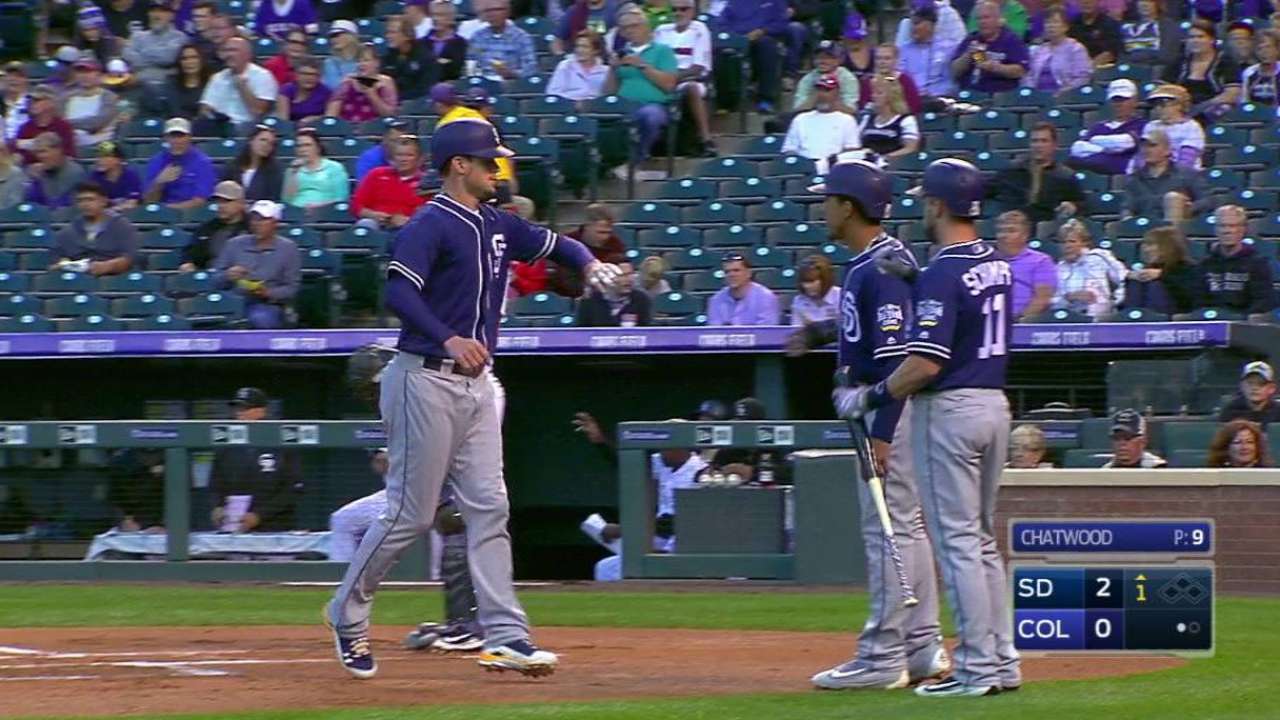 DENVER -- At times this season, Wil Myers has taken his game to a level rarely seen in Padres history.
On Friday -- in an 8-7 loss to the Rockies -- Myers reached a level that has never been seen in Padres history.
The slugging first baseman opened the scoring Friday night with a two-run dinger into the right-field bullpen. In doing so, he became the first player in franchise history to record 25 homers, doubles and steals in a single season.
"It's something that's definitely pretty cool," Myers said. "I definitely didn't have that goal in mind when I started the season. But as I learned more about stealing bases, it kind of became one."
Myers and Mike Trout are the only players in baseball to have accomplished the feat this season. In fact, until Myers did so, only Trout had done so in the past four years, and he had done it twice.
Myers joined Trout by taking crushing a low fastball from Rockies starter Tyler Chatwood to the opposite field -- a staple of Myers' game when he's feeling good at the plate.
"He brings a lot to the table," said Padres skipper Andy Green. "It was good to see him drive the ball out of the park to right-center again. I know he's been looking for that swing for a while."
After an All-Star first half for Myers, it's been a bit of a struggle lately. He's batting .214/.308/.356 since the break.
Of course, if there's one driving force behind the decline, it's fatigue. Myers has over 600 plate appearances for the first time in his career. He had never previously reached 400, and no other current Padre is above Derek Norris' 431.
"He ran through a tough stretch, which everybody does in the course of a season," said Green. "You look up, it's been a pretty good season for him. I think there's more in him. The expectation is that he comes back next year, and he's going to have a better year than he did this year."
Green said he believes Myers is capable of going 30-30-30 next year, now that he's learned to handle the grind of a full big league season.
Myers isn't one to argue, but for now, he's focused on a strong finish to this campaign.
"That would be big," Myers said. "I'm starting to feel really good at the plate lately. Obviously, I had a really tough August, but to be able to finish this year out strong would be great going into the offseason."
Myers finished 2-for-5 on Friday night, but in his eyes, the at-bat that stung came with the Padres holding a two-run lead in the ninth. He lifted a blooper the other way that couldn't quite clear Colorado second baseman DJ LeMahieu.
From there, the Rockies would score three in the ninth off closer Brandon Maurer.
"This is a tough ballpark," Myers said. "Obviously no lead is safe here. Tough place to pitch, and you saw that tonight."
AJ Cassavell covers the Padres for MLB.com. Follow him on Twitter @ajcassavell. This story was not subject to the approval of Major League Baseball or its clubs.