Upton makes up for gaffe with 2 rocket HRs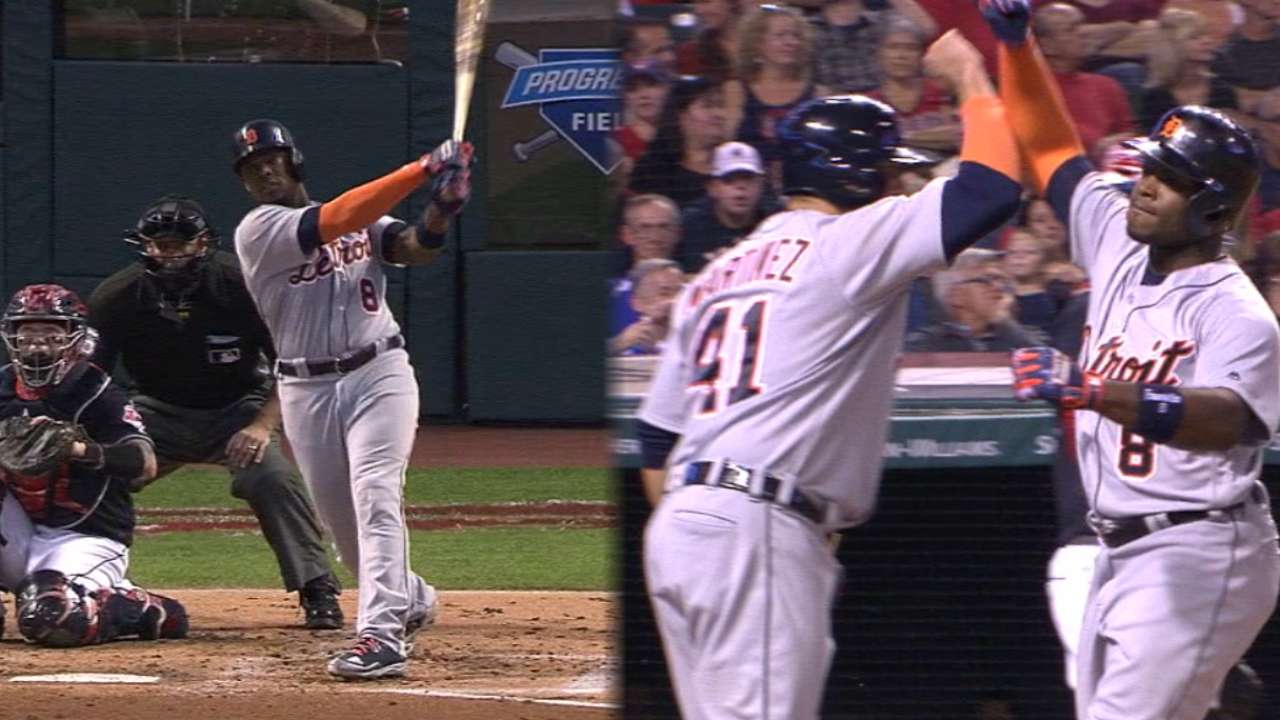 CLEVELAND -- Justin Upton threw his hands up early as Mike Napoli's first-inning fly ball was still high up in the early evening sky. Try as he could to find the ball again, the Tigers left fielder knew he was in trouble.
He never caught a glimpse of the ball on its way down. He reacted when he heard it bounce on the warning track behind him, bouncing all the way over the high, 19-foot, left-field wall as Cleveland's first two runs came home.
"He lost it from the get-go," manager Brad Ausmus said after Detroit's 11-4 loss Friday night pushed it seven games behind first-place Cleveland in the American League Central and three games out of an AL Wild Card spot. "It's a harrowing feeling when you know it's up there somewhere and you can't seem to find it and you know that, if it drops, runs are going to score. You feel kind of helpless out there."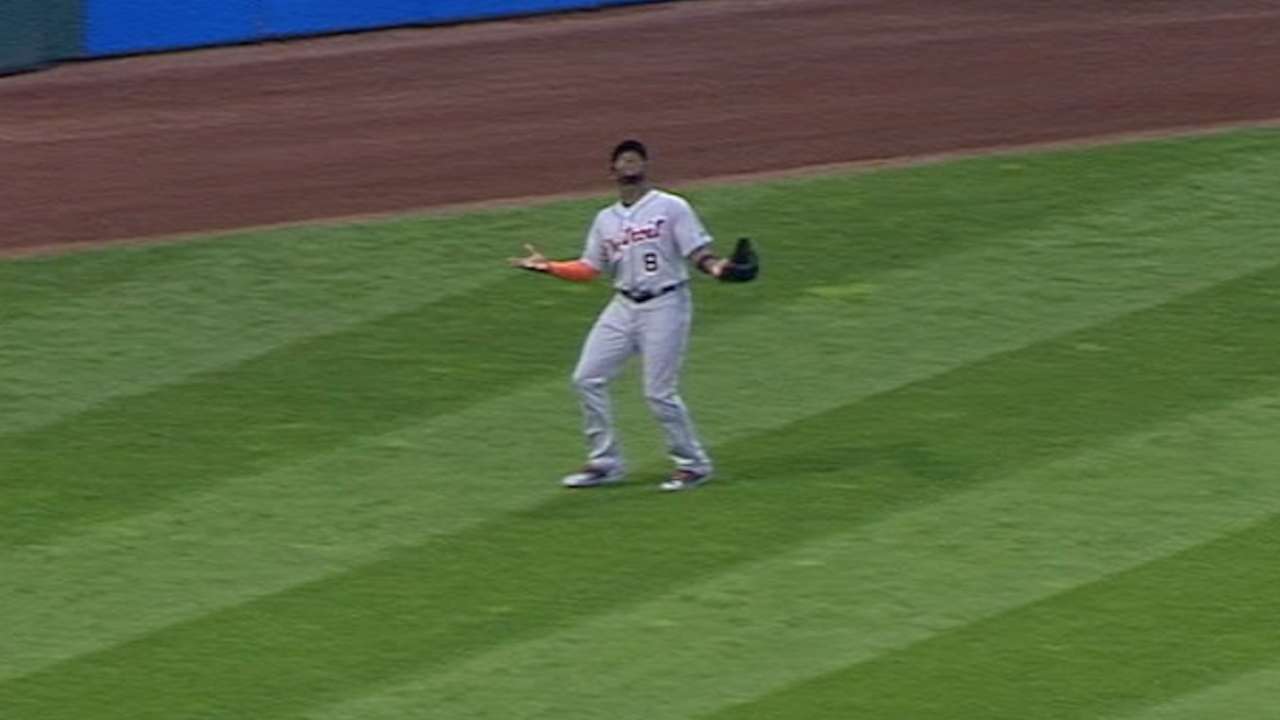 Upton reacted with what he could control. His two home runs off Corey Kluber had nowhere near the altitude of Napoli's fly ball, but they were lost in a hurry to the seats in right-center field.
If Upton's misplay in left cost the Tigers a run -- Jason Kipnis would've scored from third anyway had Upton caught the ball on the track -- his home runs plated four. If there was a plus-minus rating in baseball, he would've been up.
That was little consolation for him after a seven-run defeat, the Tigers' 12th loss to the Indians in 13 meetings this season.
"I don't care about all season," Upton said afterward. "Tonight, that can't happen. That wasn't a pretty game. ...
"If we play good baseball and lose, that's one thing. We didn't play good baseball."
If not for Upton's offense, it would've been worse.
Both home runs came on Kluber fastballs. Upton's second-inning solo homer was on an 0-2 pitch on the outer half of the plate, similar to the fastball he swung through on the previous offering. The exit velocity of 113.6 mph, according to Statcast™, was his hardest-hit home run of the season. Thus, even with a low launch angle of 19 degrees off the bat, the ball had a projected distance of 438 feet by Statcast™, making it his third-longest homer this year.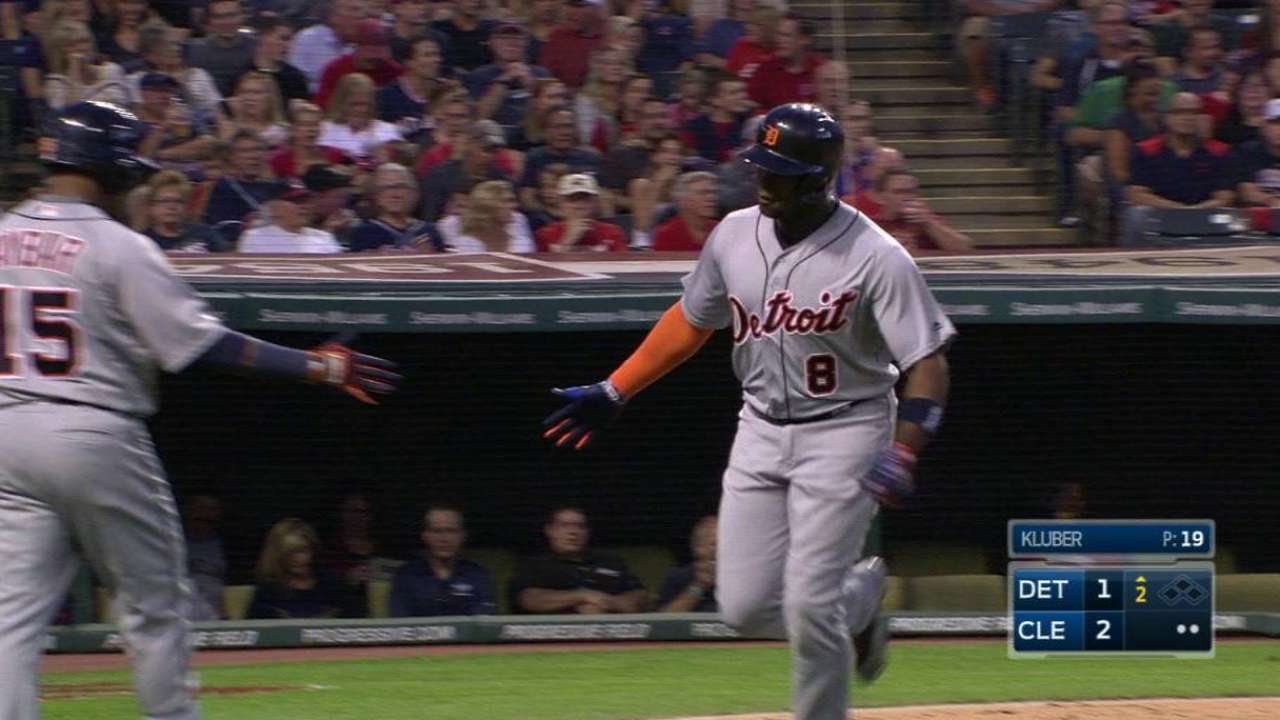 "I got two mistakes. That's the bottom line," Upton said.
By contrast, his 24th homer of the season had a bigger impact on the scoreboard in the sixth, a three-run drive capitalizing on a Kluber hiccup following a leadoff walk to Miguel Cabrera and a pitch off Victor Martinez's right knee. Suddenly, what had been a 6-1 game was down to a two-run lead, and a Tigers team that seemed out of it from the opening inning had life, fleeting as it proved to be.
Upton went 2-for-2 with a walk against Kluber. The rest of the Tigers' lineup went 3-for-24 with seven strikeouts vs. the AL Cy Young Award candidate.
"Kluber's tough," Ausmus said. "Certainly Upton was able to figure him out, but he was tough. But they stuck it to us."
Jason Beck has covered the Tigers for MLB.com since 2002. Read Beck's Blog, follow him on Twitter @beckjason and listen to his podcast. This story was not subject to the approval of Major League Baseball or its clubs.